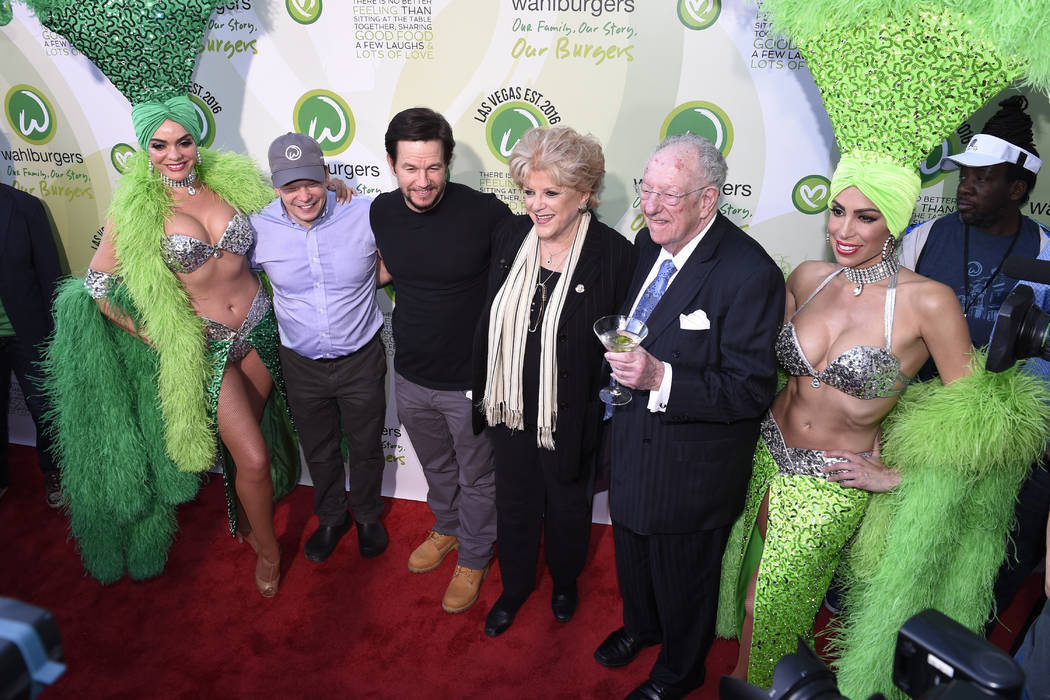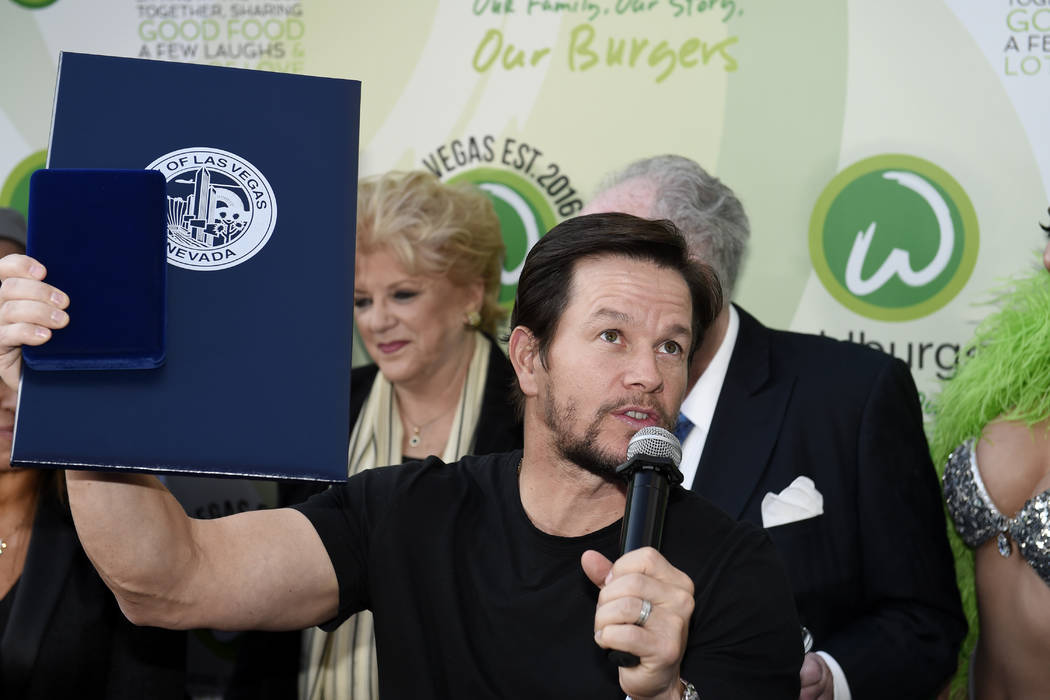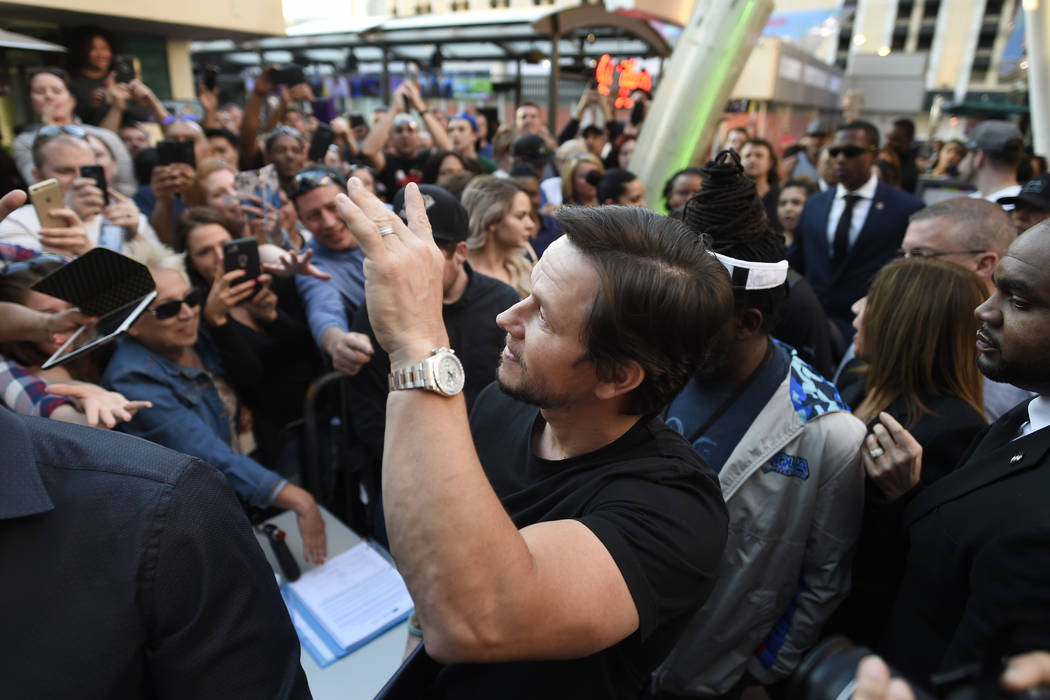 The burgers dished up by actor Mark Wahlberg and his brother, executive chef Paul Wahlberg, at the VIP opening of their Wahlburgers at Bally's Grand Bazaar Shops on Tuesday disappeared quickly even without The Rio headliner magicians Penn Jillette and Teller performing any tricks.
This is the ninth outlet in the chain that features a menu from their Massachusetts hometown of Hingham. There are more burgers and variations of the American staple than Penn & Teller could ever produce from a top hat, and add sandwiches, salads, chili, Aunt Alma's classic mac and cheese and frappe milkshake.
Our thanks to Sam Morris of Las Vegas News Bureau for his photo gallery. Fans waited hours to glimpse Mark ("Transformers," "Boogie Nights"). Earlier, Mark, whose career includes as rapper Marky Mark, was with Sir Anthony Hopkins and director Michael Bay at CinemaCon at Caesars Palace.
CONGRATULATIONS
Congratulations to Sushisamba at The Palazzo on being named today as one of the "10 best sushi restaurants in the world to add to your travel bucket list" by Bravo's program "Jet Set."
The restaurant was included alongside Masa, Kurumazushi and Sushi Nakazawa in New York; Sushi Taichi, Sushi Sora and Sukiyabashi Jiro in Tokyo; Naoe in Miami; O Ya in Boston; and Hashiri in San Francisco.
"Jet Set" is Bravo's launch pad for extravagant, luxurious and unforgettable travel experiences. Five female travel experts track everything from Beyonce's global escapades to investigating the coolest hotels to book.
CHEF STAR
Celebrity culinary king Wolfgang Puck is to be honored with a star on The Hollywood Walk of Fame on April 26. His Las Vegas partners, restaurant managers and chefs will fly to Los Angeles for the celebration with Wolf, cooking lunch for all of them at his restaurant Spago there after the sidewalk installation.
10 YEARS
Rockers A Perfect Circle will star April 6 at The Pearl at The Palms to celebrate the music venue's 10th anniversary. New owners Station Casinos wanted to mark the decade of entertainment with a special show and celebration. A Perfect Circle also headlines April 7 and 8.
60 YEARS
Our local St. Rose Dominican hospital will celebrate its 60th gala Saturday at Caesars with Jewel and The Plain White T's, who are at Cleopatra's Barge on Thursday and Friday, joined by the beautiful violinists of The Bella Strings and "Absinthe" cast members.
FUNDRAISING
Beloved Elvis Presley impersonator Matt Lewis was overwhelmed with the outpouring of donations of $121,000 he needed to pay hospital bills in advance for his wife Jane being treated in Los Angeles for a brain tumor.
The medical facility had refused the treatment for the dying woman until the money was paid in advance. Now Matt is hoping to raise additional funds for Jane's after care. Please go to GoFundMe.com/HelpSaveJane to contribute.
CHEFS FOR KIDS HONORS
The nonprofit Chefs for Kids that supports nutrition education for second- and third-graders hosts its fundraising gala May 13. Chef Christopher Johns and the South Point culinary team will prepare dinner honoring my good pal Michael Severino and Binion Family Foundation.
Michael told me that the organization has chef volunteers, educators and community groups to provide programs that teach children about the benefits of eating healthy. "The obesity epidemic is at a high in America, and we have to be part of the solution here," Michael told me. Volunteers donate more than 3,000 hours to prepare and serve 9,000 breakfasts for kids each school year.