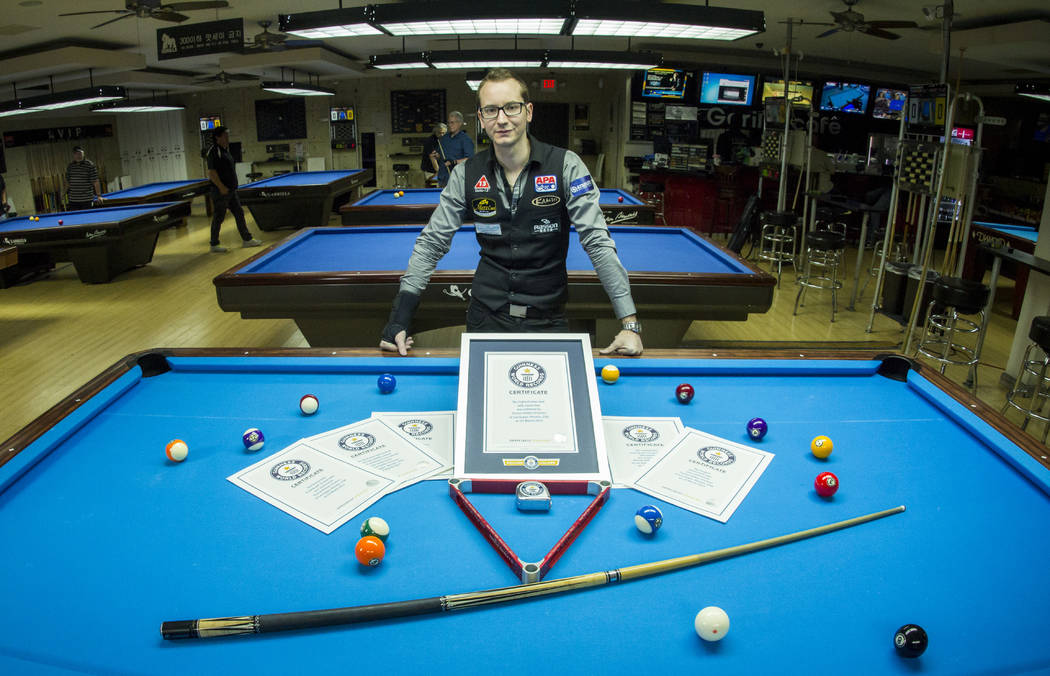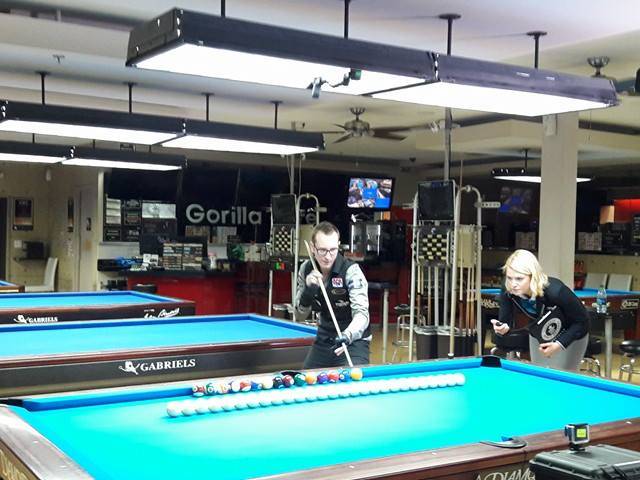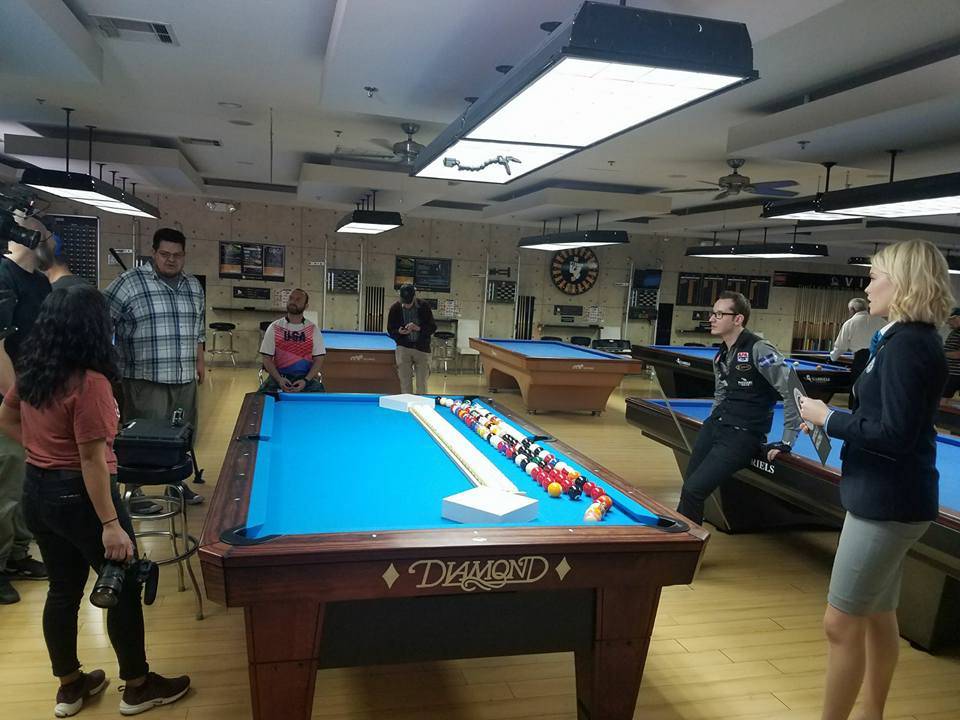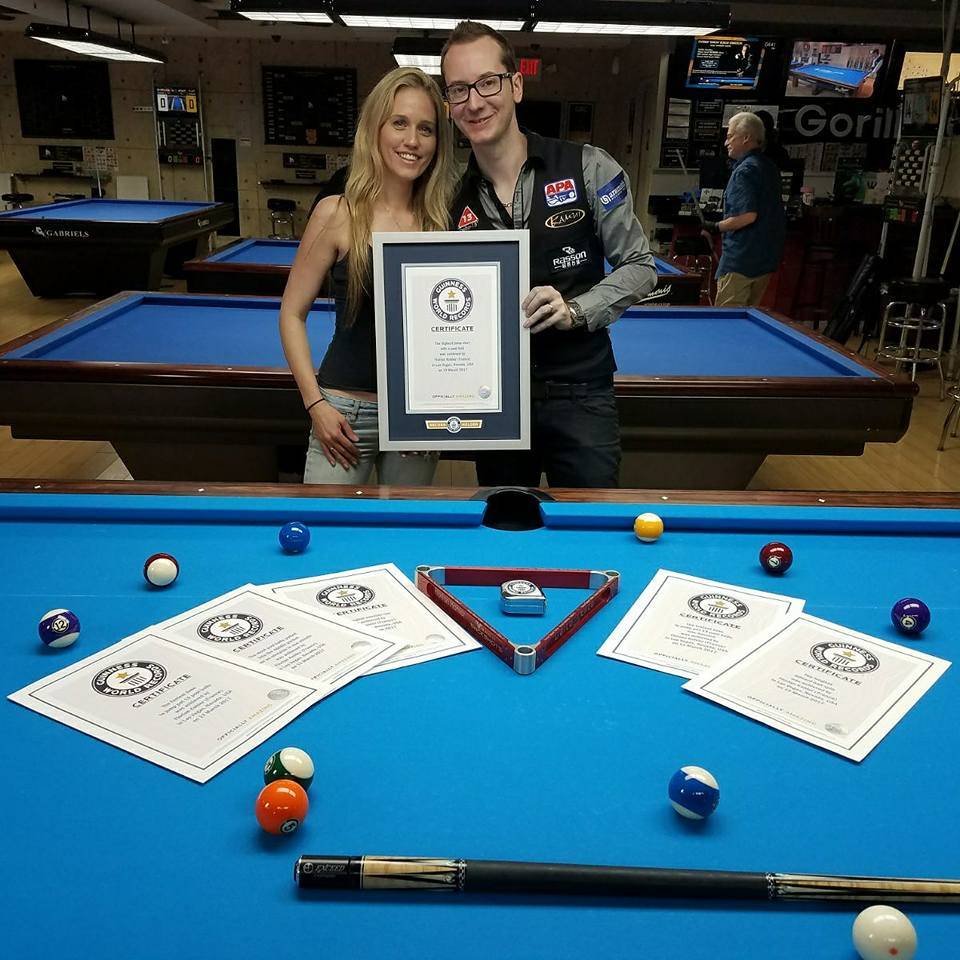 Trick-shot pool prince Florian "Venom" Kohler of Las Vegas set out to break five Guinness World Records on Monday, in fact shattered six and in the process may have set a seventh for most Guinness Records achieved in one day.
The Las Vegas pool player had a table set up at Gorilla Cafe on East Tropicana for the official Guinness adjudicator to monitor his extraordinary skills. Florian broke six Guinness World Records for pool-shot trickery:
* One-handed jump shot shooting 15 balls over a row of object balls as fast as possible. Record to break was 20 seconds. Florian broke the record by jumping in 17 seconds.
* Using two hands, the same, jump shot shooting 15 balls over a row of object balls as fast as possible. Record to break was 11.7 seconds. Florian broke the record by jumping just a hair over 6 seconds but less than 7 seconds.
* Longest spin on the cue ball while pocketing the object ball. Record to beat was 17 seconds. Florian broke the record by spinning the ball 23 seconds.
* Playing a full billiard rack with the longest usable pool cue. Record to beat was 5 meters. Florian beat it with 5.4 meters.
* Attempting to break the record he currently held by jumping as many balls as possible over two rows of object balls into the side pocket in 1 minute. His record was 68 balls jumped in 1 minute. He broke that by pocketing 70 balls in 1 minute.
* Highest jump shot potting the ball. Record to beat was 26 cm. Florian beat the record by jumping and potting 34 cm.
The Guinness World Records were filmed by the official adjudicator, and the video should be released in April. To celebrate and show his skills to a wider crowd, Venom will perform a free show at Gorilla Cafe on Thursday.
LOVE ATTRACTION?
Tabloid reporters have launched full-time surveillance on our Axis at Planet Hollywood resident headliner Jennifer Lopez now that she's been romantically linked with MLB hunk Alex Rodriguez.
At 41, A-Rod is six years younger than the pop princess and recently ended a yearlong romance with biotech entrepreneur Anne Wojcicki. Jenny from the Block and A-Rod showed up arm in arm in The Bahamas over the weekend to enjoy a fun-in-the-sun vacation.
She posted an Instagram photo of the two of them curled up together on a couch that was deleted shortly afterward. J.Lo was recently linked with rapper Drake but had been regularly seen here with 29-year-old dancer and video director Casper Smart until they broke up last fall.
NEW ARTIST WINNERS
Three country newcomers will pick up awards and perform at the 52nd Academy of Country Music Awards airing live on CBS from our T-Mobile Arena on April 2, but it's not too early for them to celebrate the good news announced today. Maren Morris has been named New Female Vocalist of the Year and Jon Pardi the New Male Vocalist of the Year.
Check back next week for our Q+A with Pardi, who is at Red Rock Resort on March 30 and whose latest single, "Dirt on My Boots," just hit No. 1. The Brothers Osborne round out the triumvirate as New Vocal Group of the Year.
The ACMs are shaping up to be the hottest country concert we've ever seen with Jason Aldean, Dierks Bentley, Luke Bryan, Florida Georgia Line, Lady Antebellum, Miranda Lambert and Little Big Town, plus Axis headliners The Backstreet Boys will make their first appearance at Country Music's Party of the Year with FGL for their new duet.
CONTRACT EXTENSION
Entertainer Terry Fator, who signed an all-time record contract for a 10-year-deal at The Mirage after his Season 2 win on NBC's "America's Got Talent," has reached year eight of the deal. Now The Mirage has given him a new five-year contract to celebrate, so he's set through 2022.
During our Q+A that will appear in Sunday Life of The RJ, Terry told me: "I'm so happy here I see no reason not to continue even past that. I want to do a final show on the night I pass away in my sleep. Maybe I will have to get the dolls walkers, but I'll still be working and going strong until the end."
MANNEQUINS ON PARADE
Ten mannequins known as The Madisons are on display at The Delano Las Vegas thanks to The Las Vegas Fashion Council. Local artists have decorated the mannequins inspired by their journeys and paths. Guests are encouraged to spend time with them to interpret their own stories.
STAR SURVEILLANCE
Thomas Rhett ("Die a Happy Man") and his wife, Lauren Rhett, who are parents-to-be, dined at Holsteins Shakes & Buns at The Cosmopolitan of Las Vegas. They enjoyed a virgin "Fat Boy" Bamboozled shake. Thomas said it was one of the craziest things he'd ever seen as his wife enjoyed its numerous toppings, and they posted a photo on Instagram.