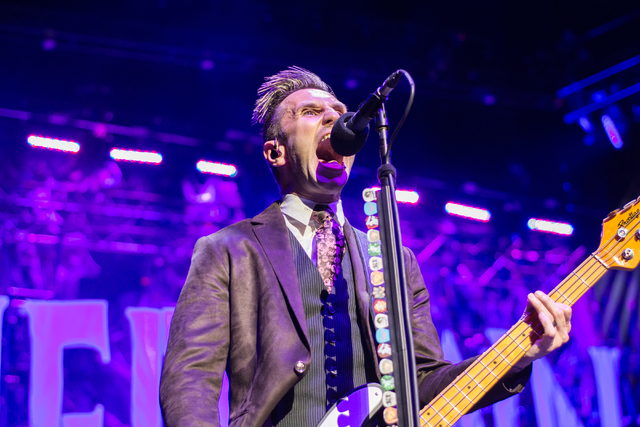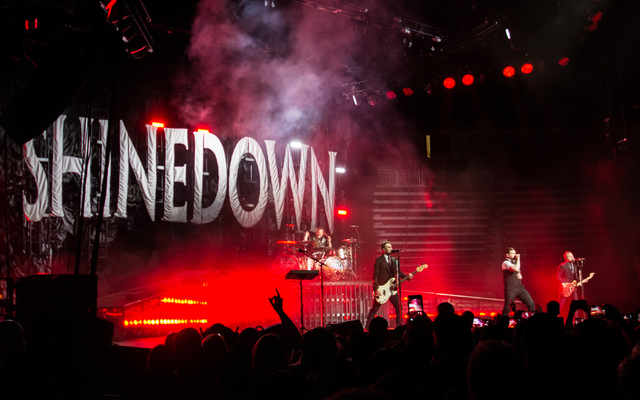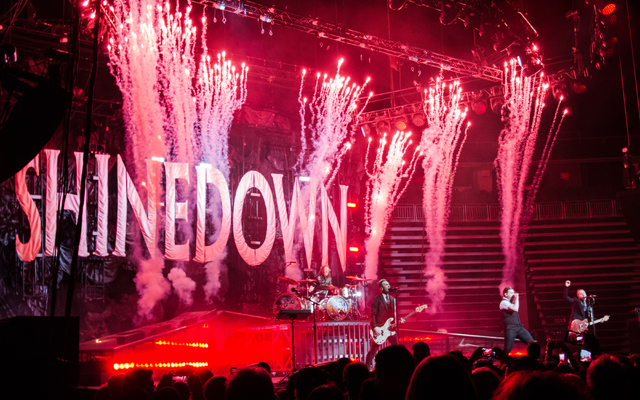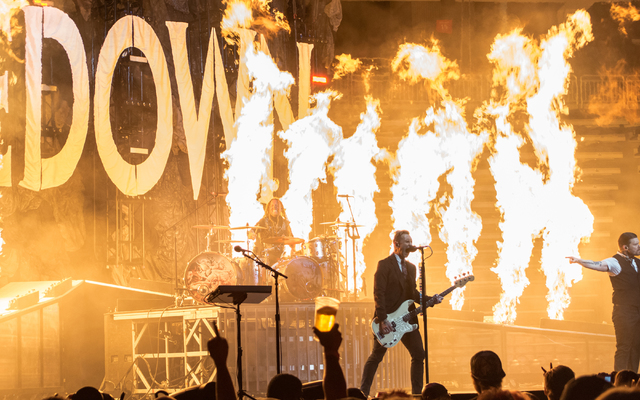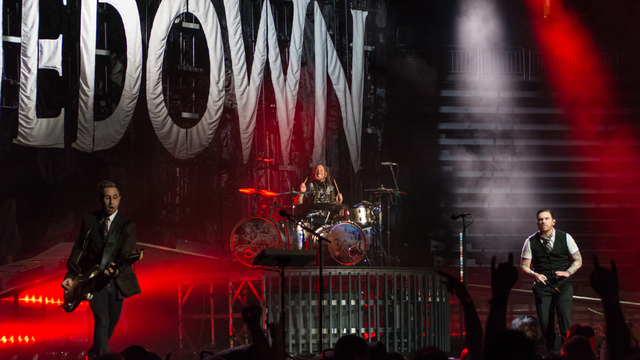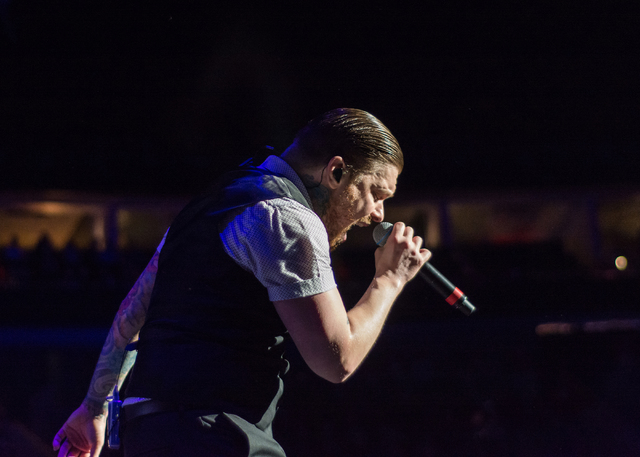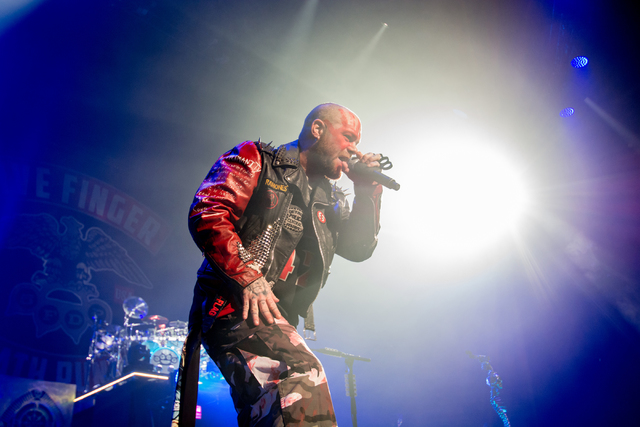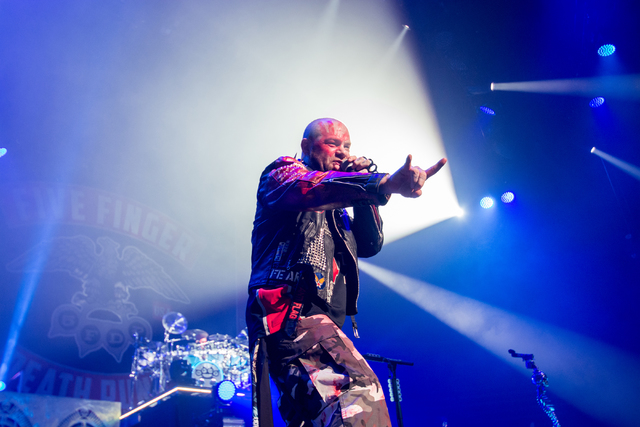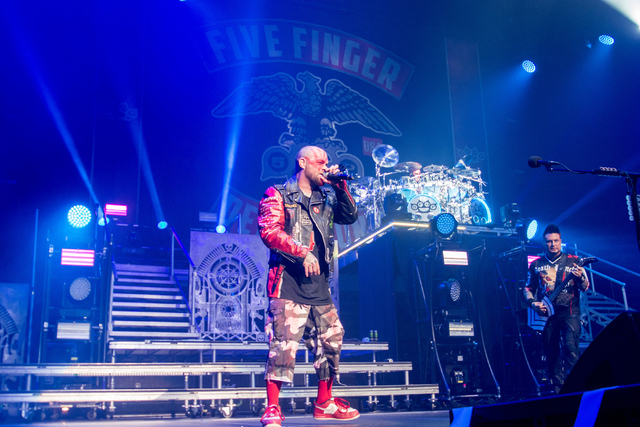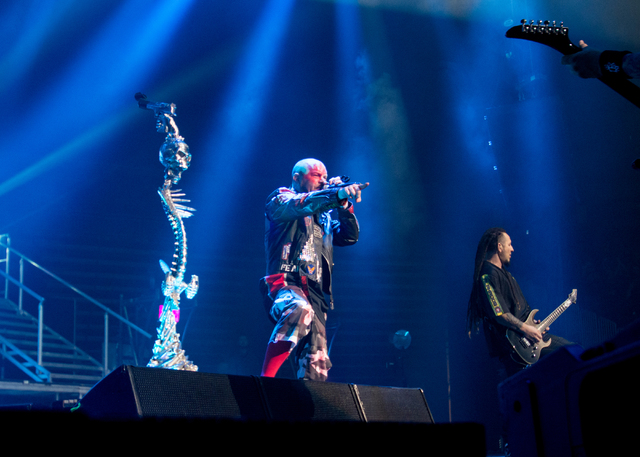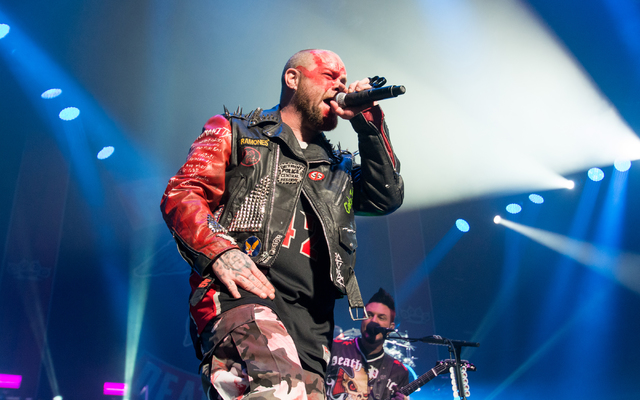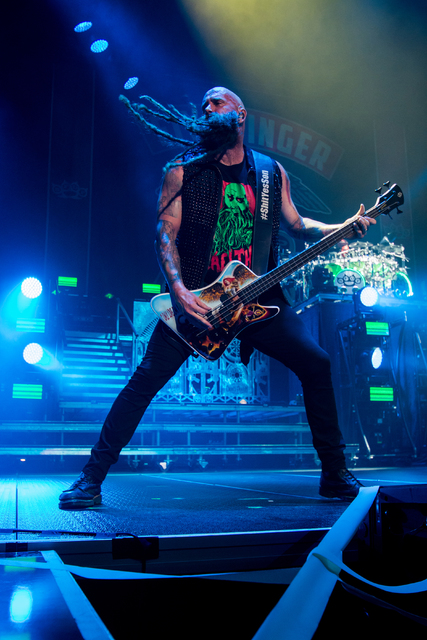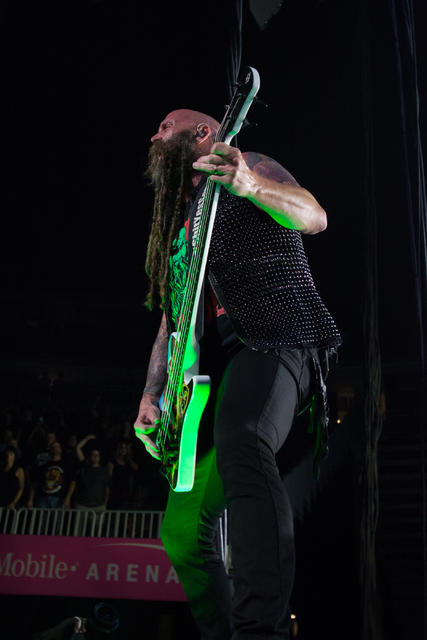 The lullaby "Hush, Little Baby" coddled the crowd into bottle-feeding submission for the double-header rock show ahead. Five Finger Death Punch and co-headliner Shinedown crawled into T-Mobile Arena for their 2016 fall tour stop Friday night.
The stark duality of love and aggression was the evening's theme with the Dr. Jekyll and Mr. Hyde personas ever present between the two camps. The good-natured Dr. Jekyll was first to take the stage in his music tantamount Shinedown.
"It is 100 percent pure emotion tonight. We know this, and you know this. Everybody take a moment, look around, because these are your friends, this is your family, these are your brothers and your sisters," said frontman Brent Smith.
Shinedown's shiny and feel good music was in contrast by an array of rough-and-tumble pyrotechnics, ear-grating explosions and, most notably, Smith's power-driven vocals. Smith is a master showman in unifying his audience and brandishing them with his octave intrepidity.
Smith is a duality himself, bringing a vocal picnic of soulful beauty and raspy metal. His accent to the evening was his acoustic cover of Lynyrd Skynyrd's "Simple Man" with guitarist Zach Myers. After a barrage of the songs "Adrenaline, "Diamond Eyes" and "Second Chance," Shinedown "Cut the Chord" with one final message.
"Take tonight with you always because in this life or the next, no one will ever defeat hate with hate. It will never happen. The only thing that will ever destroy that is 100 percent pure love," proclaimed Smith.
Shinedown completed its set with "Sound of Madness" as an induction to the Mr. Hyde leg of the show and five-fingery madness that ensued. With an audio clip from "Network," frontman Ivan Moody called to the crowd as a teaser from behind the still-intact stage curtain.
Lights emerged, and the growly Moody in his UNLV jersey, guitarists Zoltan Bathory and Jason Hook, bassist Chris Kael and stickman Jeremy Spencer took a five-finger hold on their 1 1/2 hour set.
The Las Vegas band made their allegiance known through Moody's declaration. "It's good to be home, Nevada. We looked on the list of places to tour, and at first, they told us we were going to skip Las Vegas. Zoltan went in and made the phone call, 'Are you stupid?' So, I think it's time to prove to the world and wash it all away."
"Wash It All Away" ensued with a double bass-drumming, throat-ripping onslaught of songs still in promotion of their 2015 album "Got Your Six." Moody personalized the show by dedicating "Bad Company" to the military.
He also gave a slight verbal onslaught to Kanye West, similar to comments he made during a Las Vegas appearance last year (West headlined T-Mobile the next night). Lastly, he gave praise to a woman named Darlene who he said saved his life in rehab.
As FFDP seems to be a fan of the younger generation, a chosen few kids were invited to join the band onstage. Additionally, Moody called out to his daughter in attendance, stating, "Lexi, come out here, come here, you gorgeous little b****. This is my beautiful daughter, Alexa. She's actually enrolling in UNLV. Isn't that cool?"
As the havoc-wreaking quintet death punched the audience into submission, the final exsanguination came through "The Bleeding." The bloodless Las Vegas audience was given one final sendoff from Moody: "You know the best part about Vegas to me? All of it."
Melina Robinson is a Las Vegas-based freelance writer.