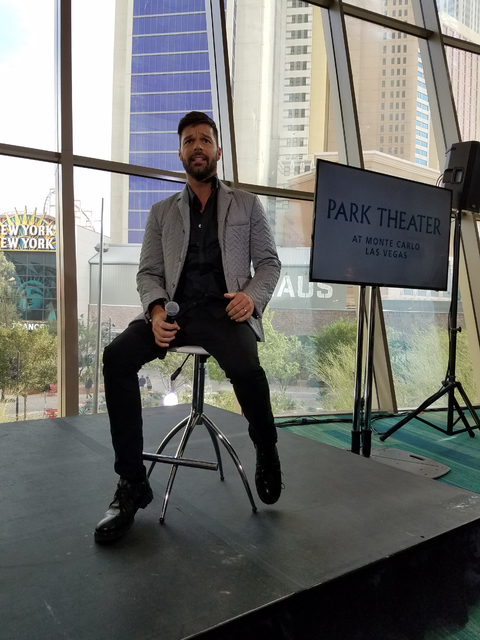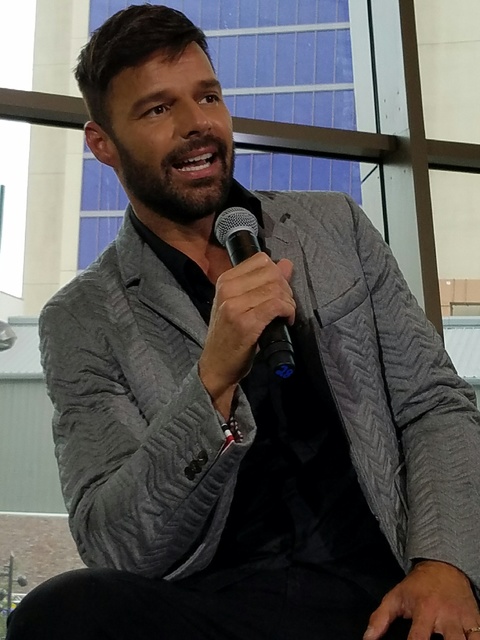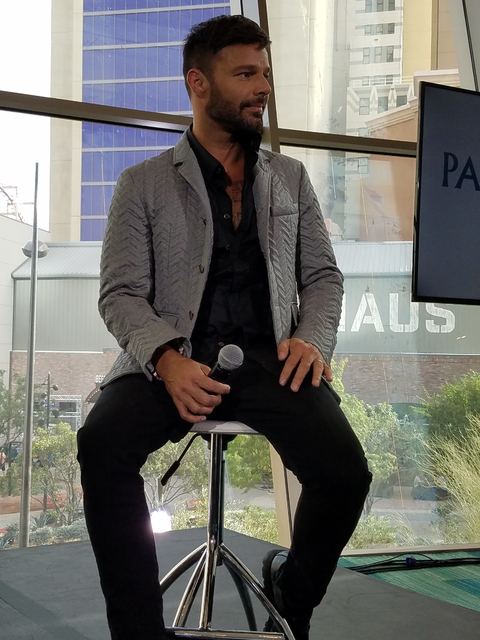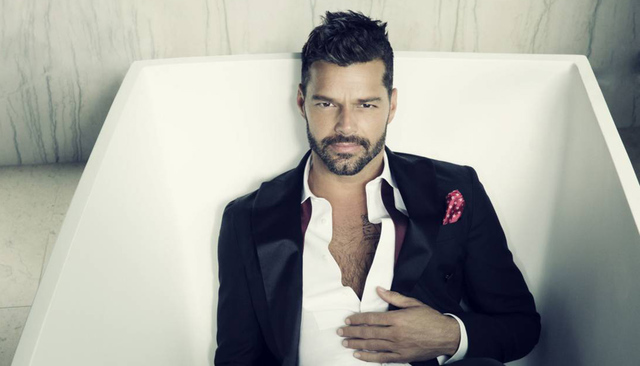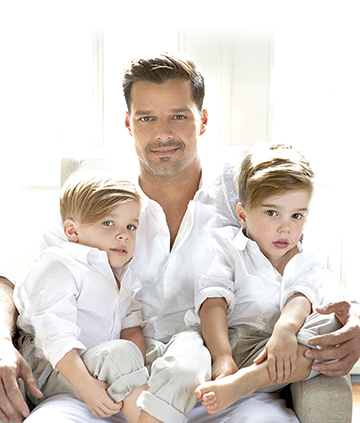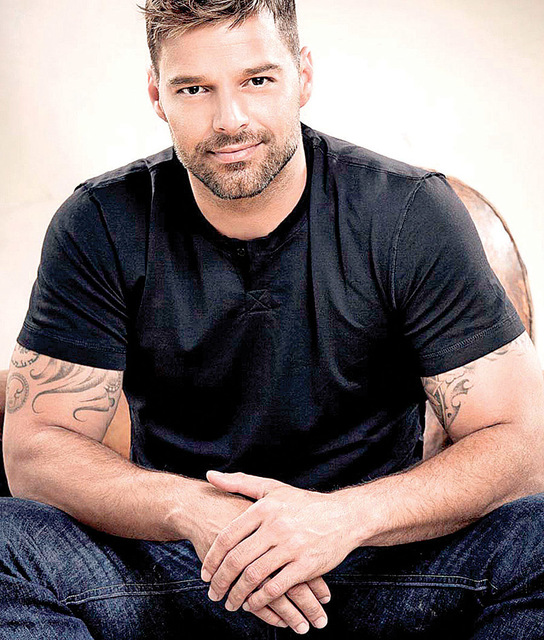 The Strip is about to light up with "Livin' La Vida Loca," Spanish for "Living the Crazy Life." It's the bon-bon song that began the Latin pop explosion in the late 1990s and heralded the arrival of Enrique Iglesias, Jennifer Lopez and Shakira.
It was Ricky Martin's show-stopping number at the 41st Grammy Awards hosted by Rosie O'Donnell and a catalyst for bringing Latin pop to the forefront here, and it sold more than 8 million copies, making it one of the bestselling singles of all time.
Grammy-winning Ricky, whose hits also include "She's All I Ever Had" and "She Bangs," has sold more than 85 million albums with 67 singles and EPs and has been certified platinum more than 95 times in more than 20 countries.
Now the 44-year-old global superstar and Puerto Rican hero, actor and author will be calling Las Vegas home for his "Crazy Life" as of April 5. Moments ago, Monte Carlo execs revealed that Ricky has signed a contract for a run of 18 concerts through September at the new Park Theater.
Ricky also revealed Tuesday on "The Ellen DeGeneres Show" that he will marry Jwan Yosef, his artist boyfriend of more than a year. Ricky let the secret of his Las Vegas residency out of the bag on "Ellen" and invited the audience to come see him at The Park Theater.
But the bigger surprise was that he has proposed to Jwan. Ricky explained: "He's a conceptual artist and I'm a collector, so I started looking for art and I saw his art and I went crazy over it … and then I contacted him." Ellen joked, "And then you collected him."
Ricky said that he was the one who proposed: "I was really nervous. It wasn't as easy as I'd imagined. I said, 'I got you something' and went down on bended knee. He said, 'What's the question?" And that was when I said, 'Will you marry me?' He said yes."
Additionally, I've learned that Ricky will give a preview of the excitement at the first-ever Las Vegas version of Calibash on Jan. 26 at T-Mobile Arena. Ricky, currently on his "One World Tour" through Mexico, took a one-day break to fly here from Panama for today's announcement.
Ricky kicked off the "One World Tour" here Sept. 15, 2015, at Axis at Planet Hollywood. Ricky, who came out of the closet in a Rolling Stone interview in March 2010, also unveiled his wax figure at Madame Tussauds at The Venetian in November 2014.
We'll update this story later after I ask him a few one-on-one questions, but he said in a news release: "I'm extremely excited to have my residency in Las Vegas. I have been thinking about it for years, and to see it become a reality is just an unbelievable feeling.
"I've dedicated my entire life to the stage, and there is nothing I want more than to create the best show of my career and make it an unforgettable experience for each person who comes to see me at the incredible Park Theater at Monte Carlo.
"Throughout my career, I have been fortunate to be able to share my culture through music while creating an exciting atmosphere where you have no choice but to have the best time, to dance and sing until we all forget our problems, to let go and be completely free.
"This new show will not be the exception. I'm inspired, and I can't wait to show you what we have in store." Our preview tour of The Park Theater with Dan Bernbach, executive director and general manager, was posted Nov. 4. Daniel told me then:
"Stars want to perform here. A lot of artists want to do something other than arenas. They want to do something that's different for their fans who have seen them perform all over the world. We've got the four Bruno Mars shows locked down. We've got the first 18 dates for Cher all set.
"There'll be more shows to come. Some of the acts who we're talking to now are acts who have not done residencies of this type. We're not calling it residencies. We're calling it extended engagements with stars who have not done shows like this in this market before or anywhere.
"We're adding a new venue to the entertainment landscape of Las Vegas that's unlike anything else. There are similarities, but the stars and their managers are seeing this venue as more than just a technical marvel. It's also the intimacy of the venue, the incredible state-of-the-art sound system. Artists want to perform in this space."
Ricky's career began at age 12 with Menudo, and he played a Puerto Rican singer in 1994 on "General Hospital." His first major tour was "Livin' La Vida Loca" in 2000 with 103 shows in four continents. With 44 U.S. shows and 617,000 fans, it was the No. 10 tour of the year.
Ricky has served as a judge on "The Voice" in Australia and Mexico. His new song "Vente Pa' Ca (Come Over Here)" with Colombian singer Maluma was released in September and went to the top of the music charts with more than 138 million views on YouTube.
Pre-The Park Theater, Ricky appears Jan. 26 at T-Mobile Arena with Don Omar, Wisin, Nicky Jam, Residente and 15 other stars for the multi-artist Calibash celebrating its 10th anniversary of Latin music in the United States. It's the first time the show has taken place here.
"Calibash is without doubt a strong start to the future of Latin entertainment in Las Vegas," Lucas Pina, SVP of SBS Entertainment, told Billboard. "It is a challenge, but we are confident with the quality performers that we will produce a successful January sold-out event."
Tickets to Calibash go on sale at AXS.com on Friday, Nov. 25. We welcome Ricky as the newest resident global superstar to the Strip, joining Celine Dion, Britney Spears, J.Lo, Sir Elton John, Sir Rod Stewart and more. Tickets for Ricky's show go on sale at 10 a.m. Monday.