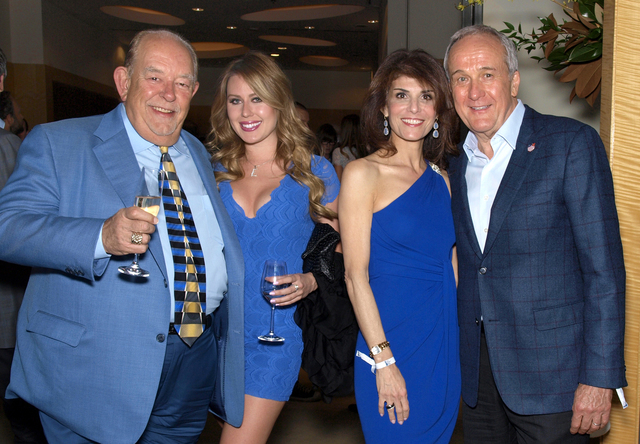 Robin Leach, pioneering entertainment journalist and part of the Las Vegas social fabric since 1999, is joining the Las Vegas Review-Journal to expand its Niche division, Publisher Craig Moon announced today.
Leach, 74, came to fame with his unmistakable voice as host of the syndicated "Lifestyles of the Rich and Famous," which aired for more than a decade. In recent years his columns have appeared in the Las Vegas Sun, which is separately owned by Greenspun Media Group but has a joint-operating agreement with the Review-Journal to be included in the pages of the daily newspaper.
"Expanding our focus on celebrity and entertainment news is a natural for us given our location, and we are excited to work with Robin to leverage his powerful brand, which has endured for decades and has gained even greater prominence today, thanks to heightened public interest in celebrity and entertainment headlines," Moon said.
Luxury Las Vegas Editor Leslie Frisbee is being promoted to oversee the R-J's Niche division as its director of content strategy, but will continue to edit the magazine.
The addition of Leach and entertainment editor and writer Don Chareunsy — who worked with Leach at Greenspun Media Group — will boost print and online readership and develop new platforms, including a possible TV station, a new daily website and a citywide shopping guide that encompasses the Strip's retail corridor, Kimberly Parker, the Review-Journal's vice president of advertising and sales, said.
Leach's work will appear as advertising-sponsored content in the Friday Neon entertainment section and Sunday Life section. He will also produce expanded celebrity, lifestyle and luxury content for the R-J's Niche division and its two key outlets: the monthly magazine Luxury Las Vegas and Best of Las Vegas, the annual special section based on a reader's poll.
Leach said it was both an exciting and challenging time to introduce "new entertainment-driven products and open up the television coverage of Las Vegas."
"At a time when newspapers across the country are working toward ways to gain additional readership, I admire and respect the new R-J leadership for committing resources to grow its content offerings," Leach said.
A reporter since his teen years in suburban London, Leach has been at the forefront of celebrity journalism. He was the entertainment editor for Rupert Murdoch's first American tabloid, the Star, was part of the launch of People magazine, was the first show business reporter for CNN and helped develop "Entertainment Tonight."
He was later part of the development of the Food Network, and during that period of the late '90s, his commutes to Las Vegas for the network and his work to lure celebrity chefs to The Venetian convinced him to move to Las Vegas.
Leach launched his "Luxe Life" in 2005, originally for AOL, before that website and "Vegas DeLuxe" came under the Greenspun Media and Sun umbrella. He will develop a digital platform with a new name for the Review-Journal.