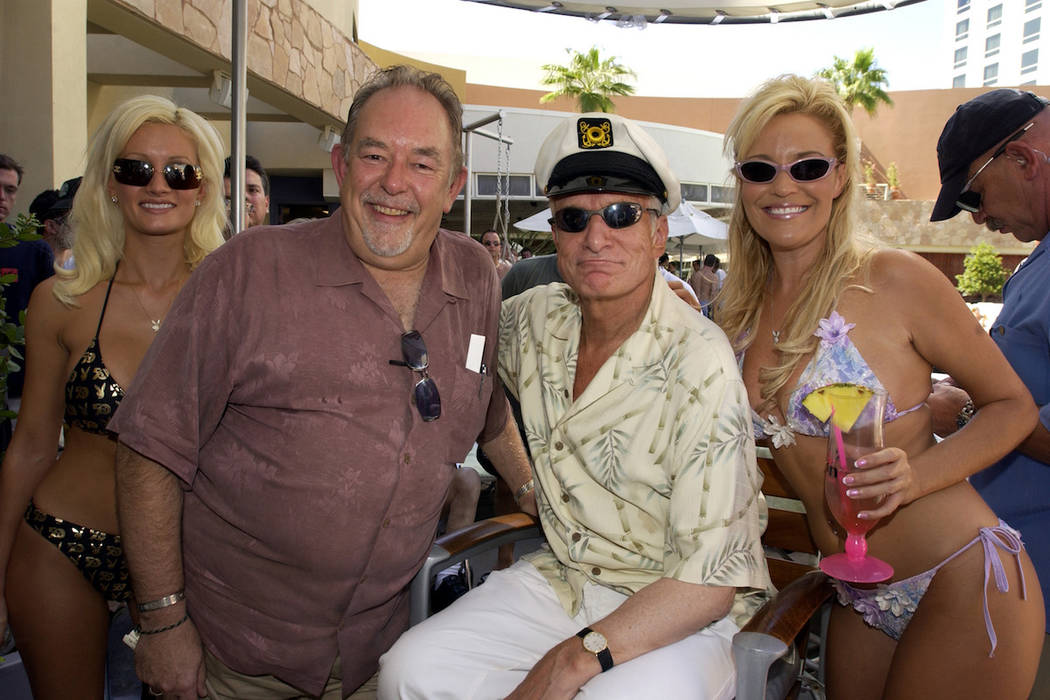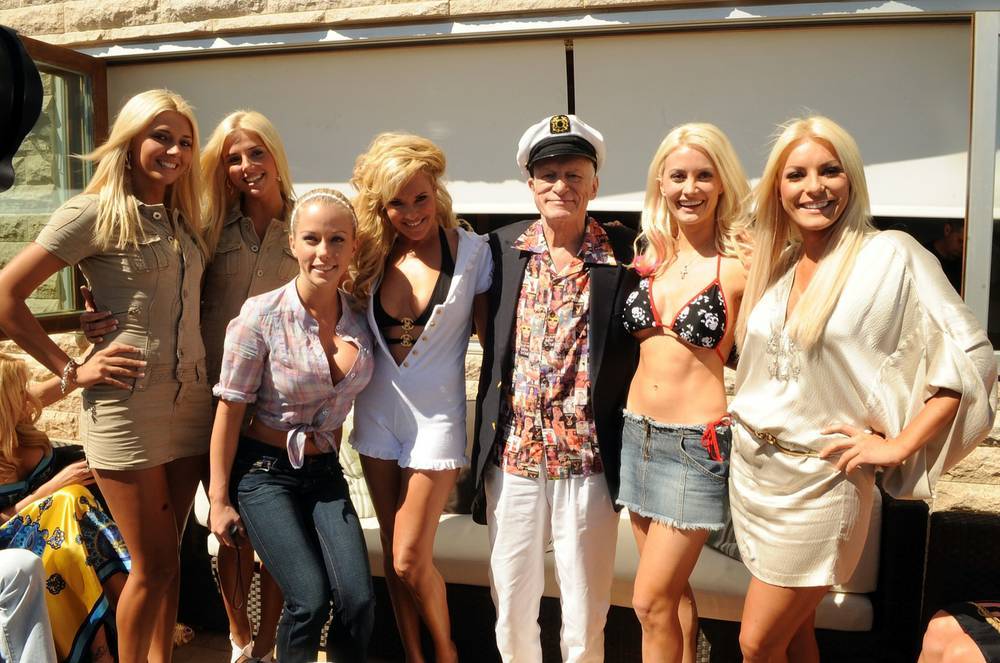 Playboy king Hugh Hefner always told me he expected to live to be 100 and more — mainly because his family all hit the century mark before passing on. He didn't live to see the magical 100-year mark, dying of natural causes last night (Sept. 27) at the famed Playboy Mansion.
He was a regular visitor to Vegas. He was a regular at his Sky Villa atop the Palms and brought his Playboy model wife, Crystal, here when they became engaged to marry. I joined Hef at his villa birthday party when a 100 percent naked Pamela Anderson surprised him jumping from his birthday cake.
Jon Gray, general manager and vice president of the Palms Casino Resort said: "On behalf of the Palms family, we'd like to express our deepest condolences to the Hefner family and the team at Playboy Enterprises. Palms shares a special and unique history with Mr. Hefner and the Playboy brand. When we partnered with Hef to build the Playboy club and Hugh-Hefner Sky Villa atop the Fantasy Tower, we ventured on a journey to create a lifetime of lasting memories for our guests and forever change the Las Vegas party scene. Mission accomplished! His legacy will forever be a part of Palms history. Cheers to you Mr. Hefner may you rest in peace."
I talked with Hef every time he came here whether it was on his dates with Holly Madison or his visits with Clare Sinclair to see her in the "Crazy Horse" Paris show at MGM or her "PinUp" production at the Stratosphere. Hef celebrated his 85th birthday here, too.
Here's the YouTube video of my last interview with Hef celebrating his 85th birthday:
I once asked Hef about his many alleged affairs with a string of Playboy bunnies and cover girls. He told me: "Over the course of my life I've had more than my fair share of romantic relationships with wonderful women. Many moved on to live happy, healthy and productive lives and I'm pleased to say remain dear friends, today."
At his birthday celebration at the Palms Place pool I asked Hef about age: "Some days I feel like 93, and some days I feel like 20. My new trio of girls is where the 20 part comes in! That's the secret. Yeah, the absolute best part of my life is these romantic connections. I am very, very fortunate to have found such very lovely ladies at this point in my life."
I asked Hef if he still had the empty tomb beside Marilyn Monroe's resting place marked for his death. The actress appeared naked on the very first edition published in December 1953 and now worth $65,000 a copy on E-Bay.
What do you think you'll put on your tombstone?
"It was Jimmy Stewart's movie, 'It's a Wonderful Life.' … But I'd like to be remembered as somebody who played some part in changing our social sexual values. It was time, and I think my position in terms of that is secure."
RL: So would it say: "He lived and he loved?"
HH: Yes, absolutely.
RL: And never lost.
HH: Well I wouldn't say that.
RL: You wouldn't? What did you lose?
HH: Well, I think that is the nature of love and life. You win a few. You lose a few.
RL: I think you've won!
HH: I agree!.
We'll miss Hugh Hefner — the pipe smoking pajama-clad tycoon with his eye for blonde busty beauties. He was a unique part of 20th-century America. He sold his notorious 20,000-square-foot Holmby Hills estate with its Love Grotto in 2016 for about $100 million and new owner Darren Metropoulos agreed Hef could live there until he died. Now, after last night's shock, the former CEO of Pabst Brewing will connect it to his adjoining mansion and we will remain with the memory of Hef's legacy.