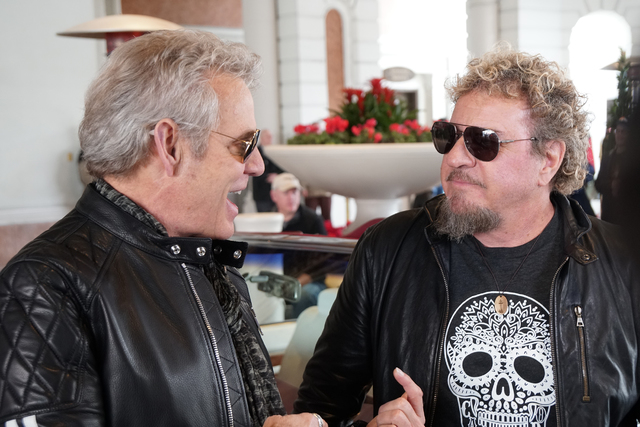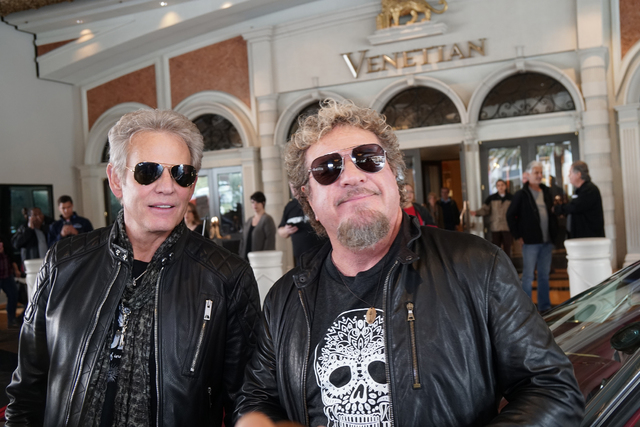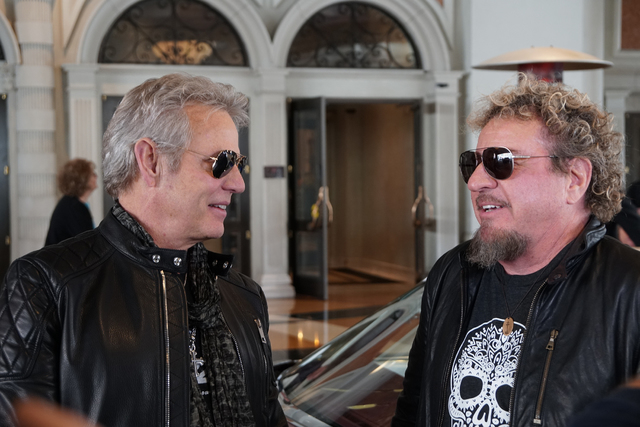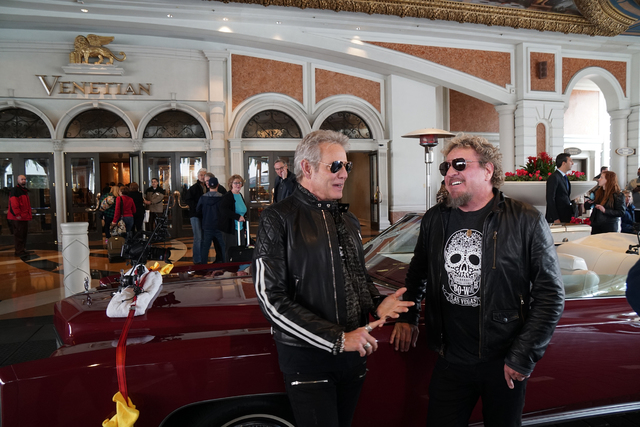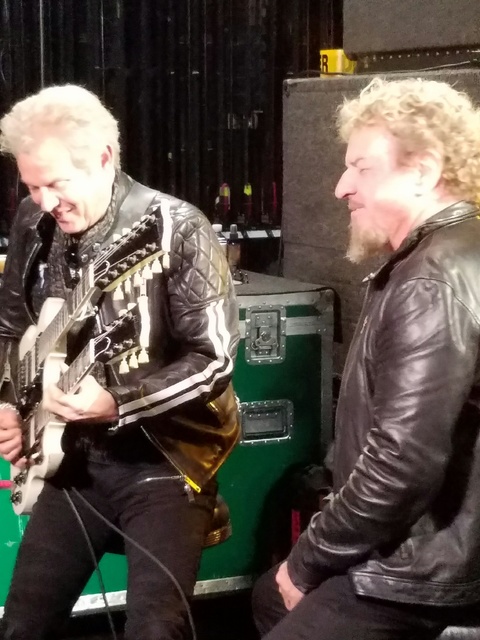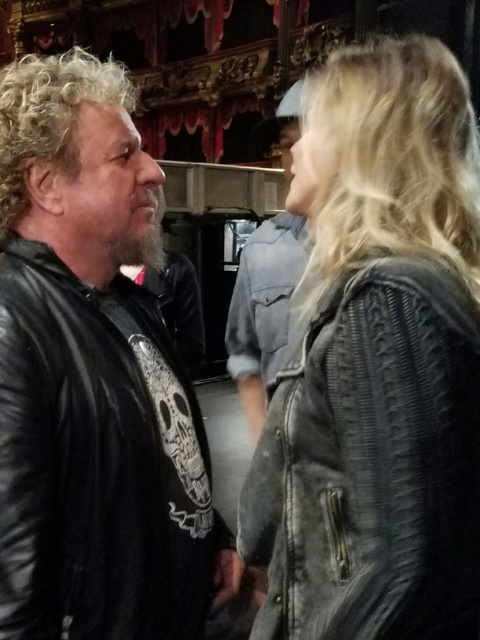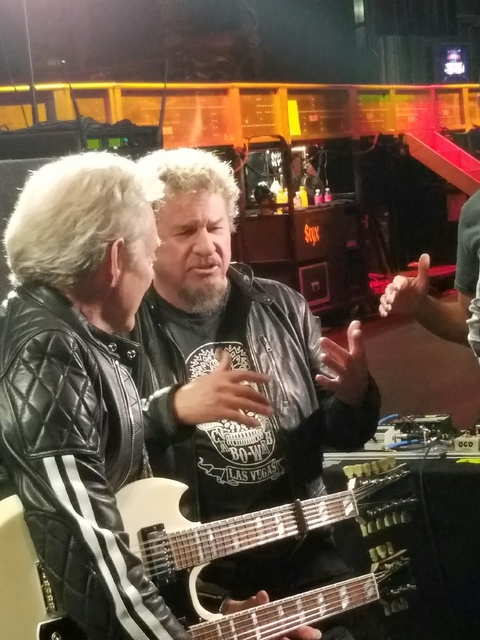 With 10 restaurants and a tequila-and-rum business, Las Vegas rocker Sammy Hagar has taken on a new role as TV host.
"People tell me the most amazing secrets because I'm honest and not a journalist," Sammy laughed. He brought his cameras for Mark Cuban's Axis Network to The Venetian over the weekend to film with Don Felder and Styx during their limited engagement "Renegades in the Fast Lane."
"This is our second season of 'Sammy Hagar's Rock 'n' Roll Road Trip,' " Sammy told me. "We were increased to 12 shows for our second season. We've already filmed Toby Keith at his Oklahoma ranch and John Mellencamp's riverside retreat in Indiana.
"But this is our first time filming home in Las Vegas. How could I not shoot with Don and Styx when they came to the Strip? We also added Carrot Top."
I watched as the cameras rolled on Sammy and Don singing "Hotel California" at the sound check before Sammy surprised Friday night's Venetian audience with an unexpected guest appearance.
Said Sammy: "It's the first time I'm ever sung 'Hotel California' in public, although it's a song I know well and have sung all my life privately. This episode will air either in late February or early March. It's the 12th one we've filmed since we began the series."
Don rode shotgun as Sammy cruised to The Venetian driving a classic Cadillac. Cameras were set up backstage at Venetian Theater where "Phantom – The Las Vegas Spectacular" headlined. They captured Sammy and Don playing and singing acoustic tunes together.
In the first season of the show, Sammy filmed Motley Crue's Tommy Lee at his Los Angeles home, Alice Cooper at his Phoenix pad, John Mayall and Melissa Etheredge.
For this second season, Sammy has already filmed Mick Fleetwood on Maui with Fleetwood Mac and chef manager Shep Gordon, who brought in several celebrity chefs for the episode.
"You can call it the rock-and-roll version of your show 'Lifestyles of the Rich & Famous'," Sammy laughed. "We film their cars, their kitchens, their cooking, all the stuff you used to do.
"But with me they are brutally honest. People tell me the most amazing secrets because I'm honest and not a journalist. Our best interview was with John Mellencamp.
"He shocked me with the admission that he prefers to stay home and paint instead of going out on the road and playing music. He said that he's no longer interested in music and only now goes out to perform in order to support his habit of painting.
"I'm really enjoying hosting a TV show. I used to be always intimidated by TV cameras. I'd freeze up. I couldn't talk properly. I was unintelligible. But the show has been good for me. It broke all my fears."
Sammy, who owns and runs his Cabo Wabo Cantina at Planet Hollywood's Miracle Mile Shops, told me that for the first time this June, he is going out on a 20 back-to-back show tour over five weeks.
"I've never done that before. Normally, I just go out, do weekend shows, then return home, take a break, then go out another weekend to perform. This will be different for me in every respect. I don't even know if I can do five weeks on the road, but it's better than going door-to-door!"