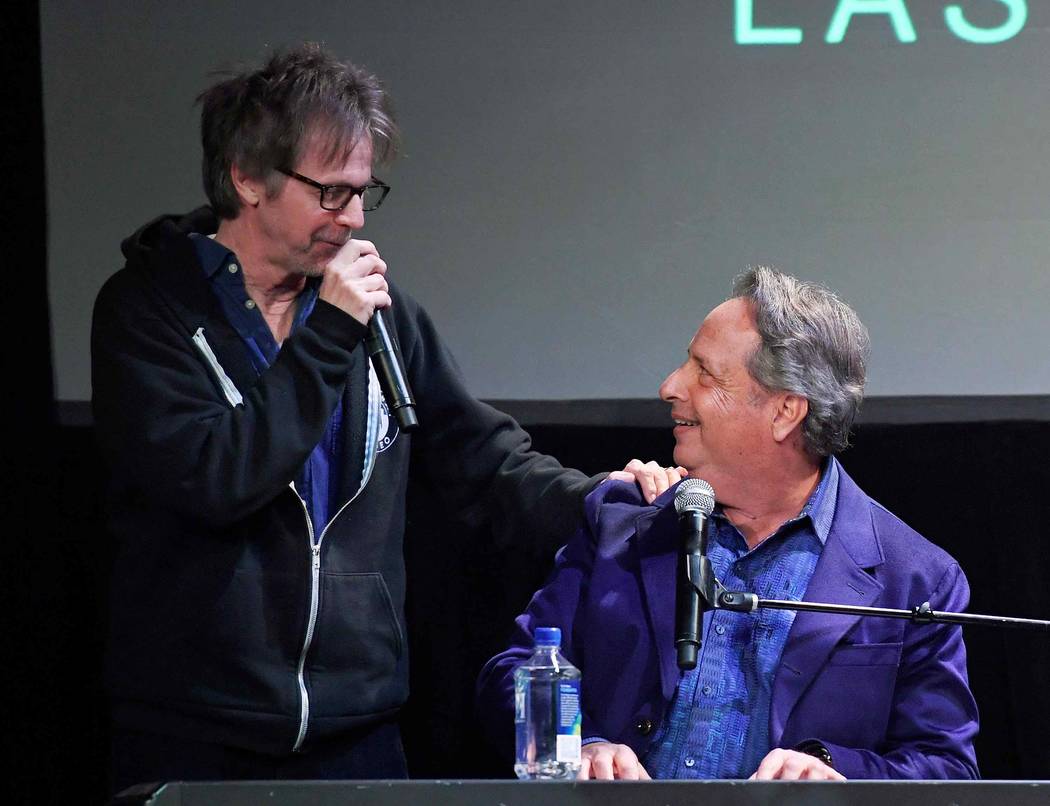 EDITOR'S NOTE: It's that time of the year again when Robin takes off for his monthlong family trip to Europe. He's finished his trip-start excursion to Greece and has now wound up as usual in Italy to enjoy the food and wine delights of Tuscany.
In his absence, a great number of showbiz entertainers, celebrity VIPs, chefs, restaurateurs and Vegas dignitaries have stepped forward to write their guest columns.
Today, we have "Saturday Night Live" legends Dana Carvey and Jon Lovitz from their "Reunited" show at The Foundry in the SLS Hotel. Visit foundrylv.com for tickets and show times.
Dana: While our friend Robin Leach is away in Italy and La Jolla, we're holding down his fort in record high heat.
Jon: The name of the show, it really couldn't be any better. Dana and I are great friends, so it is hard to believe this is the first time we're doing this. Can you believe we've never done any shows together?
Dana: Jon is one of the funniest people I've ever met. From day one, he has always made me laugh. For me, that's the fun part. Jon still makes me laugh all the time.
Same silly sense of humor
Jon: We make each other laugh. We just have the same, silly sense of humor. We've always connected that way.
Dana: After all these years, people ask both of us all the time to do "The Church Lady" and "Pathological Liar." Those characters were from our early days on "SNL," and there's such a silliness to them. You can't help but laugh.
Jon: Even though we've both done a lot of shows in Vegas on our own, it never occurred to us to combine them. Do you know what brought us together? "Celebrity Apprentice." I don't know that I would have said anything came out of that show for me, but this did! I got to be friends with Vince Neil, and he was the one who put this in motion. Vince lives in Vegas and knows all the places to go and knows everyone here. He connected us with his friends and here we are.
Performing where legends have played
Dana: We found a home for the show at SLS Las Vegas, and it's a fantastic hotel — you can't beat dinner at Katsuya or Bazaar Meat. Everything is new at SLS and in The Foundry, where we perform, but the bones of the hotel are from the Sahara. Do you know how cool that is? We're performing where legends have performed. Don Rickles was a regular performer. Frank Sinatra came to his shows — and now we're walking those same hallways.
Jon: They say, "only in Vegas," and here we are. We aren't doing this show anywhere else right now, so we hope to see you in Vegas. Don't be surprised to hear Dana impersonating Robin with that "I'm yelling and I don't know why" impression!
Jon Lovitz and Dana Carvey star in "Reunited," a 75-minute stand-up comedy show featuring lively musical numbers, spot-on impressions and a look back at the dynamic duo's renowned sketches.
Known for immortalizing such popular characters as "The Church Lady," "Master Thespian" and "Garth," the long-time friends bring their hysterical antics to Vegas with show dates through November. To top off the unforgettable evening, guests have the unique opportunity to interact with Lovitz and Carvey during a no-holds-barred Q&A session.
Be sure to check out our other guest writers online today: the current reigning Mrs. Nevada Stephanie Barrett, who is about to represent the Silver State at the Mrs. America pageant here next month and nightlife guru Marc Jay.