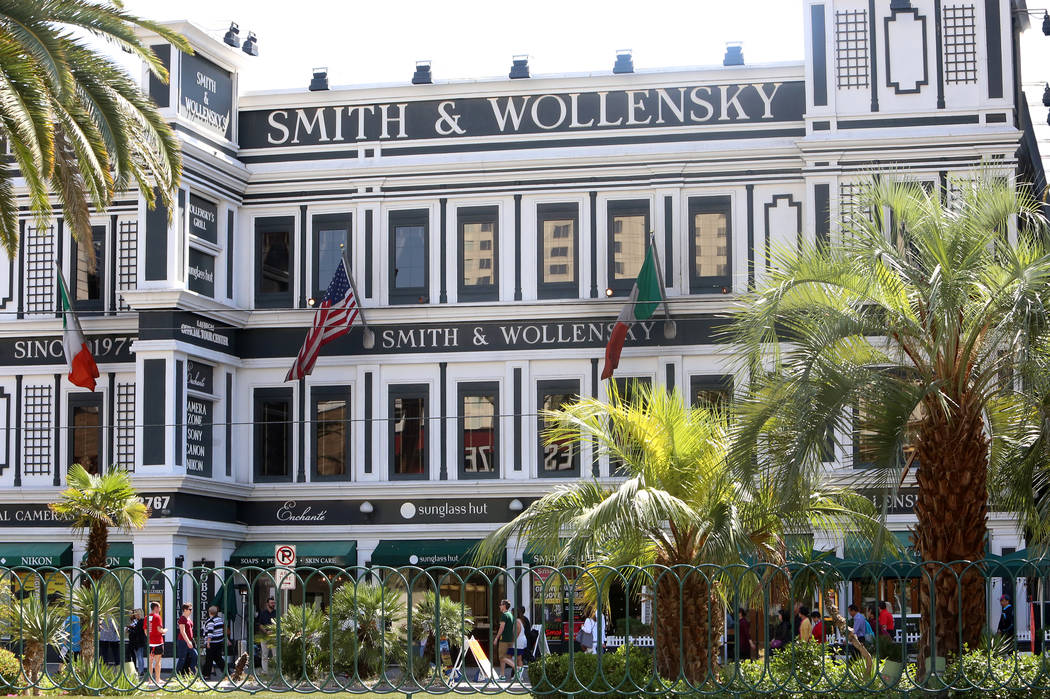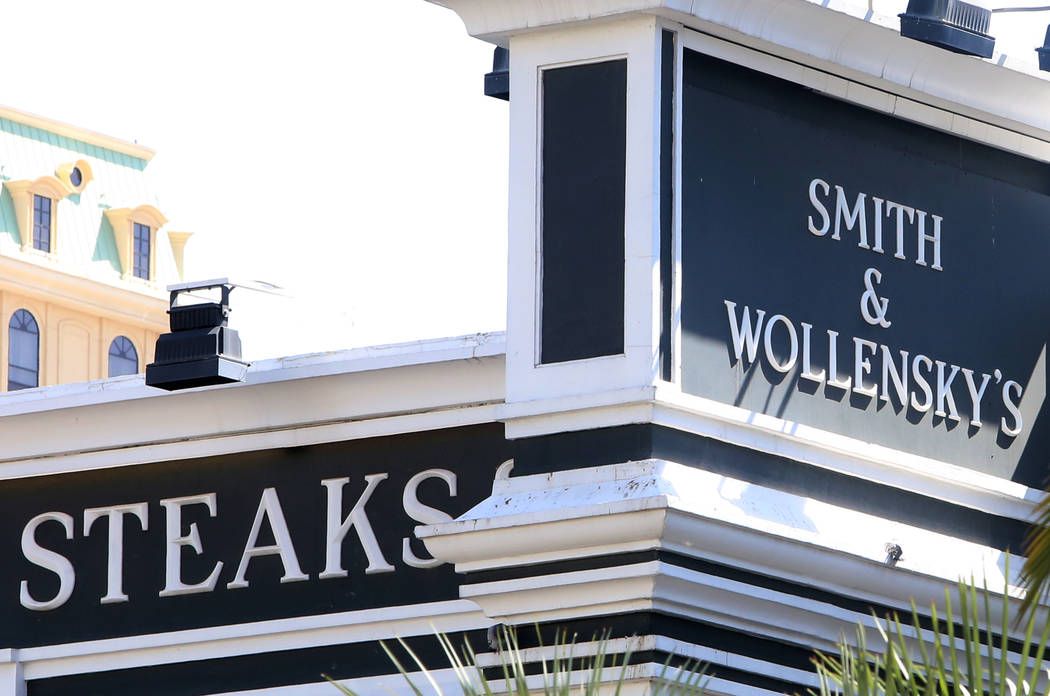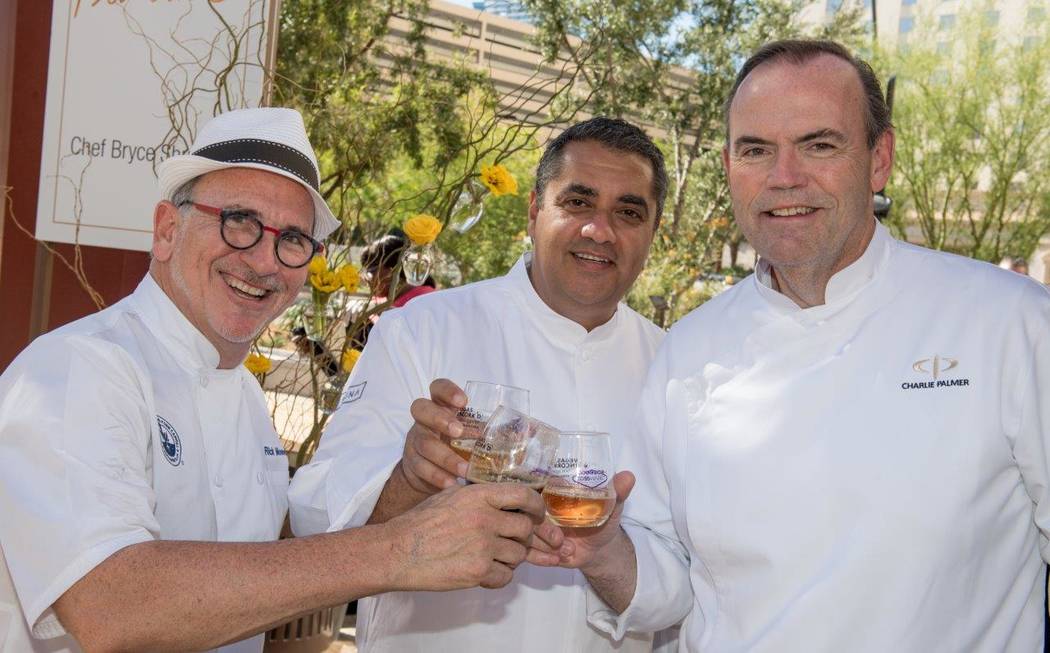 We have a lot of juicy, food-related items to digest today:
A huge, two-day auction is being set for the three kitchens and three main-dining floors that accommodate 630 guests at Smith & Wollensky on the Strip as its final day of service looms Saturday.
The entire contents and memorabilia of the building north of MGM Grand go up for sale from June 1-2. Restaurant owners and chefs will find bargains galore amid the dinnerware, glasses and furniture.
NEW STRIP RESTAURANTS
Eight restaurants are opening at the Strip's new, open-air Boulevard Food Court, a 24-hour venture created by venture capitalist Darin Feinstein. Opposite Monte Carlo, the new eateries join his successful franchise Fatburger, the top-grossing outlet in the chain across Nevada and California. Darin opens the second El Dorado Mexican as the first of the eight Strip ventures.
Chef Francisco Cortes, who has won raves at El Dorado alongside Sapphire Gentlemen's Club, will focus on street food known as "little cravings" with tacos flame seared on a spit. The other restaurants include the 21st Coffee Bean & Tea Leaf.
Also, AAA Sandwich Company; Mighty Fries, which features every form of potato cut in two sizes with dips and four dust seasonings; Cannonball Buffalo Wings & Fingers; Cookie Mufu; Reb Dog with 2-foot-long jalapeno hot dogs; and Voodoo Pizza with 18 pies in an oversized, eight-slice size.
'TOP CHEF' IN HENDERSON
Mandalay Bay and "Top Chef: Masters" cheftestant Rick Moonen and his wife, Roni Moonen, have launched a weekly show, "In the Kitchen," for live broadcast on Facebook from the Jenn-Air-equipped kitchen studio at Lake Industries in Henderson. You can catch them at 4 p.m. Wednesday at Facebook.com/ChefRickMoonen, then Thursdays each week thereafter.
Wednesday's episode features paella, with an emphasis on creating a meal to be shared with friends and family, and wines provided by Southern Glazers Wine & Spirits. Viewers are encouraged to interact during the show, asking questions and engaging with Rick and Roni.
There are prize giveaways, including signed chef coats, cookbooks and Blades steak knife sets, as an additional incentive to watch. A limited number of seats are available to attend and taste first hand on a first-come, first-serve basis. Reservations are required and can be made by emailing saville.kellner@revenuemediagroup.com
SUGARY STARS
It was a star-studded turnout at Sugar Factory Fashion Show when Drake launched his Night Owl black whiskey goblet and WWE legend Bill Goldberg had a meet-and-greet. Bill brought his family to meet the hundreds of fans. Bill, wife Wanda and son Gage hit the retail store where they loaded two goblets with crispy crunch Gummy Bears, Skittles, chocolate and Couture Pops.
In addition to Insane Milkshakes, Bill ordered the limited-edition Goldburger, which features a bun glazed with gold. The family also ordered The King Kong Sundae with 24 scoops of ice cream, toppings and sparklers. Hours later, Drake turned up with 20 pals to launch his black whiskey Night Owl.
His Night Owl goblet is the first of four cocktail collaborations he's doing with Sugar Factory globally. He had dinner in the upstairs Chocolate Lounge, then moved downstairs to the main restaurant where he took over a booth for photos with the smoking, dry-ice drink. I can tell you that the goblet is rich, decadent and smooth.
TV SPECIAL
Now that The Venetian headliners Human Nature have recorded the first of their new shows for a TV special, we can reveal that the program, filmed in-the-round at the former "Phantom — the Las Vegas Spectacular" theater, will air on PBS during its fundraising telethons.
Incidentally, if you spend $200 or more in same-day receipts this summer at any Tivoli Village store or restaurant, the four Australian singers give you two tickets to see their show "Jukebox" at Sands Showroom.
SCHOLARSHIP GIFT
The Mirage headliner Terry Fator is picking up the tab for two scholarships valued at nearly $3,000 each for student ventriloquists. The competition for would-be performers includes travel to the 2017 Vent Haven convention July 12-15 and ventriloquism courses.
BIRTHDAY BEGINNINGS
Former "Pin Up" at The Stratosphere headliner Claire Sinclair celebrates her birthday Thursday and simultaneously launches her hotel project Clairebnb on Indiegogo. Claire sunk her life savings into the project and has completed four themed suites.
She has the greenlight go-ahead from the Downtown City Council for the remaining four suites in her boutique hotel project. She wants to expand her transformation concept to other dilapidated Downtown buildings, then to West Coast cities. Claire also appeared on "Shark Tank" to tempt investors with her business plan.