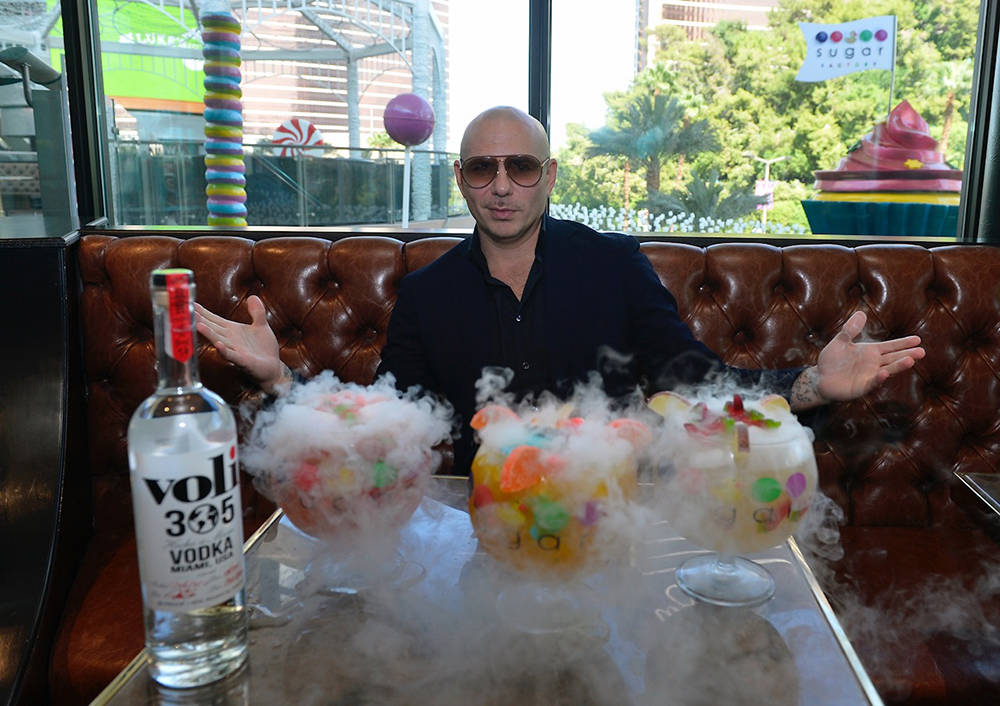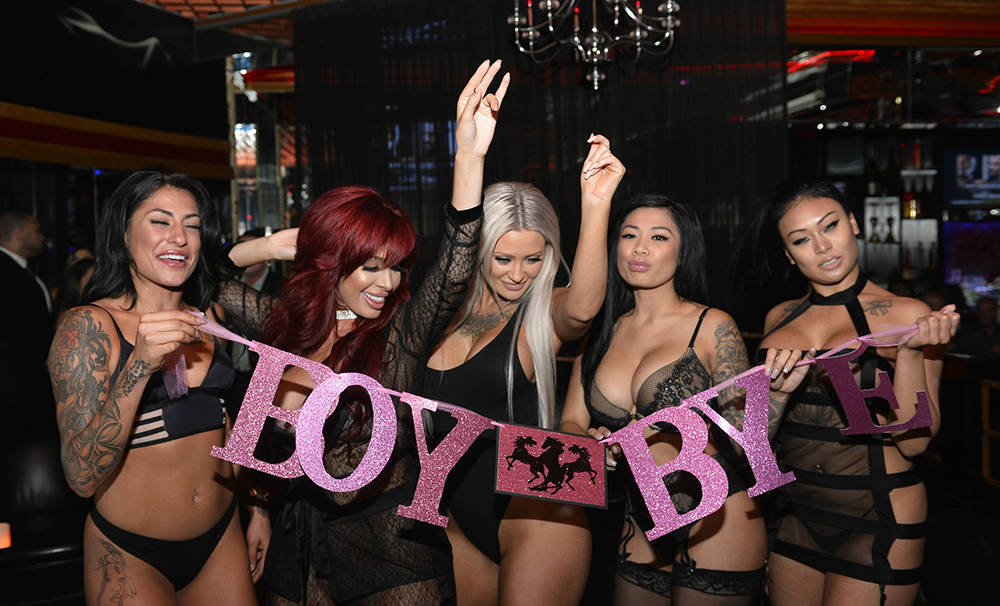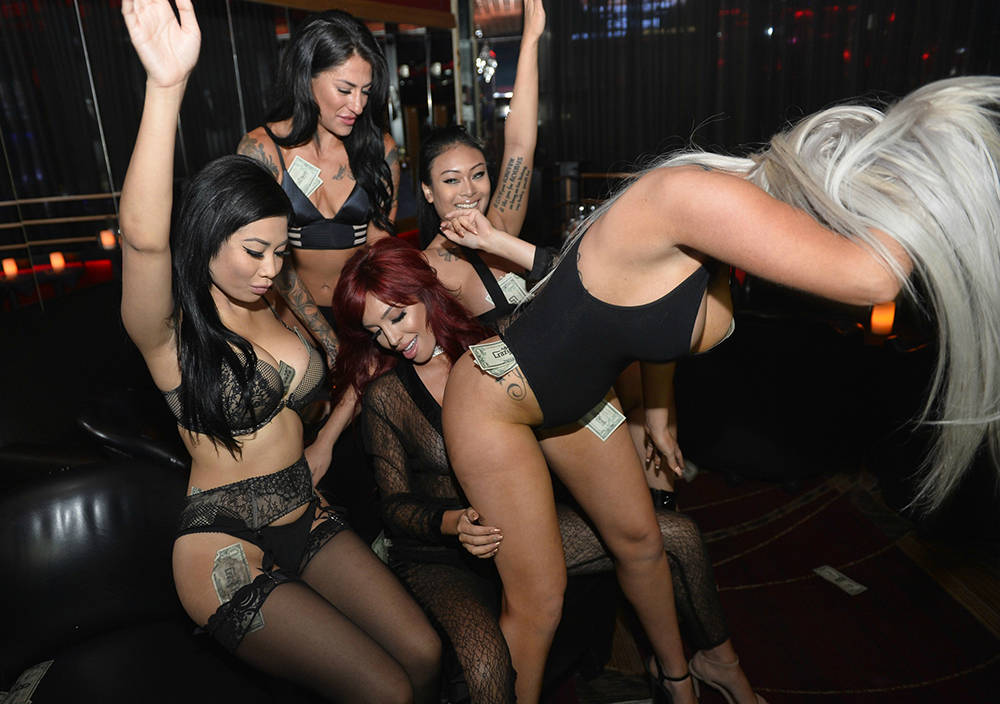 Summer is in full swing and Las Vegas has become the playground for stars of stage and screen. You can hit our restaurants and nightclubs and chances are good you will rub shoulders with a VIP celebrity. The past few days alone have been a bonanza for star-spotting:
• Grammy award winning recording star and Planet Hollywood Resort headliner Mr. Worldwide — aka international superstar Pitbull — unveiled his three new signature goblets when he visited the Sugar Factory American Brasserie at the Fashion Show Mall. He designed and tasted the drinks made from Voli 305 ( that's also his area code) including Watermelon Patch, Fuzzy Peach Penguin and Hot & Wild Spicy 305 Pineapple.
For the curious Pitbull's real name is Armando Christian Perez and after enjoying his favorite salmon salad he ordered up Giggles Snickers Tie Dye Milkshakes and Twinkie Dinkies for dessert. Before departing he stopped in at the confectionery shop to take home his favorite candies of sour jacks and sour watermelon slice gummies.
• MTV reality television starlet Farrah Abraham premiered the launch of lifetime membership at the Crazy Horse III topless club. She decided to wear a sheer, lace, black jumpsuit with plunging neckline and new flaming-red colored hair that she'd had the stylists at Hottie Hair Salon create for her as "breakup revenge." She recently broke up with longtime boyfriend Simon Saran and she ordered up champagne for the dancers to toast "Cheers to Single Ladies." Farrah is known for her "Teen Mom and 16 & Pregnant" shows on MTV debuts her new "Single AF" series on the cable channel this fall.
• If you see celebrities posed on one leg to look like a Flamingo don't act too surprised. Celine Dion, Marie Osmond and country star John Rich are among those taking part in the Flamingo Challenge to raise awareness and funds for the American Cancer Society. The goal is to raise $70,000 by Oct. 31 and the topless girls of both "X Burlesque" and the "Crazy Girls" have joined Piff the Magic Dragon, Murray Sawchuck and the Legends in Concert cast to do the one-legged pose. You can play a part by posting a photo of you mimicking a flamingo and nominate friends who have 24 hours to post their own photo or make a financial pledge to the American Cancer Society.
• Emma Slater, Sasha Farber, Keo Motsepe and the cast of the live "Dancing with the Stars" show performed at The Orleans Arena and then waltzed over for dim sum and sushi from the chef at a hotspot in The Venetian.
• Undefeated boxing champion, Floyd Mayweather and legendary hip-hop star Flo Rida were in the crowd at the Rehab BeachClub in the Hard Rock Hotel for rapper Ginuwine's weekend performance. Expect to see Puff Daddy and Ice Cube with Meek Mill on Aug. 26 when Floyd goes up against UFC stalwart Conan McGregor at the eagerly awaited mega-fight. Flo Rida also stopped by to greet record producer and DJ Jermaine Dupri, who was entertaining at Tao Beach in The Venetian.
• Reality TV regular Vinny Ventiera from "Bachelorette," "Bachelor in Paradise" and "Million Dollar Matchmaker" was at the TAO nightclub in The Venetian with a group of female friends. Vinny returns to "Bachelor in Paradise" this coming season. Season 3 "Bachelor in Paradise" contestant Daniel Maguire was also in town and seen enjoying the signature desserts of Venezuelan milk chocolate, Ecuadorian brownies and Aztec chocolate cake at the Hexx Kitchen + Bar chocolate emporium in Paris Las Vegas.
• Reality stars Haley and Emily Ferguson from "The Bachelor and Bachelor" in Paradise took a group of friends to Club Domina in the Hard Rock Hotel for a return visit to the "Magic Mike Live" male burlesque show.
"It was so good that we had to come back for more," said the twins who had an exclusive meet-and-greet with the cast afterward.
• Dynamic performances by Lit and special guest Alien Ant Farm punctuated the Night Jams party at the Flamingo Go Pool as the energetic Sunday night concert series continued. Silky-voice rhythm and blues singer, Monte Jordan, who has the current No. 1 mainstream hit, "This is How We Do it," performed live earlier in the day for fans poolside nestled by the waterfall of the 15-acre tropical retreat.
• Country music sensations Dan + Shay grabbed lunch at Topgolf while practicing their swings at the little white ball before performing at the Coyotes Country Fest at The Orleans.