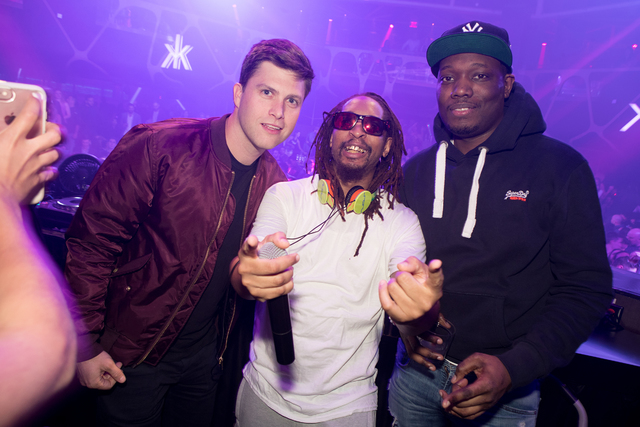 Sports stars are huddling in Las Vegas on a break from the rigors of their stadium showdowns. Five members of the Tennessee Titans put pedal to the metal driving luxury sports cars on the track at Speed Vegas: Delanie Walker, tight end; Jurrell Casey, defensive end; Brian Orakpo, outside linebacker; and Avery Williamson and Sean Spence, linebackers.
The NFL players drove multiple laps around the Formula One-inspired track. Avery and Sean drove the popular Lamborghini Huracan, while the other three took on the Italian Ferrari 458. The fastest man on the track award went to Jurrell, who reached a top speed of 153 mph with a lap time of 70 seconds.
Brian, Avery and teammate DaQuan Jones, in the fifth photograph, also stopped at Topgolf at MGM Grand while in town, as did new SLS Las Vegas headliner comedian Jon Lovitz and his son.
MLB legend and former Los Angeles Dodgers pitcher Orel Hershiser dined with his wife at La Cave Wine & Food Hideaway at Wynn Las Vegas on Tuesday night. They sat in the garden lounge and enjoyed chef William DeMarco's Moroccan chicken skewers, three bean salad, beef filet crostini and bacon and egg fettuccine. The couple also enjoyed a bottle of Dalmau wine.
Las Vegas' Bryce Harper of The Washington Nationals also dined at La Cave after speaking at Under Armour's CES booth about the importance of sleep for athletes. Newlywed Bryce stuck to water while enjoying tomato and mozzarella flatbread, grilled shrimp and mini burgers topped with chipotle mayo and mushroom duxelles.
MGM Grand headliner magician David Copperfield discussed antique clocks and magic for Engadget during CES.
Wide receiver Michael Crabtree of The Oakland Raiders was at STK at The Cosmopolitan of Las Vegas on Tuesday night. Dressed in jeans and a T-shirt, he ordered miniature burgers and crispy Maine lobster tail appetizers with a glazed beef short rib entree and sides of creamy Yukon potatoes and shrimp scampi.
Las Vegas singer Frankie Scinta, in the second photograph, visited Metro Pizza at Skypointe to try its famous Sicilian pie and gave it a big thumbs up. Scores of Old Las Vegas performers have been diehard Metro fans going all the way back to Frank Sinatra himself.
Actor Billy Zane, in the first photograph, attended "Absinthe" at Caesars Palace on Sunday. Post-show, Billy went backstage for a photo with The Gazillionaire, his raucous assistant Wanda Widdles and "The Green Fairy," Melody Sweets, and took to Instagram, saying, "With the talented cast of the insanely funny and 'deaf-defying' show #Absinthe #LasVegas."
Pro football player Michael Sam, in the third and fourth photographs, celebrated his 27th birthday attending Cirque du Soleil's "Zumanity" at New York-New York. Michael took photographs with the show's large stars, The Botero Sisters, and other cast members before departing for Omnia at Caesars Palace to continue his celebrations.
"Saturday Night Live" comedians and actors Colin Jost and Michael Che, in the sixth photograph, were spotted at Hakkasan at MGM Grand with a group of six friends. The "Weekend Update" duo arrived at the hotspot and headed to Ling Ling Club, where they hung out with DJ Clue in the DJ booth, before going to the main room to visit with resident DJ Lil Jon.
Blink-182 drummer Travis Barker, in the seventh photograph, requested a stylist in his suite from Kelly Cardenas Salon at The Hard Rock Hotel to help him prepare for New Year's Eve festivities. As stylist Ryan James Sullivan trimmed Travis' beard, they discussed the "Star Wars" movies and listened to some of Travis' tracks.
And actress Carly Chaikin ("Mr. Robot") stopped by hairstylist and colorist Claude Baruk's salon at Wynn Las Vegas in the final and eighth photograph.