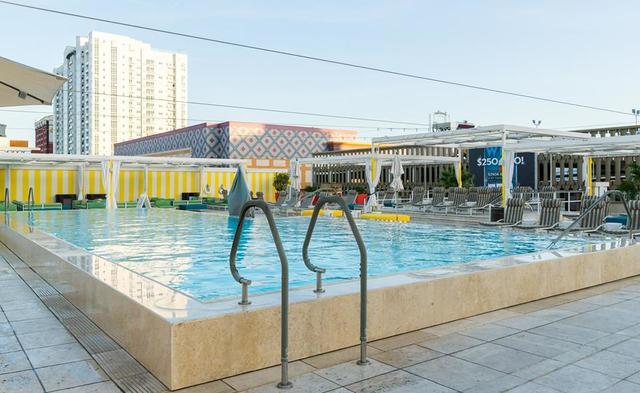 A battle royal is set to wage Downtown as two hotels feud to dominate the lucrative, yet challenging music and band entertainment scene. It would appear that Derek Stevens at The D Las Vegas and with his Downtown Las Vegas Events Center had already conquered the hipster zone, with Golden Nugget and Fremont Street Experience nipping at his heels.
But now in a surprise comes word that veteran entertainment industry executive Judy Alberti, from 20 years as VP of entertainment at Station Casinos, is swooping in for Downtown Grand. This morning, General Manager Kevin Glass said the "music stages are set and the band contracts are being signed" for his 629-room property to become the premier home for live music and entertainment in the heart of downtown.
Kevin says three venues at the property — Freedom Beat, Citrus Rooftop and Red Velvet Stage — will showcase a diverse and eclectic roster of local and national artists. It's a year-round project for Judy, and her first booking is this Sunday at 10 p.m. with Guitar Army on the Freedom Beat stage.
Robben Ford, Lee Roy Parnell and Joe Robinson are the triple-threat artists to each perform 20 minute sets before joining forces with three others as a six-piece band to close out the show with a 40-minute set.
Soon the music will start nightly at 6 and rage on to nearly midnight with Gordon Ramsay's Season 12 HELL'S KITCHEN winner Scott Commings newly relocated from Gordon Ramsay Pub & Grill in Caesars Palace providing nighttime cuisine.
Says Judy: "Each of the stages presents an opportunity to highlight some of the great local artists we now have in Las Vegas, as well as play host to top touring bands and special exclusive performances. We can't wait to get the instruments in the amps and start making great music."
Kevin added: "Equally as exciting will be special event concert performances taking place on a large outdoor stage on 3rd Street in front of the property providing for Downtown's best open space concert area. Our goal is to become the home base for great live music entertainment in Las Vegas and have a unique triple threat of music for our guests."