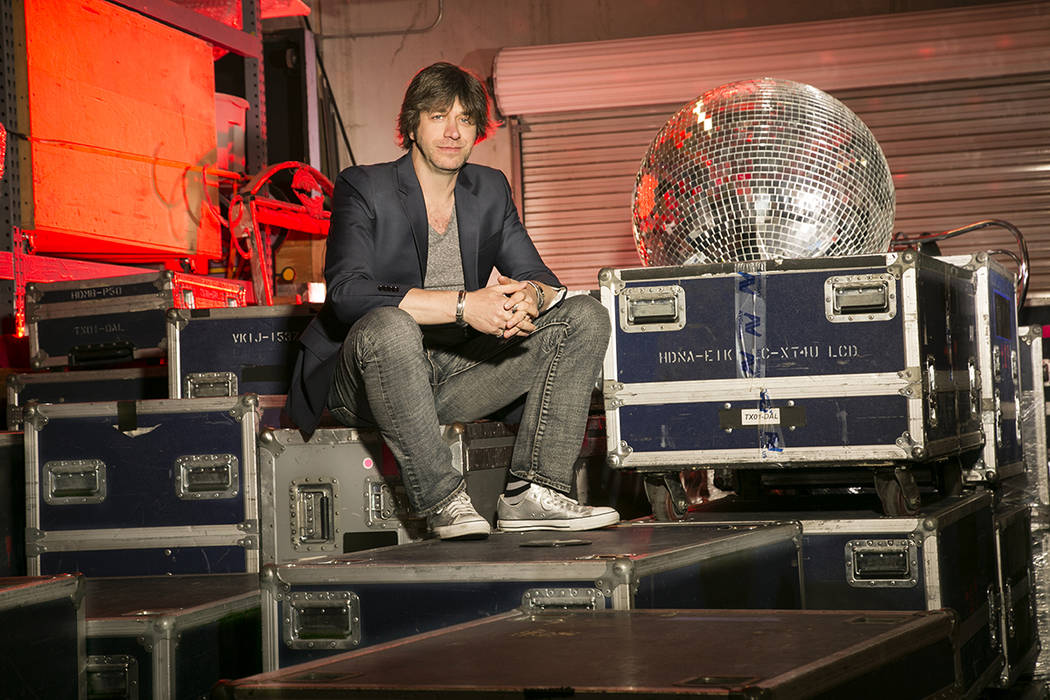 EDITOR'S NOTE: It's that time of the year again when Robin takes off for his monthlong family trip to Europe. He's already visited Athens and Santorini in Greece and is now up in the beautiful Cinqe Terre area of Liguria, Italy before he heads south as usual to explore the delights of Tuscany.
In his absence, a great number of showbiz entertainers, celebrity VIPs, chefs, restaurateurs and our Vegas dignitaries have stepped forward to write their guest columns.
Today, manager Seth Yudof who is promoting the upcoming concerts of CeeLo Green at Caesars Palace and Richard Marx at the Flamingo writes about the current Vegas showbiz scene. And, by the way, congratulations to Seth, former musician turned magician turned producer and his fiancé, Beverly, on their upcoming end of month marriage. Here's Seth:
……
This city has an important role to play in the development of future music artists, and I'm happy to do whatever I can to help foster that. After focusing much of my efforts these last few years on the national music scene, primarily on artist management, it has felt good to bring my contacts, experience and focus back to Las Vegas.
With Las Vegas Review-Journal entertainment columnist Mike Weatherford leaving his post, complaining of a "lull on the Strip when concert headliners are replacing investment in original shows," I think it's important to look at the bigger picture and the possibilities of the future of Las Vegas entertainment.
The casinos themselves generally stopped investing in original entertainment long ago. The era of Cirque du Soleil, while full of original show content, was made possible by the casinos' desire to distance themselves from the financial risks of creating and maintaining shows. So, where is showroom entertainment headed?
This year, my company has promoted concert residencies with Caesars Entertainment for Blues Traveler, Plain White T's, CeeLo Green, Keith Sweat and Richard Marx, with more to come. Even though there is a clear trend toward celebrity headliner shows (which I'm guilty myself of encouraging), there is also an incredible groundswell of support for the original music scene here.
I, for one, am hopeful that the trend of headlining music artists is going to grow into an environment of new, original artists as headliners. This would be a left turn for the music business, by backing artists with the major marketing money that is becoming incredibly rare for them to receive from record labels. It would also establish a future of original shows on the Strip, replacing the flamboyant producers of the classic Vegas spectaculars with music moguls competing to present the most innovative music artists that they can find and cultivate.
The general public may not see it, but there is already a lot of support developing from the major casino companies for original music. This year, Caesars Entertainment partnered with Paradigm Talent Agency to host a showcase of original artists from Las Vegas at the SXSW music conference in Austin, Texas (which is my hometown — worlds collide!). We featured the band Silversage there, which is one of the most promising bands in the current Las Vegas music scene. The recently announced Emerge Music & Impact Conference in Las Vegas is impressively focused on original music that is not yet well-known and Caesars is once again heavily involved.
Las Vegas is definitely becoming a contender in the national music scene. Elvis Monroe is a country band possessed of such duende that they regularly win over large crowds and get them to sing along to songs they've never heard before. The band is currently in rotation on the radio in 11 markets, and they have chosen to make Las Vegas their home base, rather than go to Nashville like most other country artists.
About two years ago, our company started booking cover bands around town, with the idea that we would make transpicuous contracts, so that the commissions are completely fair. We have grown to booking between 20 and 60 cover bands per week now, so we get a good amount of feedback from local musicians. More and more, these bands are inquiring with us about helping them with their original music projects. Many of these performers are integrating their original songs into their sets of cover songs. This is a drastic change from recent years, and it's exciting to know that the guys performing in the bar you are visiting could turn into the next Imagine Dragons.
This is an interesting time, both for music and for Las Vegas entertainment. I am hopeful that the two seemingly disparate entities will continue to converge and will restore this city's reputation for launching superstars.
Be sure to check out our other guest column today about the often unthought of talents of a Vegas showgirl dancer.