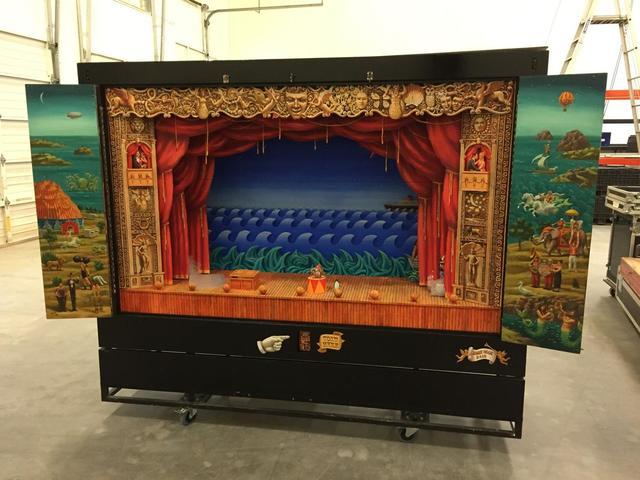 ABSINTHE's crazy The Gazillionaire has unwrapped a priceless mechanical diorama in Las Vegas. He commissioned the art piece in Australia more than two years ago for the opening of VEGAS NOCTURNE at Rose. Rabbit. Lie. in The Cosmopolitan of Las Vegas.
Now that he's moving ABSINTHE from the outdoor tent at Caesars Palace to The Cosmopolitan's indoor cabaret space, the showbiz impresario plans to finally put the artwork on display there.
ABSINTHE's final performance at Caesars is Oct. 21, with reviews of the new-look, new-venue show Nov. 1 at RRL. Here's a look at the miniature theater created by Mark Ogge.
"I commissioned this art piece on the basis of money no object in 2013. I've known the artist for 10 years, and each year of me making more money than the last, I got him to create bigger, better and more expensive artwork to celebrate.
"It has definitely become the most unique art collection anywhere in the world. This was the first mechanical piece and so staggering that museums and galleries Down Under fought each other to exhibit it before it left the country for Las Vegas.
"It was a three-year fight, but my money paid off when we finally pried it out of Australia. I had to spend more money than the government has because they wanted to keep the national treasure there and turn it into a bigger tourist attraction than kangaroos and koalas! Now Las Vegas will see it for as long as I keep winning at the tables here."
A mechanical diorama is a 3D, full-size or miniature model of a 19th century mobile theater device. Rare dioramas were first created in 1823 as a picture-viewing device, and there's only a handful of artists who can create them. Collectors bid million$ for them.
"I'm really excited about our new venue at The Cosmopolitan. The deal is done, and our lease at Caesars ends Oct. 21," Gaz told me. "We simply didn't renew the lease. Meantime, our sister show NEVER SLEEP ALONE with the deliciously naughty therapist Dr. Alex Schiller will definitely return to Las Vegas.
"We are talking to a number of hotel people right now, but we have to have the right room to make sure that it's wickedly intimate and people will shed more than just their inhibitions."