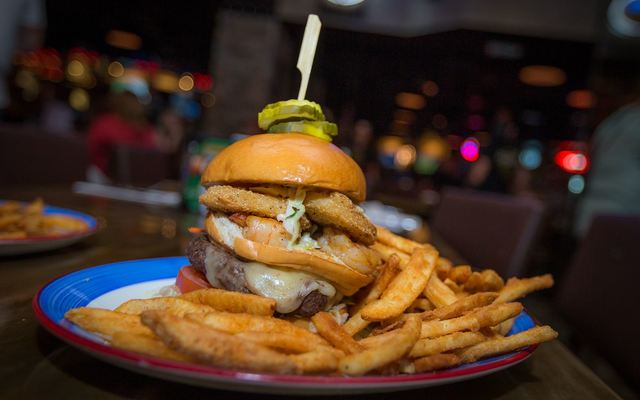 "Red Solo Cup" was rejected by a number of country artists until Toby Keith decided that "it was perfect" for him. He described the 2011 single as "maybe the stupidest song I have ever heard, but it's freaking awesome."
The music video seen by more than 33 million viewers includes Lance Burton and Carrot Top of Las Vegas and Las Vegas regular Sammy Hagar among guest cameos. It was the second track on Toby's album "Clancy's Tavern," which sold more than 2.5 million copies.
Toby, here recently to headline 2016 Route 91 Harvest Country Music Festival, confessed that he loved "Red Solo Cup" the instant that he heard it. Over a beer in a Red Solo Cup at his newly reopened I Love This Bar & Grill at Harrah's celebrating its 10th anniversary, Toby told me:
"It was one in a thousand. You don't find anything just as incredible to follow it up. I write 90 percent of my songs, but this one was pitched to me after it had been all over town and every big artist had a chance to do it.
"They didn't have the cojones, so when it came to me, I said, 'I'm going to cut it,' then everybody came back and tried to get it. They knew that they'd made a mistake, and they all came after it. The guys who wrote it said, 'No, we gave it to Toby. We're with him.' Then you saw what happened."
Our thanks to contributing videographer Richard Corey for filming the video of our interview.
At the ACM Awards at MGM Grand Garden Arena, Toby walked in the dark with 12,000 people in the audience holding an illuminated Red Solo Cup. He continued: "It was unbelievable. It was an adult nursery rhyme that was infectious the first time you heard it. Those kind of things have short lives, but they're big when they're alive.
"They're like a virus until somebody finds a cure for it. It was big for a year and a half, and it goes into the history books of being a music smash hit. It dominated its life. Everybody would have traded songs with me that year. They would've loved to have that to play for their crowd.
I get it requested everywhere I go."
Then Toby told me a story I'd never heard before: "Did you know that Red Solo Cup was in bankruptcy when I cut that song? The plastic company was in bankruptcy. They called and said that one line of the song, 'I hate how you're easy to crack,' was downgrading their company, and they went bankrupt.
"I went to Europe on a tour and when I came back, our song was at 4 million spins on YouTube and climbing the charts everywhere. Red Solo Cup was sold to Dart Container Corp. for $4 billion. I didn't get a frickin' penny of it.
"I'm a few numbers off on the actual number, but that's kind of what happened — I saved a company and made 'em rich, but I got nothing out of it. They didn't say (anything). Not even a thank you very much! I'm not pissed, though because I have the merchandise memorabilia. I can sell the T-shirts. I'm blessed, not pissed."
Toby's track record is extraordinary. The 55-year-old singer, inducted last year into the Songwriters Hall of Fame, returns to MGM Grand on Dec. 9. He has amassed 61 top singles and 23 albums, selling more than 40 million worldwide.
I asked him where he finds his inspiration. "Everywhere," he replied. "I could literally walk out here tonight and you say something to me that I think about and go, 'That sounded like a song.' So it could come from anywhere. My antenna's out all the time."
His latest album is "35 mph Town." It features "Beautiful Stranger" and his new single "A Few More Cowboys" that he performs on his "Interstates & Tailgates Tour" that wraps this month.
"Most of it was recorded at my house in Mexico that I stay at in the winter. I brought six of the greatest songwriters in history to my house for a retreat, and we wrote 20 songs and I cut eight of them. We wrote the songs in Mexico and recorded tracks in Nashville."
Our casual conversation shifted to a discussion on how the Entertainment Capital of the World has become Nash Vegas and the trend that country music is on the decline. Said Toby:
"All the music in the world that's on the radio has gone hip-hop, and I think people who are of any age aren't into that, straight up hip-hop, real hip-hop. All the other industries are all going hip-hop.
"People like Steven Tyler, Sammy Hagar and other rock stars have come to our industry to try to find a home because rock and roll died about 10 years before country did, and now real country's dying, and everything's more techno.
"I think they booked these acts into Las Vegas because people who were here with money are spending money to hear music that they can sing along with, that they know and they're familiar with. I think that's why The Eagles and Billy Joel and those guys are so popular on the airwaves because we all grew up listening to that.
"Country itself is dying because it's not country anymore. I don't even know how to describe it. It doesn't sound country to anybody anymore. My friends in rock and roll tell me that died. We don't have a format anymore. If my buddy Sammy Hagar, Steven Tyler, Bob Seger put out a new album, they don't have a radio station to go to play this song.
"Because they're played on the classic stations, and classic doesn't play new rock. There's really no new format for those guys and girls to go to. They told me 10 years ago, all those cats, they all said it died, we don't really have a format anymore. So a lot of them have started coming over, doing their albums in Nashville and being country.
"It's the last oasis in the desert to salvage any music you want heard. I don't know if it can be saved. The world will just have to flip over, you know what I mean? It is what it is. I swore years ago when I heard the older guys gripin' at us being the new guys, but I'm not going to brag about it.
"I'm successful, I don't care, I'm going to make my music, my fans will find it or buy it, or they won't. I'll sell my tickets as long as they're coming to shows. But it's going to take a bunch of radio stations to just say, 'We're going to start playing new country, that's real country instead of playing country. And it's old country, but it is what it is."
I asked Toby if the state of country made him sad: "It makes me sad that the format of it is gone. It doesn't make me sad that — I've been blessed, I've been around since '93, and I've had a great run. I'm still out there havin' fun, and I enjoy it every night. The fans are — my crowd's awesome.
"I got my own following, I created my own thing, but it makes me sad that new artists coming along who do play country really don't have a place to go with it. It does make me sad about that. It breaks my heart that somebody new wants to come along and be true to the format and they don't have a place to go."
He doesn't see it changing. "It won't change. It's always going to be what it is. It's a kid-driven market. Youth drives the market and whatever the youth wants and if the young people who listen to country want that kind of music, then that's what they're going to play.
"Las Vegas is bringing more country acts here more than anybody. But the people who are coming here are successful and have lived longer than us to have the financial wherewithal to be able to come to Las Vegas and enjoy themselves and buy a ticket.
"They want to hear music they grew up on, and country and rock present that to them. They can buy that and get that done, but it's not going to change the format."
I wanted to know if Toby is in a happy place. He told me: "I take off in the winter now. I only work June to October, and I do what I want to do in the winter on the Baja. Doing whatever I want to do. Yep, me and Sammy hang out on the Baja.
"Then I'm always writing, and I record in the spring. Put something out and do another tour. Just keep her going. If it keeps rockin,' fine. If it don't, I can fish the whole year. I'm in a happy place. It couldn't be better."
Toby gave me a tour of his newly transformed I Love This Bar & Grill at Harrah's and country duo Thompson Square were there to celebrate with a performance. Toby, who posed with the "X Country" dancers, picked up a guitar to perform, too.
He's debuted an Anniversary Burger made with Po' Boy surf and turf. Toby's renovation includes new televisions, furniture, a dance floor, sound and lighting system and transformed 20-person private dining room.
"They did a remodel on the building, shut it down two or three months and remodeled, but the menu pretty much stays the same. You don't change whisky and beer. We have five of these across the country, but this one at Harrah's in Las Vegas is No. 1 for revenue and customers.
"I'd like more of them around the country. I don't want to babysit more of them, but if people pick good spots, they will make good operators on them."
Toby remains a huge supporter of our military and continues to perform overseas each year for them in war-zone trouble spots around the world. Bravo!