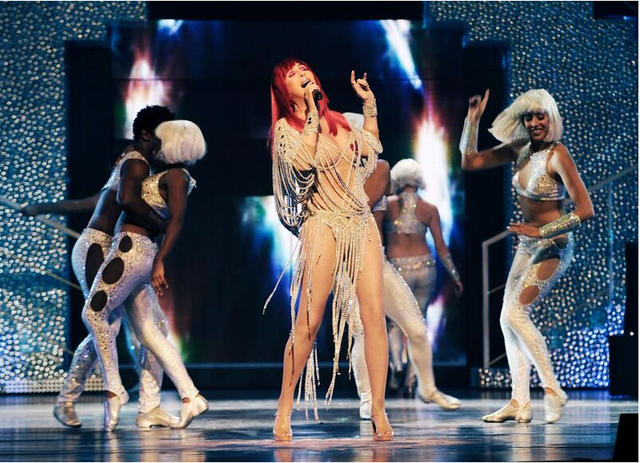 TONIGHT IN LAS VEGAS
It's a night of dueling divas! Three music superstars are opening within a short distance of one another — and one day after Sir Elton John returned to Caesars Palace. We have an overabundance of megastar divas!
Cher premieres her resident show "Classic Cher" at the new Park Theater at Monte Carlo. Our preview with her costume designer Bob Mackie was posted Sunday and in Sunday Life of the Las Vegas Review-Journal. The pop icon and her human puppet elephant are here on select dates through Feb. 25 until her return May 3.
Be sure to take selfies at The 3D Trick Eye Experience artwork by L.A. street art company We Talk Chalk that's set up at Boulevard Plaza outside Monte Carlo.
Diana Ross returns to The Venetian for a series of select dates with her one-woman knockout show "Some Memories Never Fade," also through Feb. 25 but for now no further dates. Our Q+A with The Supremes Diva also was posted Sunday and in Sunday Life.
And Jennifer Lopez returns to her hit residency "All I Have" at Axis Theater at Planet Hollywood also through Feb. 25 now that pop princess Britney Spears is on her scheduled break.
It's a battle of another kind at Sam Boyd Stadium. While football fans are still celebrating Sunday's overtime thriller at Super Bowl 51, the soccer showdown between hot Mexico in its Las Vegas debut against cool Iceland will be exciting, as well.
Executive chef Luke Palladino unveils his new menu at Salute Italian Trattoria at Red Rock Resort.
DJ Walshy Fire heats up the dueling decks at Surrender at Steve Wynn's Encore.
DJ D-Miles is running fast at 1 OAK at The Mirage.
DJ Bayati spins at Chateau at Paris Las Vegas.
And The Blackout Artists take over Light at Mandalay Bay.
TOMORROW'S TEASES
There's a preview at Neiman Marcus at Fashion Show of the first Las Vegas House of DIFFA (Design Industries Foundation Fighting AIDS) that debuts in December. A fashion show is coupled with designer Jim McCoy's pieces for the featured House. The event benefits a number of local HIV/AIDS service organizations.
There's never been standup comedy in Las Vegas that looks like Comedy & Dolls premiering at Planet Hollywood's new venue The Cabaret. Call this a carnival sideshow with Greg Vaccariello, Sam Tallent, Tana the Tattooed Lady, Brittany Walsh, Buttercup, Allie Spears of L.A.'s The Suicide Girls Blackheart Burlesque and, of course, comics.
The Harlem Globetrotters are at T-Mobile Arena.
And The Mob Museum officially celebrates its fifth anniversary.