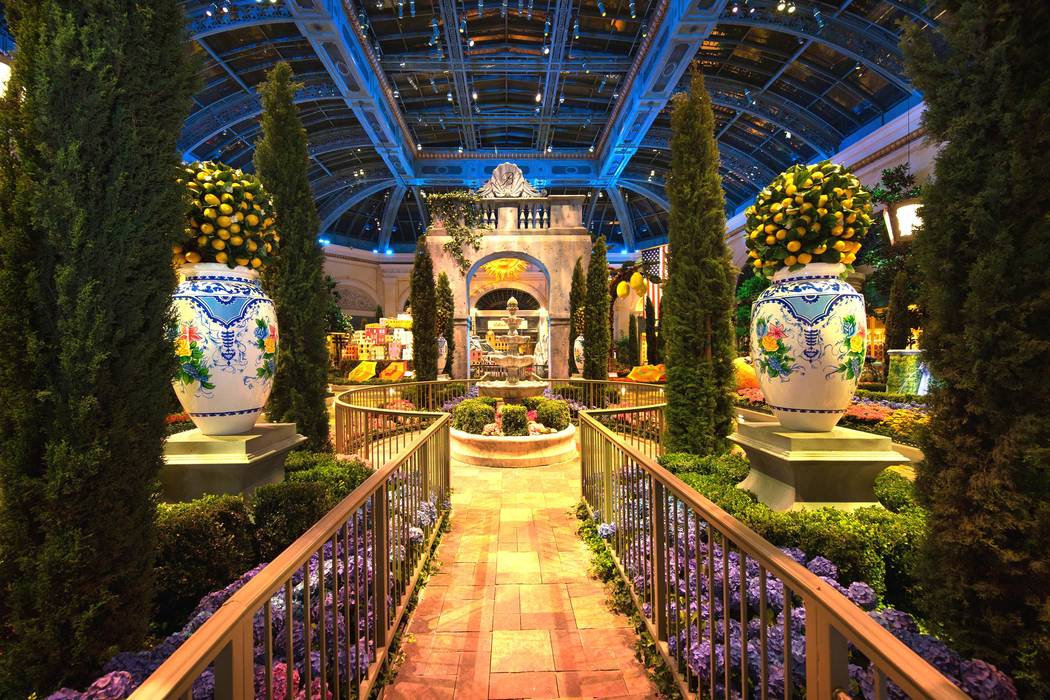 A few steps from the hustle and bustle of the Strip lies a magical garden which literally turns the lobby of the Bellagio into the picturesque Italian island of Capri. It abounds with lemons and Cypress trees that make the country's landscape so appealing to millions of visitors from around the world each year.
Capri has been the summer playground for European high society and Hollywood's stars for decades — and it's where our celebrity chef Wolfgang Puck got married. I was at the wedding and have been to Capri four times. It is a piece of heaven on earth.
As you can see from this unique 360-degree video from our friend Chris Rauschnot at 24K Media the Bellagio's Conservatory and Botanical Gardens have been transformed to the charming and captivating country where I spend time every July.
The Italian-inspired display, which will be on view now through Sept. 9, takes visitors on a delightful journey through scenic grounds rich in botanical wonder, calming water features and vibrant-colored villas, reminiscent of the incredible island.
Envisioned by renowned designer Ed Libby and the Bellagio horticulture team, the summer installation pays homage to well-known gardens throughout Italy and surprises visitors with a replica of the island, which is located in the Bay of Naples.
The journey begins in the east garden as guests make their way through two 26-foot stone archways framed by eight cypress trees. A four-tiered, 8-foot fountain, centrally located between the archways adds a soothing element to the garden while lemon trees emerge from four oversized handcrafted Italian vases.
Passersby will marvel at two lush gardens, resembling an estate near Rome.These are take-your-breath-away moments. In the south garden, an oversized 22-foot, moss-covered fountain overflowing with water pays tribute to The Fontana dell'Ovato in Villa d'Este, a16th-century residence in Tivoli. Made of lentils, an 8-foot plate depicts the image of an Italian village landscape, illustrating the beauty found throughout the countryside. Nearby, in the north garden, water streams from five lion and monkey sculptures mounted on a foliage-covered wall lined with four lemon topiaries comprised of 1,400 flowers and an intricately majolica-tiled bench.
Surrounded by magnificent vegetation and eight hanging Italian lanterns, guests catch their breath at the rugged landscape and cove-studded coastline in the west garden. Fifty multicolored villas complete with terraces, a 12-foot chiming bell tower and sun-soaked umbrellas create an architectural model representing life on the island of Capri. A 30-foot lemon tree provides shade to blue-and-white yachts calmly floating by Lovers' Rock.
Here are some of the summer display's fun fast facts:
• Total flowers on display for the duration of the exhibit: 57,000.
• The stone archway stands 26 feet tall and is 16 feet long.
• The four-tiered fountain is 8 feet tall and the lemon trees stand 30 feet in height!
• There are 1,400 flowers in the lemon topiaries with 6-feet-high Italian lanterns that measure 4 feet across.
• The bell tower stands 12 feet tall but is dwarfed by the sun and the moon ornaments that are 16 feet high.
Visiting tourists should note the Bellagio's Conservatory and Botanical Gardens is complimentary to the public and open 24 hours a day, seven days a week. The perfect place to chill out in a cooler overseas land at 3 a.m.!
June 21 marks the official start of the 93 Days of Summer. Join us every day for a suggestion of where to go what to do, what to see, where to eat, what to taste, how to stay cool in summer's heat. It's a fascinating collection of 93 must-do things to make summer 2017 one for the record books. And judging by today's heat we'll be very close to having the first record broken — if not setting a new one!