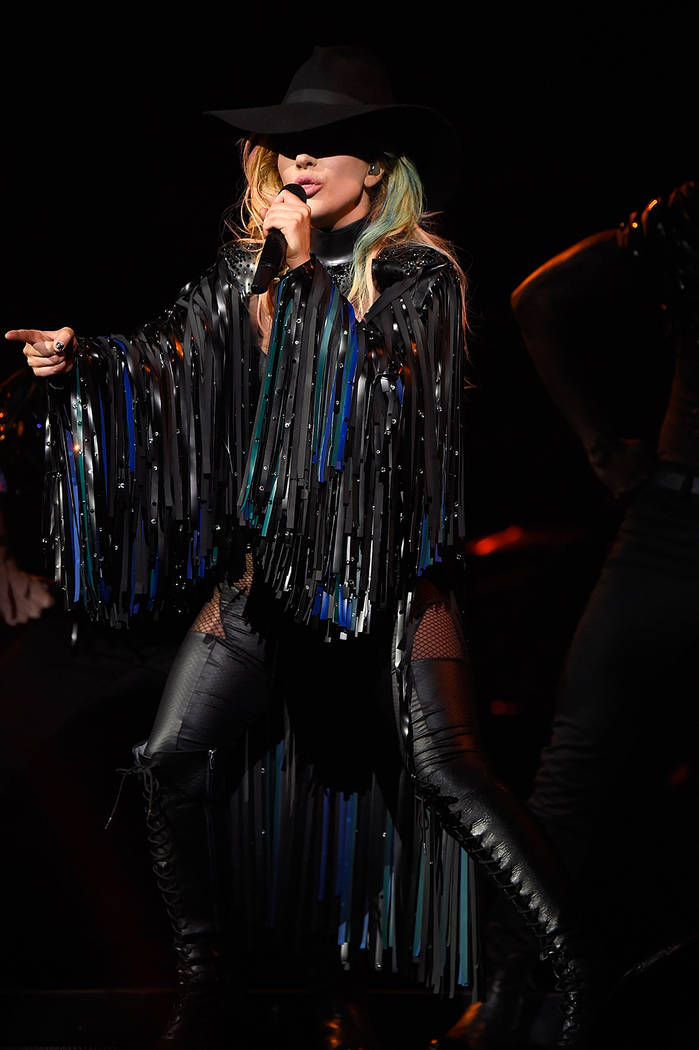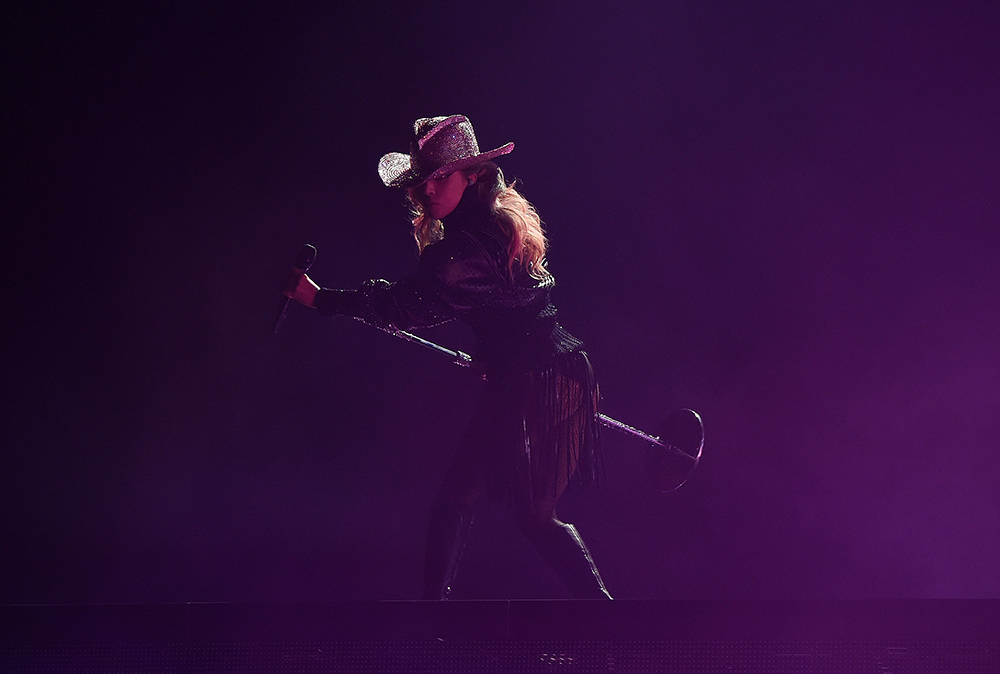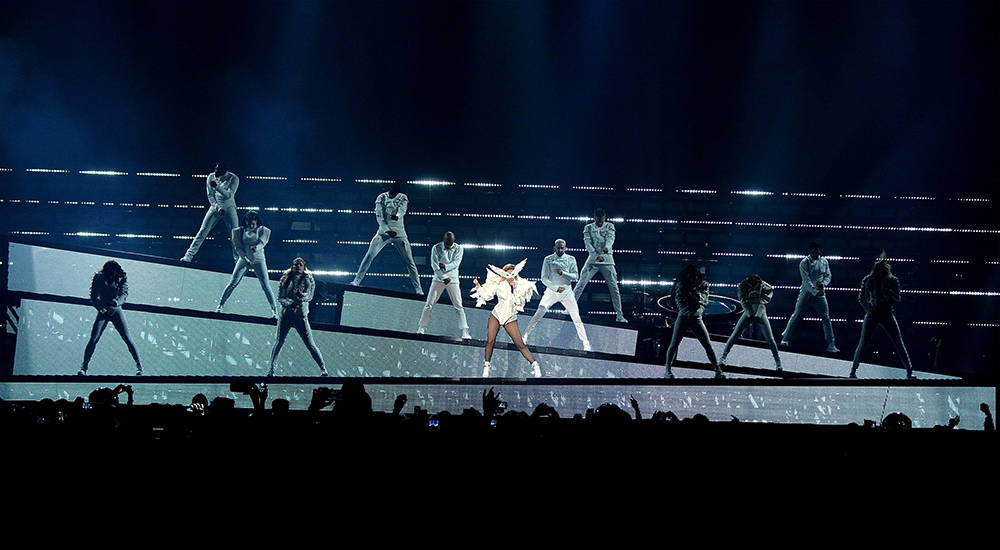 Thanks to the landing in Las Vegas of Lady Gaga this is going to be a weekend we are spinning with superstars and extravagant entertainment choices. Her T-Mobile concert tonight (Aug. 11) will be a far cry from the more sedate Tony Bennett show and more like Metallica or her halftime Super Bowl sensation that she's performed in recent years. If all the world's a stage it seems as if the outrageously dressed Gaga owns all of them.
How she stands on a 45-degree tilted stage in sky-high heels that defy gravity as flames nearly engulf her for the "John Wayne" number is a miracle. It should all start with Gaga yelling: "My Name is Joanne" as she sings "Diamond Heart" and "A-Yo" while wearing a sexy, black-fringed leotard. While on her summer tour Gaga has had fans dancing in the aisles to her "Telephone," "Just Dance" and "Love Game."
This is no ordinary rock show where she just sings such hits as "Poker Face," "Born This Way" and "Perfect Illusion." Both Gaga and her dancers leap across the four stages via bridges that lower from the ceiling. High-energy is an over-used description for pop concerts but here its under-used to describe her showbiz antics.
She is no ordinary pop or rock singer either. In "Paparazzi" she proves her dance chops fighting with her dancers in one carefully choreographed number. Gaga is a true superstar and performs "Come to Mama" and "Edge of Glory" at her piano. Her encore of "Million Reasons" is performed on her piano, which lowers from high above one of the platforms while she's dressed in her signature pink cowboy hat and glittering long trench coat. And Gaga adds to her status with her vocals accompanying herself on a guitar.
It's all likely to set a new gold standard for touring shows and I'm already betting that half of the audience here this weekend will be back when she returns Dec. 16 with the winter edition of "Joanne." I'll be away in La Jolla, California, with family and friends for Lady Gaga's current visit but have asked my pal, music and lifestyle writer Ethan Hart, to write the review of Gaga's show which we'll post here on Monday (Aug. 14) morning.
……
This is also the weekend that tickets go on sale today (Aug. 11) for The Killers early 2018 tour, which has a stop at the MGM Grand Garden Arena on Feb. 3 to promote the band's fifth studio album "Wonderful Wonderful," which was recorded here in Las Vegas at their own Battle Born recording studio. It's the group's first album in five years.
……
In a complete change of mood, stunning actress Sarah Jessica Parker from "Sex & The City" fame is due to be at the Bellagio for a two-day shopping spree in her new retail store opening there.
……
And take note of DJ Diesel's debut at the Rehab Beach Club at the Hard Rock. That tall, big guy behind the dual decks is none other than former pro-basketball player Shaquille O'Neal. We'll have the photos here on Monday (Aug. 14).
……
This weekend marks the final show in the mini-residency run of Roger Daltry and The Who in concert as the first ever rock band to play The Colosseum at Caesars Palace. Will they return? Roger has the answer about retirement in a far-ranging exclusive interview I had with him that we''ll have in next Friday's (Aug. 18) NEON section of the Las Vegas Review-Journal. Roger talks about the group's global tour schedule, the Who's future and why he's launching his own Eminent Champagne to help raise funds for the Teen Cancer America charity he founded with Pete Townsend. Tonight (Aug. 11) before showtime he will present the bubbly for the first time in Las Vegas at the Mr. Chow restaurant in Caesars Palace for the restaurant's famed champagne cart.
……
Our resident stars Britney Spears, Cher, Donny & Marie and Piff The Magic Dragon are also all on tap this weekend offering plenty of competition and choices . I mustn't forget my old Manchester pal Peter Noone of Herman's Hermits appearing at the South Point for two nights — that's a half-century flash back to my early days as a journalist — but the spotlight falls on Lady Gaga. who really grabs the spotlight. Her "Joanne" concert is named after her aunt who died shortly before she was born,
So let's open The Who's champagne and go to "The Edge of Glory" as Gaga would play on her piano and "Dance In Circles" as we pop the cork on this week's edition of the Royal Robin Rundown:
AUG. 11
• Lady Gaga at T-Mobile Arena
• Herman's Hermits at South Point for two days
• Peter Cincotti at Cabaret Jazz at The Smith Center
• Dead Cross at Brooklyn Bowl
• The Who at The Colosseum at Caesars Palace
• Britney Spears at Planet Hollywood for two days
• Cher at Park Theater for two days
• Donny & Marie at The Flamingo for two days
• Rare Earth at Golden Nugget
• Steel Panther at House of Blues at Mandalay Bay
• Slow to Surface at Vinyl at Hard Rock Casino
• Dead Cross feat. Dave Lombardo, Justin Pearson, and more at Brooklyn Bowl
• Donny Edwards' Elvis Tribute at Westgate for two days
• Man of La Mancha at Spring Mountain State Park for two days
COMEDY
• George Lopez at The Mirage for two days
• Frank Caliendo at The Orleans for two days
• Collin Raye at Sunset Station
SPECIAL NOTE
• Tickets on Sale for Jerrod Niemann at Santa Fe Station Sept. 2; Freddie Jackson at Texas Station Sept. 29 ; I Prevail with We Came As Romans, and more at Brooklyn Bowl November 15; Suicideboys at House of Blues at Mandalay Bay Nov. 17; Carlos Santana also at the House of Blues, Jan. 24, 26-28, 31, Feb. 1-3; and The Killers at MGM Feb. 3.
• 13th annual Broadway Vignettes "Movies & Musicals" benefiting Rudy Foundation at Clark County Library Theatre for two days
• First Ever "Sound Check" Silent Rave for Charity at the Las Vegas Monorail
PARTY PATROL
• Calvin Harris at Omnia Nightclub
• Zedd at Hakkasan
• Nightswim with RL Grime at Surrender Nightclub
• The Chainsmokers at XS Nightclub
• Four Color Zack at TAO Nightclub
• Stephi K at TAO Beachclub
• Cedric Gervais at Marquee Dayclub
• Dash Berlin at Marquee Nightclub
• Jamie Iovine at Rehab Beachclub
• Irie at Jewel Nightclub
• DJ Shift at 1Oak
• DJ Que at The Bank
• DJ Shift at Wet Republic
• Joseph Gettright at Liquid Pool
• DJ D Miles at Bare Pool Lounge
• DJ Mark Mac at Foundation Room
• MakJ at Intrigue Nightclub
• DJ Cobra at Light Nightclub
• DJ Mika Gold at Aquatic Dayclub
• Jersey at Daylight Dayclub
• Ape Drums at Drai's Beachclub
• Chuckie at Encore Beachclub
• JD Live at Go Pool
AUG. 12
• Smashing Alice at Hard Rock Casino
• Bryson Tiller with H.E.R and Metro Boomin at Hard Rock Hotel
• "Something Rotten!" the Shakespeare spoof musical continues at Reynolds Hall in The Smith Center for two nights
• Reckless in Vegas at Cabaret Jazz at The Smith Center
• Deep Purple and Alice Cooper at The Chelsea at The Cosmopolitan
• Yuridia at House of Blues at Mandalay Bay
• Sonny Turner at Suncoast
• Empire Records at Brooklyn Bowl
•
Mike Epps at Palms
• Topgolf Laughs: Comedy Club at the Birdie Bar of the Topgolf
PARTY PATROL
• Calvin Harris at Wet Republic
• The Chainsmokers at Encore Beachclub
• Laidback Luke at Intrigue Nightclub
• Metro Boomin at Light nightclub
• Kaskade at Jewel Nightclub
• Afrojack with Oliver Rosa at Omnia Nightclub
• Tiesto with Dzeko at Hakkasan
• Politik at TAO Beachclub and Nightclub
• DJ Mustard at Marquee Dayclub
• Eric Dlux at Marquee Nightclub
• Eric Forbes at Go Pool
• Bikini Invitational at Rehab Beach Club
• Tory Lanez at 1Oak
• DJ Mike K at The Bank
• Irie at Liquid Pool
• DJ Lezlee at Bare Pool Lounge
• T.I. at Drai's Nightclub
• DJ Excel at Foundation Room
• DJ Gordo at Hyde Nightclub
• Nightswim with Brillz at Surrender Nightclub
• Robin Shulz at XS Nightclub
• Amanda Rose at Aquatic Dayclub for two nights
• Bassjackers at Daylight Dayclub
• Bingo Beach at Drai's Beachclub
• Nightswim with Brillz at Encore Beachclub
• Eric Forbes at Go Pool
AUG. 13
• Remedy at Hard Rock Casino
• Frank LaSpina at Cabaret Jazz at The Smith Center
• Fleet Foxes at The Chelsea at The Cosmopolitan
• Legends in Concert at The Flamingo
• Piff the Magic Dragon at Flamingo
SPECIAL NOTE
• War on the Catwalk – Queens from Season 9 at House of Blues at Mandalay Bay
PARTY PATROL
• Tiesto at Wet Republic
• DJ Diesel aka basketball superstar Shaqille O'Neal at Rehab Beachclub
Wellman at TAO Beachclub
• Kungs at Marquee Dayclub
• DJ Mustard at Maquee Nightclub
• Mondo at Omnia Nightclub
• Fergie DJ at Hakkasan
• DJ Karma at The Bank
• DJ Lezlee at Liquid Pool
• Greg Lopez at Bare Pool Lounge
• Kid Conrad at The Bank
• Rae Sremmurd at Drai's Nightclub
• Nightswim with RL Grime at XS Nightclub
• DJ Neva at Daylight Dayclub
• Alison Wonderland at Encore Beachclub
• DJ Vegas Vibe at Go Pool