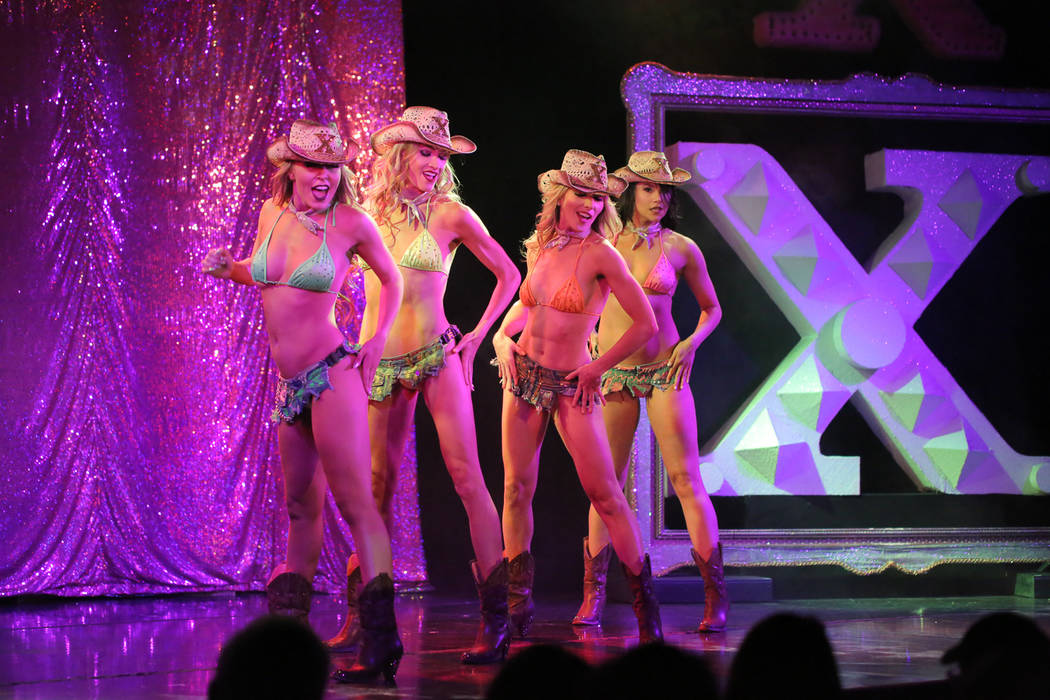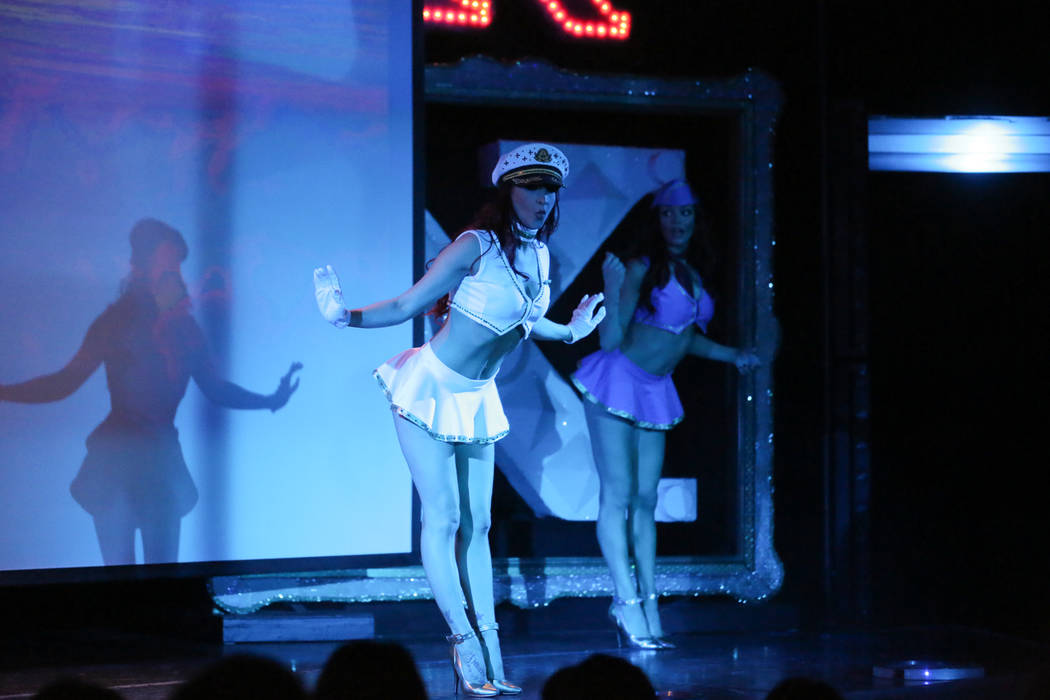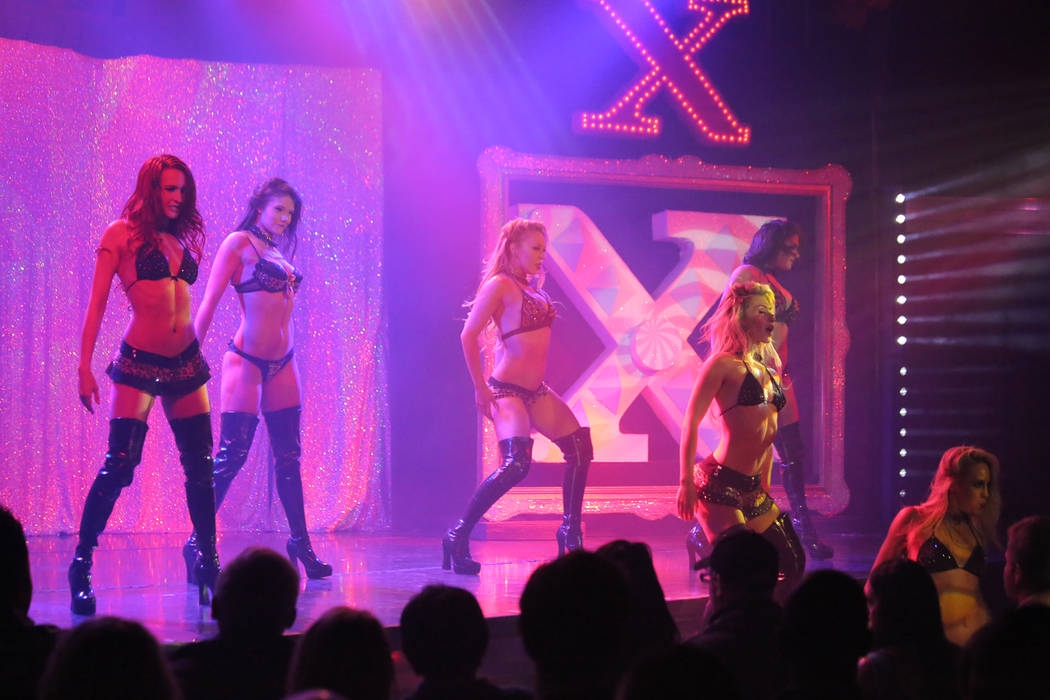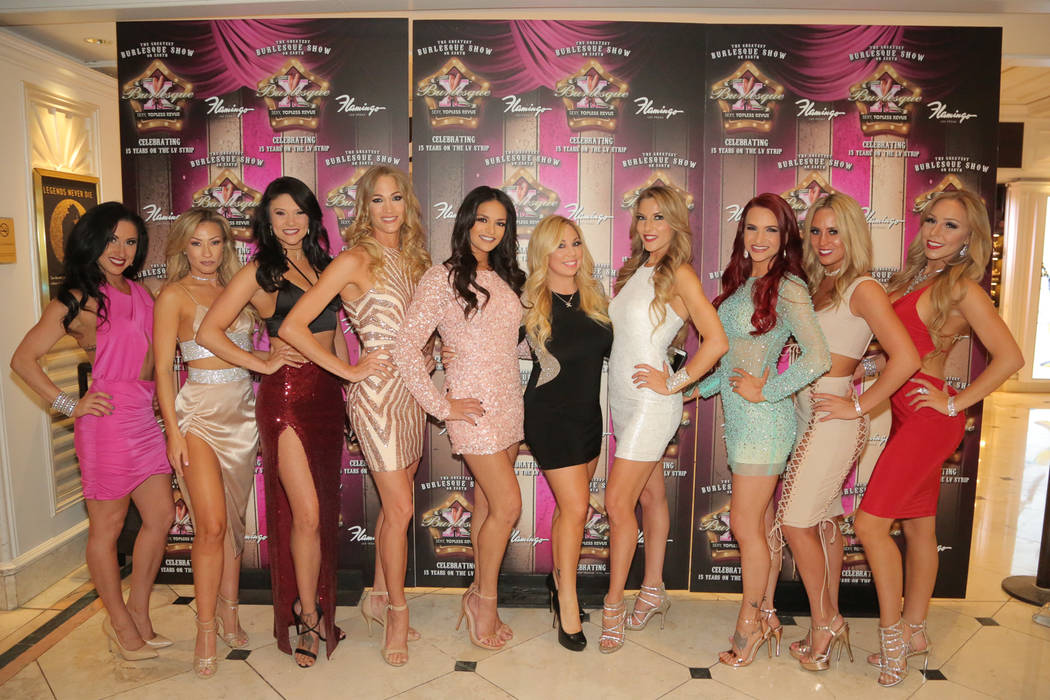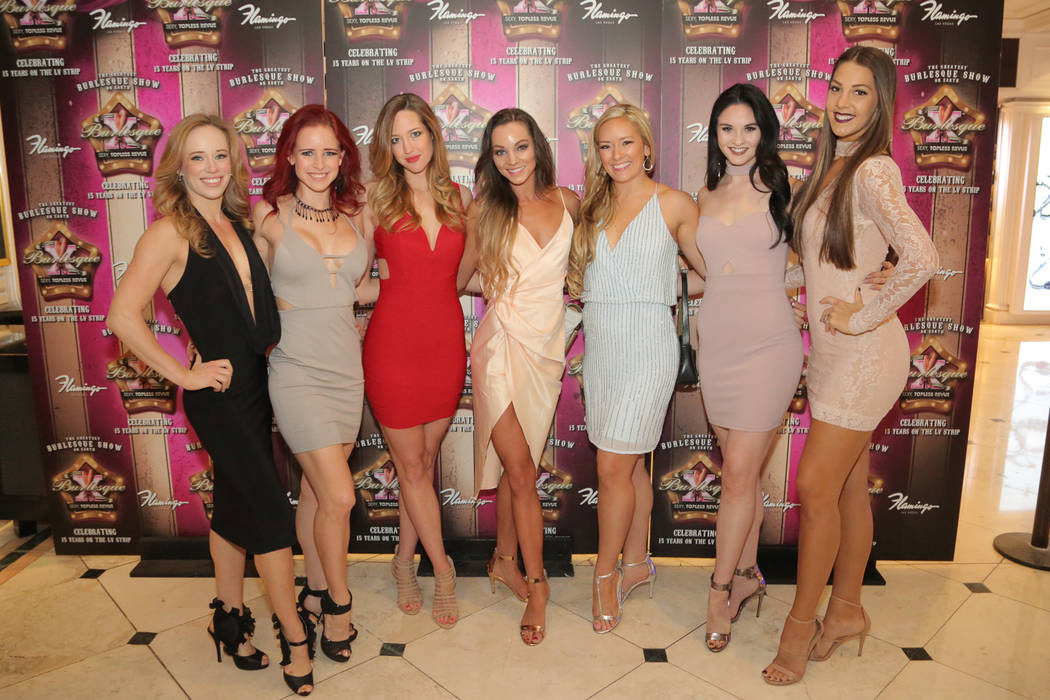 For 15 years, "X Burlesque" at The Flamingo has pushed the envelope with its provocative show as a hot topless revue on the Strip. To celebrate its diamond anniversary, producers Angela and Matt Stabile have added jaw-dropping performances, sexy and talented dancers and costumes.
Last Thursday night, sexy cast members of companion shows "X Country" at Harrah's and "X Rocks" at The Rio watched their fellow striptease dancers raise the temperature at Bugsy's Cabaret showroom.
Also there: Jai Rodriguez, who is opening "Sex Tips for Straight Women From a Gay Man" with Kendra Wilkinson on Saturday at Paris Las Vegas; BMX pro racer and Ricardo Laguna; Harrah's headliners Tenors of Rock; Ryan Kelsey of The Rio headliners Chippendales; and Frank Sidoris, lead guitarist from Slash featuring Myles Kennedy & The Conspirators.
Meeka Onstead, who was there Day 1, is still the shining star and its choreographer with Anthony Cardella. Her gyrations around a pole for her "Dirty Girl" solo number are miracles that defy gravity.
She's just as sexy performing a silk striptease hanging upside down or tumbling ceiling to floor with the flimsy material wrapped around her. Redhead Tiffany Molyneux is a stunning standout as the Mile High captain. They are joined by new "X" beauties who are incredible dancers:
Blonde Emilie Condamine from Paris, France, who performs "I Am a Good Girl" and "Fever" in oversized champagne glass, and Stephanie Smith, an amazing pole trick dancer who turns her body into a living "X" in the "Paradise City" routine. Whitney Giron performed "Dazed & Confused" and "Would You Go to Bed With Me."
The bungee number performed by Nicole Taylor is one of the sexiest routines of any Strip show. Blonde Caroline McClain from England sizzles in the bathtub routine, which also spotlights new "X" dancer Danielle Aveyard. The newest "X" girl is blonde Amanda Sampson.
Angela told me: "This year we've really taken 'X Burlesque' to a new level with the caliber of choreography. You don't see dancing like this in other revue in our genre. We've added six numbers this year.
" 'Dirty Girl' is a tribute to pole dancers all over the world with Meeka featuring new tricks on the pole stage we've set up in the middle of the theater room so that audiences have a 360-degree view of her amazing antics. 'Show Girl' is an upbeat, traditional burlesque number, but we did it with today's sound because, as the music says, 'Everybody's got a little showgirl in them.' "
"The girls have their own sexy take on the Charleston in 'The Lone Digger' Vaudeville-type number. Each of the girls gets to showcase her dance talents in a hip-hop section we call 'Mo Bounce.' There's a lot of booty shaking and twerking, and our guests are blown away by the moves that have to be seen to be believed.
"We have the 'Slow Acid" sensual number where just the dancers' legs are seen and become the stars. We enter the world of rock thanks to Gene Wilder and his 'Pure Imagination.' It's a jungle interpretation and leaves little to the imagination in the heat of the tropics."
X Bar and X Showroom have been redone, and new photos of the cast have been added. "X Burlesque" won a Best of Las Vegas Award by The RJ for Best Female Revue. Angela and Matt are taking out the "X" Girls from their Flamingo, Harrah's and Rio shows for a day's "X"-cursion on June 2 to Lake Mead to mark the milestone.