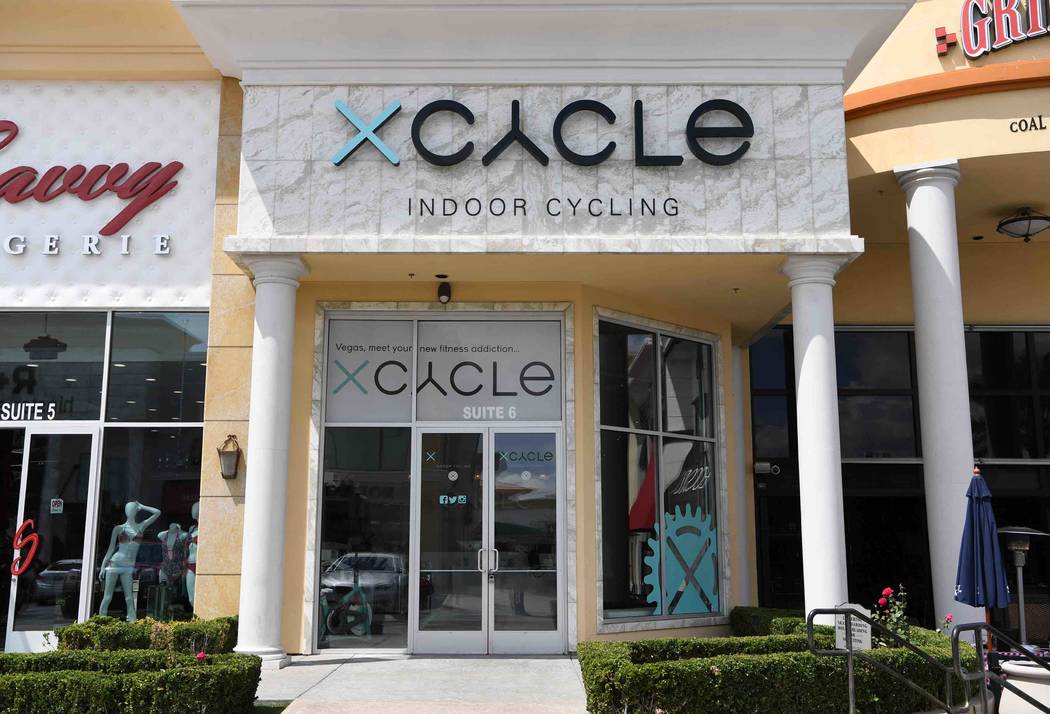 EDITOR'S NOTE: It's that time of the year again when Robin takes off for his monthlong family trip to Europe. He's already visited Athens and Santorini in Greece and has spent the week in the beautiful Cinque Terre area of Liguria, Italy before he heads south tomorrow (July 15) as usual to explore the delights of Tuscany.
In his absence, a great number of showbiz entertainers, celebrity VIPs, chefs, restaurateurs and our Vegas dignitaries have stepped forward to write their guest columns.
Today, we welcome Jen Barnet who brought a unique form of bike-riding fitness to Las Vegas and counts pop princess Britney Spears among her clients. Jen is the owner of XCYCLE Las Vegas in Boca Park Summerlin.
……
Indoor cycling is one of the hottest trends in fitness right now, but what sets apart a cycling studio other than the location or the team of instructors? As the owner of XCYCLE Las Vegas and the first business to open an indoor cycling studio in Las Vegas, I am constantly looking for ways my indoor cycling boutique can be set apart from others. Trust me when I say, at XCYCLE, you're always in for a fun ride.
When deciding to open the first high-end indoor cycling studio in Las Vegas over a year ago with my fiancé, Larry Rudolph, I knew that Sin City was the perfect opportunity to open a boutique unlike any other. XCYCLE Las Vegas is providing riders with an intense 45-minute RHYTHM-X workout, set to high-energy music and synced with our state of the art lighting system.
Our trained instructors are constantly switching up the classes and play lists, which keeps our riders' workouts exciting and fun! But trust me when I say, they aren't a downhill ride in the park. One of the best parts of indoor cycling is being able to adjust the bike to be set at your own level, and we set our classes for each rider to cycle at her own pace, assuring every rider walks out having completed a powerful, full-body workout.
Cycling is one of the best forms of cardio out there. I have personally instructed UFC Champion, Amanda Nunes, in preparation for a victorious fight against Rhonda Rousey; a close friend, Britney Spears, training for her show at Planet Hollywood; cycle enthusiasts Mario Lopez and Mel B, among other athletes and fitness enthusiasts. You might be thinking that XCYCLE is known for some of our celebrity members, but we haven't even scratched the surface.
As dedicated as I am to making each rider feel like the best versions of themselves, I am as dedicated to bettering the Las Vegas community. What makes exercise better? When your exercising for a cause, or better yet, when you "Ride for a Reason."
Our XCYCLE family hosts a monthly Ride For a Reason where we pick charities near and dear to our riders' hearts and put on an entire event with 100 percent of profits directly given to a local Southern Nevada charity. We have raised over $500,000 for nonprofit organizations in this community, including the Nevada Childhood Cancer Foundation, PRIDE Las Vegas, the Patrick Kelley Youth Foundation, Toys for Tots and so many others. And, you better believe we are just getting started!
Indoor cycling and my business, XCYCLE, are my true passions, and I am always thinking of ways we can continue to take cycling to the next level. Las Vegas, we hope you are ready because you are going to be seeing the XCYCLE fam popping up on bikes all around town.
We are the first Las Vegas cycling studio to take indoor cycling, outside, and are excited about all our upcoming events! So far, we have popped up in some unexpected places like BEER PARK on the Las Vegas Strip and poolside at Red Rock Resort. Stay tuned for more information on where we plan to pop up next.
We are always looking for new people to join our XCYCLE family, and love taking new ideas from riders for themed rides, pop-up locations and charities to include in our Ride For A Reason. And remember, Eat, Sleep, XCYCLE, Repeat.
To try your first class at XCYCLE, or to learn more about becoming a member, call 702-489-6099 or visit xcyclelv.com. XCYCLE Las Vegas is in Boca Park at 750 S. Rampart Blvd.
Be sure to check out our guest columns on Sunday from Mirage headliner Terry Fator who has news of his new puppet that even Robin didn't know about and Tom Zaller who has been bringing exhibitions to Las Vegas for nearly two decades. And follow along all next week with more guest columns as Robin enjoys the wines and pastas of Tuscany, Italy.