Bands like Panic! at the Disco changed the face of the Vegas music scene
March 21, 2017 - 10:06 am
Updated March 21, 2017 - 1:49 pm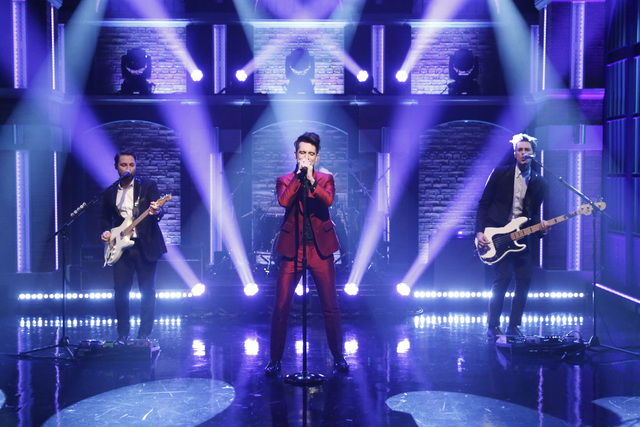 It was a dam burst of talent, and the Vegas music scene broke right along with it.
When chronicling the biggest developments in the local music ranks over the years, obviously The Killers' breakout success beginning in the early 2000s tops the list.
But in the immediate aftermath of their ascension, there was arguably an even more transformative movement that altered the local scene. With Panic! at the Disco, one of the most prominent faces of this new wave of Vegas bands that emerged a little over a decade ago, playing town Friday, it's worth revisiting just how impactful this era was.
Think about it: In the span of a little over a year, mostly pop-punk and emo-oriented bands such as Escape The Fate, You In Series, The Higher, The Cab and Panic! all got signed, while other acts such as Lydia Vance and Red Light School District scored development deals.
"So many bands got picked up in a short amount of time," says current Mercy Music and former Lydia Vance frontman Brendan Scholz, recalling how bustling the scene was back then. "We were doing shows, and we were bummed out if there was only 100 or 200 people there."
It wasn't just these bands' success at landing deals that was a game changer for the Vegas music scene, though; it was how they did it. Taking advantage of then-emerging social media, these young bands built their following on a DIY, grassroots level, booking their own shows at nontraditional, all-ages venues such as Rock N Java (a coffee shop), The Alley (which was housed in the back of a music store) and Jillian's (a restaurant and arcade).
"There was the mentality of, 'If other people aren't going to do this for us, we're going to do it for ourselves,' " says Beauty Bar talent buyer Patrick "Pulsar" Trout, who played in Slam Dunk! and also booked shows at Rock N Java back in the day. "The mentality in the mid-2000s changed from, 'What if a Vegas band got signed?' to 'Who's going to be next?' And that feeling really was awesome."
Though Panic! became the biggest stars of this scene, one of the bands most crucial in paving the way for them and others was The Higher, who led by example.
"Honestly, when we were first starting out, our goals were less about making our band big than making the Las Vegas scene something that existed — because it didn't," Higher singer Seth Trotter says. "We were talking guys into having a battle of the bands so we had somewhere to play in front of our friends in high school. All these bands realized that we kind of needed to team up."
If The Higher got the ball rolling, like a boulder tumbling down a mountainside, it soon developed into an avalanche.
"I think that once we really started getting all that attention, other bands realized, 'Hey, these guys are our friends, we watched them do the work and it doesn't seem like something out of our reach. We can do this. We remember playing Smoothie Kings with them.' "
It was a bunch of teenagers, then, who took things into their own hands and built a scene — a scene that remains for the teens of today.
"Ten years later, you've got an entire generation of kids in bands for whom the idea being signed and successful is no longer a hypothetical," Trout says. "It's a fact."
Contact Jason Bracelin at jbracelin@reviewjournal.com. Follow @JasonBracelin on Twitter.