Honky-tonks feel like home to The Reeves Brothers
October 18, 2016 - 5:37 am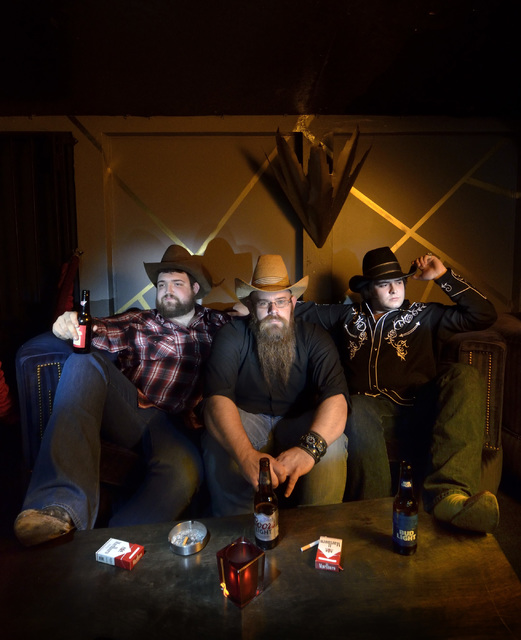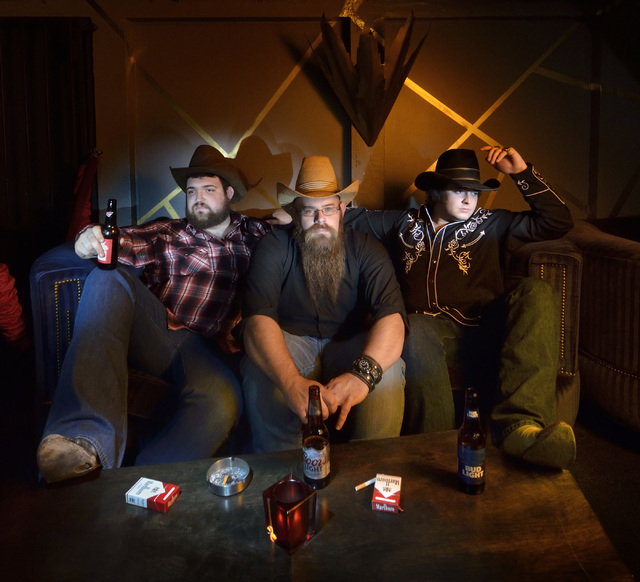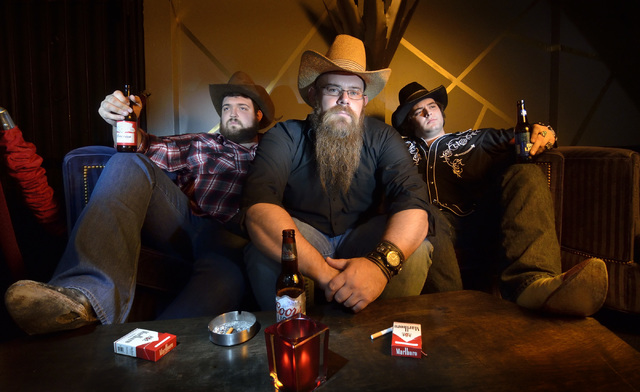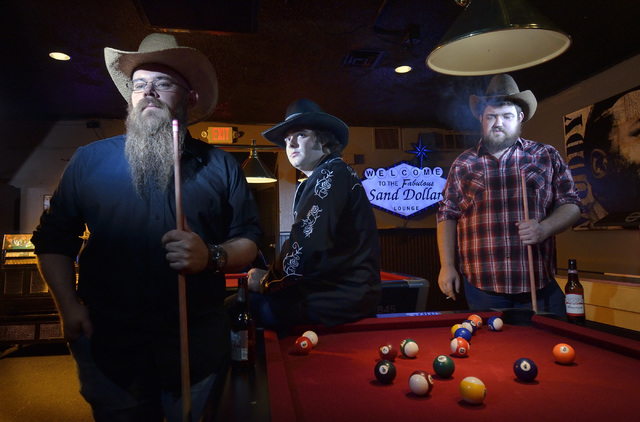 The three country lifers tucked into a corner of the bar couldn't be more different from the one who just left.
The latter: a bro-country beau skilled at making the ladies light-headed with lines such as, "It's not in the whiskey, tequila or the wine / It's all about the touch and the fire in your eyes." He's the kind of genre-blurring crossover act who's been known to cover Drake's "Hotline Bling" upon occasion at his live gigs.
The former: a trio of decidedly more heavily whiskered traditionalists with bird plumage poking from their vintage cowboy hats and cigarettes poking from between their fingers.
For them, it is in the whiskey, the tequila and the wine, and they couldn't recite a lyric from the aforementioned rapper at gunpoint — they might actually prefer taking a bullet, in fact.
In a convenient coincidence, at least for the telling of this story, country star Brett Eldredge, who plays T-Mobile Arena later this week on tour with Keith Urban, has stopped by Champagnes Cafe on a Monday afternoon to film an interview of some sort.
Shortly after he departs, The Reeves Brothers arrive, the film crew still carting off gear as they take their seats near the door.
These are the two poles of modern country: pop-savvy hybridists who reign atop the charts and pack arenas, and the dyed-in-the-wool classicists who put out records themselves and are far more at home in homey dive bars like this one.
It's the former that's most often associated with the genre these days, because of its popularity and ubiquity. The grit buried beneath all that gloss, though, is what The Reeves Brothers mine.
But even though they're proud old schoolers, The Reeves Brothers aren't really that old: Singer-guitarist Cole Reeves is but 21, his brother Matt, who also sings and plays guitar, is 25, while bassist Kelly Bishop is 36.
"There's not a lot of young people doing this music," Matt Reeves says. "There's not anybody in their 20s out here doing classic country like this that we've run across."
The Reeves Brothers' relative youth is nowhere to be heard, however, on their recently released debut album, "Home Sweet Honky-Tonk," one of the best records of its kind to come from these parts in years.
It's an album meant to be played on a jukebox also stocked with the likes of Charlie Rich, David Allan Coe and Merle Haggard, pretty much every one of its 10 songs about women and boozin', the former catalyzing much of the latter. The record is deeply rooted in '70s outlaw country, with pedal steel-belted ballads and honky-tonk hell-raisers about practically taking up residence at the local watering hole, the Reeves brothers' voices as smooth as top-shelf bourbon.
Despite its vintage sound, though, none of this is a nostalgia thing for the Reeves.
They've internalized the music — were born into it, in fact.
"When we were old enough to stand, we were old enough to have a guitar in our hands," Matt says. "That's how it was."
This is largely attributable to their father, Jack Reeves, who became a popular country singer in Southern California, beginning in the mid-'60s, before later returning to his native Arkansas.
Cole and Matt grew up watching him play.
"When we were kids, he was working five nights a week, playing music," Matt recalls. "Our mom waited tables in the restaurant that was in the bar (where he performed). On the weekends, we'd go sit in the restaurant and watch him through a little opening because we couldn't be in the bar. That's where I learned a lot about all the country music I know about, night after night, listening to those songs."
When Cole was 12 and Matt was 13, the elder Reeves recruited his sons to join his band. When other kids their age were in school, they were on tour.
It was the same for Bishop.
"I finished ninth grade and went on the road for 3½ years," he says, his beard as thick as the scent of smoke that hangs in the air. "I was 14."
Immersed in this environment, the Reeves received tutelage from some of the greats. Surf guitar icon Dick Dale is one of Jack Reeves' best friends, and helped Cole get some of his first endorsement deals, while acclaimed six-stringer Al Bruno, who was named the Academy of Country Music Guitar Player of the Year 10 times, was also an early mentor.
"I remember when I was 11 or 12 years old, sitting on the floor of a casino, with him teaching me how to a play a song that I had asked him to teach me," Cole recalls of Bruno, who passed away last year.
Jack Reeves was a true country purist who never strayed from honky-tonk orthodoxy, something that he instilled in his sons, to a lesser extent.
"My first album was a Bob Dylan record, and I remember he thought I was a satanist," Matt Reeves chuckles of his father.
" 'What the hell are you doing listening to Bob Dylan?' "
But though they played together in their dad's band growing up, Matt and Cole fronted their own groups afterward, and it was only two years ago that they teamed up to form The Reeves Brothers, relocating here from Arkansas.
"Something just struck us," Matt recalls of the move. "I think we were listening to this old Buck Owens song called 'Big in Vegas,' and we were like, 'We're going to Vegas.' About two weeks later, we moved."
Since then, they've been gigging regularly in Pahrump, where they have a house, and locally at spots like the Saddle N Spurs, the Sand Dollar and Club Fortune in Henderson.
They know that playing their style of dirt-beneath-the-fingernails country isn't likely to make them rich and famous, and they're OK with that.
"I'd rather be broke than sell out," Cole says.
Besides, he's doing just fine on this day, enough in his pocket for another round or two.
Read more from Jason Bracelin at reviewjournal.com. Contact him at jbracelin@reviewjournal.com and follow @JasonBracelin on Twitter.