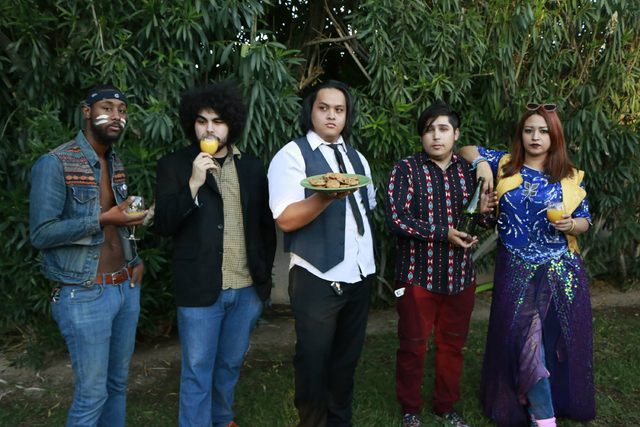 The laugh that rolls out of him is as robust as the impressive crop of hair that halos his shaggy features.
Jose Pancakes has just been asked a pretty straightforward question.
"Now that your band has its first recording done, is this where you saw things developing up to this point?"
Knowing chuckle.
Then the answer.
"No," the We Are Pancakes singer-keyboardist says. "I am completely bewildered and aghast at all of this happening, to be quite honest. It still baffles me."
Pancakes is talking about "Cookies & Mimosas," his band's debut EP, while sitting alongside his bandmates on a picnic table outside The Bunkhouse on a Tuesday evening, ambience provided by the white lights stringed above and the sound of Seattle's The Posies sound-checking prior to their show that night.
The bafflement that Pancakes speaks of isn't confined to himself.
"People always ask me what we sound like," lead guitarist Patrick Tucker says. "I can't explain it."
OK, we'll give it a shot.
As Tucker alludes to, We Are Pancakes' sound is a squirrelly one, spanning funk, indie rock, Latin and hip-hop (rhythmically speaking), synth pop and traces of psychedelia.
But there is one common denominator unifying the burgeoning Pancakes songbook: Through it all, this bunch gives themselves fully to the groove.
"We always know once we have a song locked in because we hear that groove," bassist Jules Manning explains. "The groove just comes naturally."
This is palpable on "Cookies & Mimosas." Everyone in the band is an accomplished player on his or her respective instrument, but they seem to have a natural, organic rapport with one another, never stepping on each other's toes, musically speaking.
As such, their tunes really breathe, sweat and swing, powered by ceaselessly assertive bass lines, alternately shimmering and purring keys, well-placed harmonies and some seriously fiery guitar leads.
The four-song "Cookies & Mimosas," whose release the band will celebrate with a show at Backstage Bar & Billiards on Saturday, is bookended by a pair of tunes, "Talk" and "Kids," that progress in the same manner, gradually building from tightly honed funk into heated mini-jams by songs' end.
Sandwiched between these two are "Nothing" and "Take Me," on each of which the band conjures a hypnotic, near-meditative groove and rides it fully, focusing more on the journey than the destination.
Formed a year and a half ago, with Manning joining in January, We Are Pancakes began as a loose collection of friends, with Pancakes, Tucker and rhythm guitarist-singer Jan Garec Dino all having known each other since high school.
"We really only had the goal of playing every single bar downtown," Dino says of the band's informal start. "Then we were like, OK guys, what's next?' "
That question was answered on a gut level.
"After we first played, we all just kind of walked away, like, 'Hell yes, we've got this. This feels right,' " Tucker says. "After a show, I feel good and people are telling us that they feel great. And they don't necessarily know what happened, either."
One of the trademarks of the band's live gigs is that they like to play a new cover tune each time out, past jams including Ginuwine's "Pony," The Beach Boys' "Kokomo" and The Doors' "L.A. Woman," songs that underscore the range of influences inherent in the band's sound.
"Sometimes you're in a band where you feel like you're just stuck to that genre, because if you go outside of it, it won't be that band," drummer Milu Angelique says. "This band doesn't have that. As long as it sounds good, why not?"
Keeping it loose, then, is what makes this band so tight.
"There has to be a certain ability to let go when it comes to playing with us," Pancakes says. "I think the main thing is that we don't really care whether we look good or bad, we just want to try it and see where it goes."
Try it.
See where it goes.
Read more from Jason Bracelin at reviewjournal.com. Contact him at jbracelin@reviewjournal.com and follow @JasonBracelin on Twitter.