Las Vegas guitar prodigy Dario Lorina releases new solo album
March 28, 2017 - 11:25 am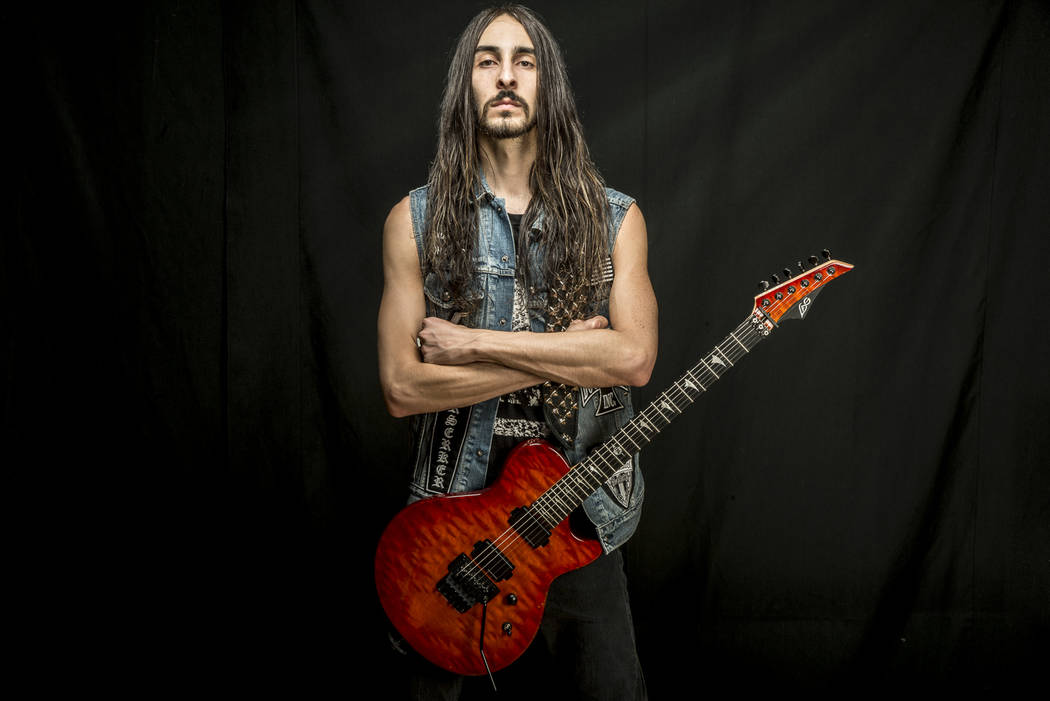 For a moment, his eyes flash in unison with the rings on his fingers, impressive hunks of silver thick as the Boston accent that elongates his syllables here and there.
Sitting outside a south valley Starbucks, Dario Lorina is speaking about that gloriously transitional moment for every touring musician: the day you graduate from crashing in cramped vans to getting your own bunk aboard a bus.
The Vegas guitar prodigy has been living on the road since he was 16, when he landed a spot in former Warrant frontman Jani Lane's band. From there, came a gig with long-running L.A. metallers Lizzy Borden.
But then Lorina got his big break, hired in 2013 by former Ozzy Osbourne guitarist Zakk Wylde to join hard rockers Black Label Society. BLS possesses a seriously dedicated following who carry themselves with the close-knit camaraderie of a biker gang, which is what some of them model themselves after — several of the band's fans in different cities have organized themselves into BLS "chapters" and sport patches on their sleeveless denim jackets identifying as much.
Since joining BLS, Lorina has spent most of the past three years on tour, trekking around the globe from South America to Israel, finally getting to travel in comfort thanks to BLS' strong international fan base.
"It's everything that I would have thought it would have been," Lorina says of becoming a full-time working musician able to support himself with his guitar.
Lorina finally has some downtime from BLS, which is taking most of the year off. Lorina's not following suit: He's just released his second solo instrumental record, "Death Grip Tribulations," which he's supporting with a gig at Count's Vamp'd on Friday.
Now, most records of this ilk speak to the niche-iest of niches: guitar geeks for whom every waking moment is merely an opportunity to shred (Lorina fills this bill to an extent, though he certainly doesn't look the nerdy type, long and lean, with hair as dark as the lenses in a pair of shades).
But "Deathgrip" is the rare album of its caliber that doesn't demand a lifetime subscription to Guitar World magazine to wrap your head around.
Yeah, Lorina spreads plenty of fretboard peacockery across the album's 12 tracks, but it's always in service of the song. These aren't exercises in sheer technique, even though there's a certain level of virtuosity here, but rather catchy, concise, guitar-driven jams that range from proto-thrash to radio-ready rock, tunes that are as hummable as they are hard to play.
"I enjoy doing the instrumental stuff, because as a guitar player, it's fun, but I'm all about melody," explains Lorina, a New England native who moved to Vegas with his family when he was a kid. "When I write the songs, I'm writing a song as if someone was to sing over it. Then, in the place of the verse, I'll play a guitar solo."
Lorina's been working on said leads since he got his first guitar at age 6. Not quite two decades later, rarely a day goes by that he doesn't pick up his instrument.
"I get up, I have coffee and I'm playing," he says, still chasing those dreams, even if he's managed to snag a few along the way.
Read more from Jason Bracelin at reviewjournal.com. Contact him at jbracelin@reviewjournal.com and follow @JasonBracelin on Twitter.