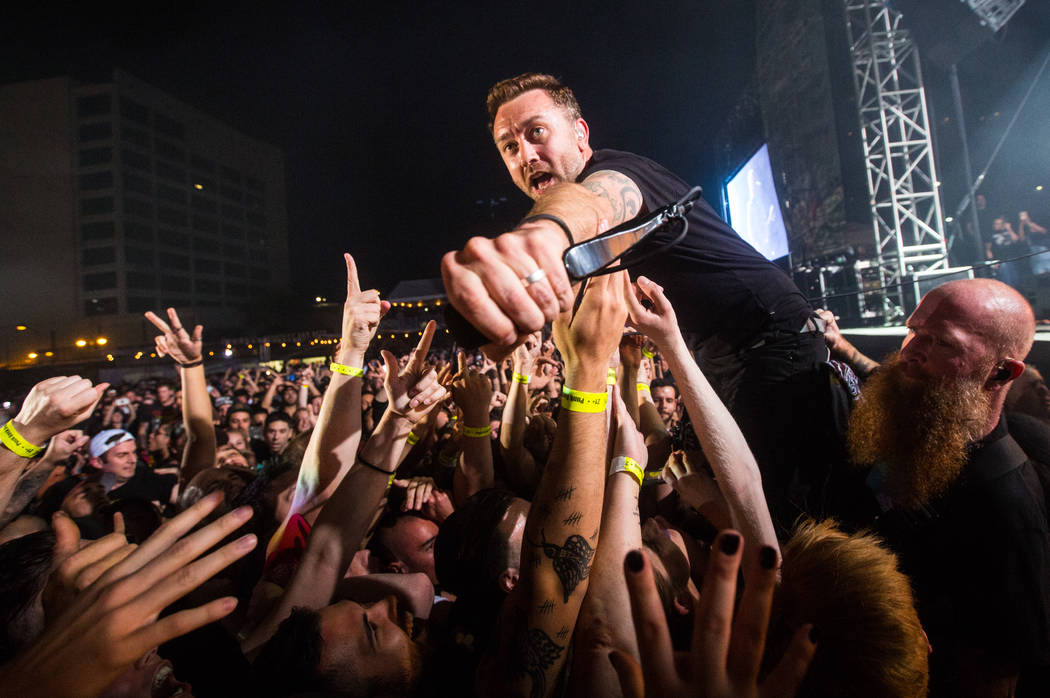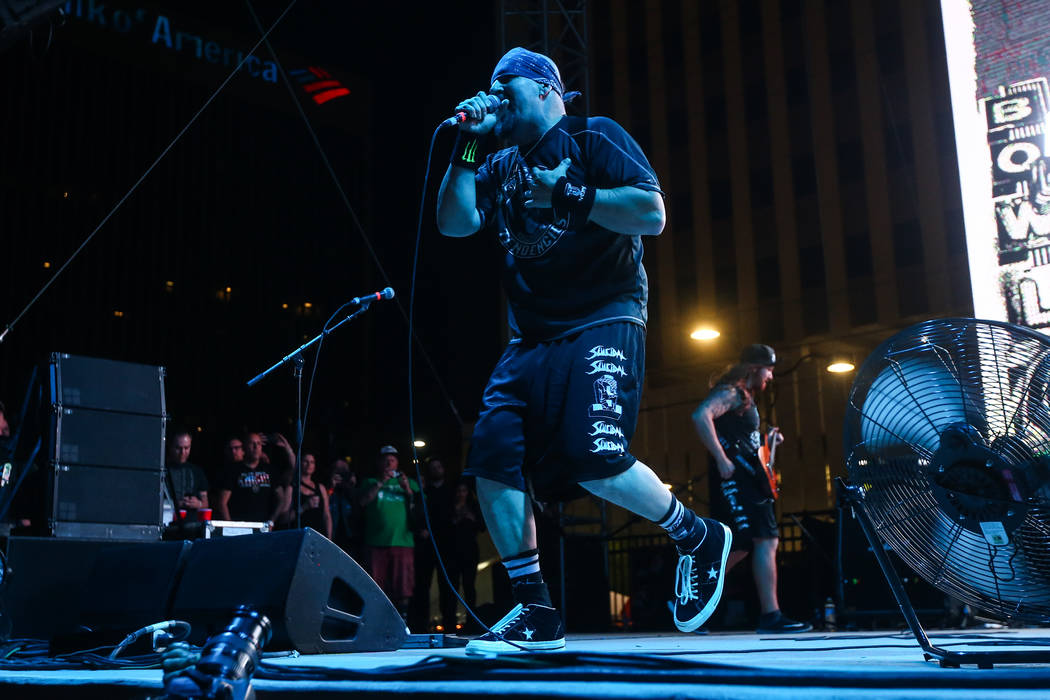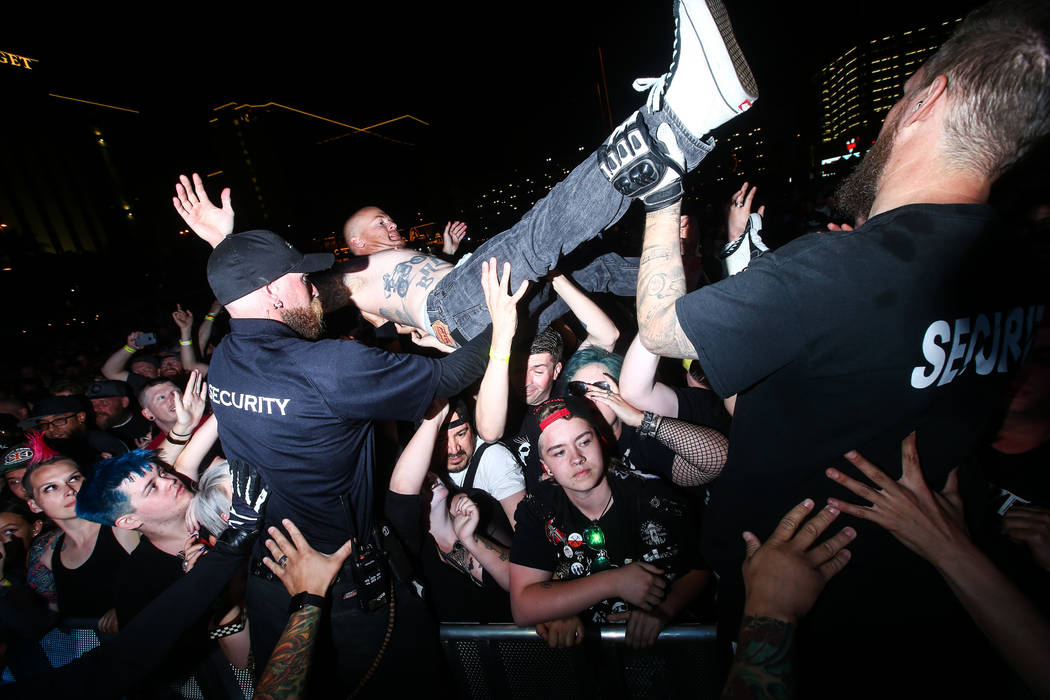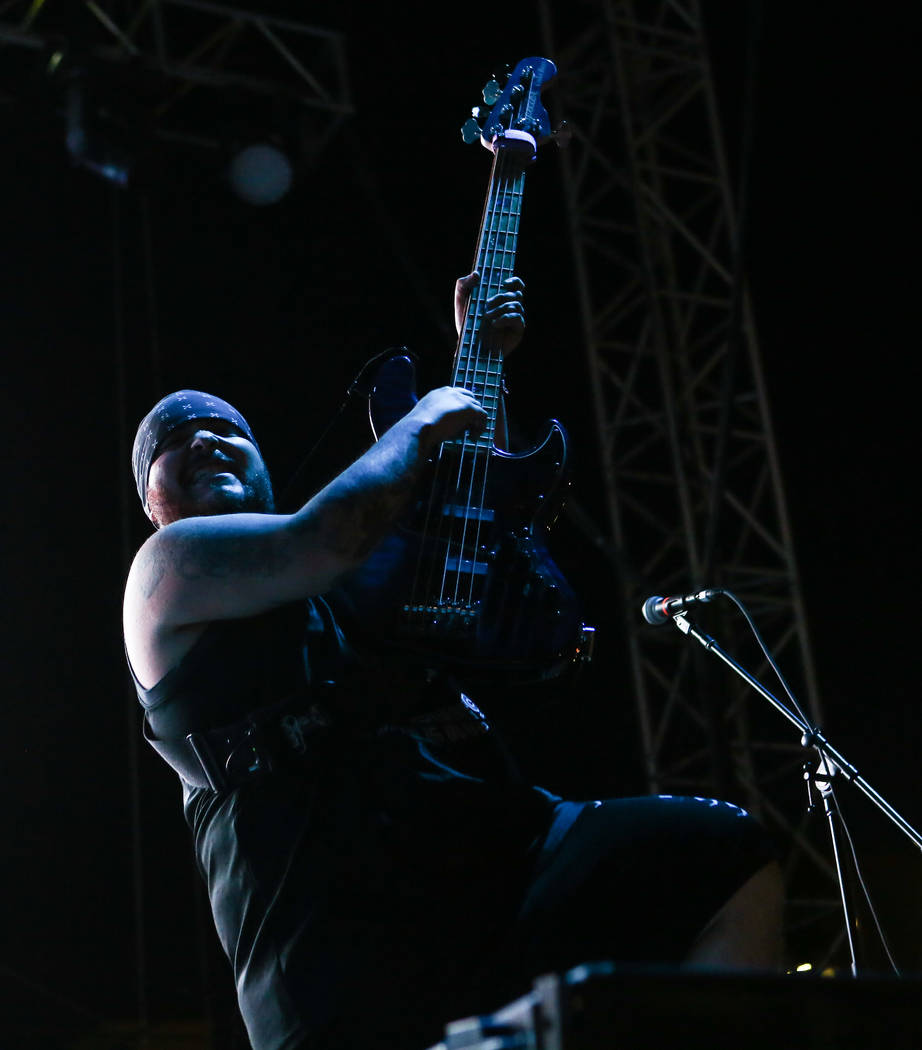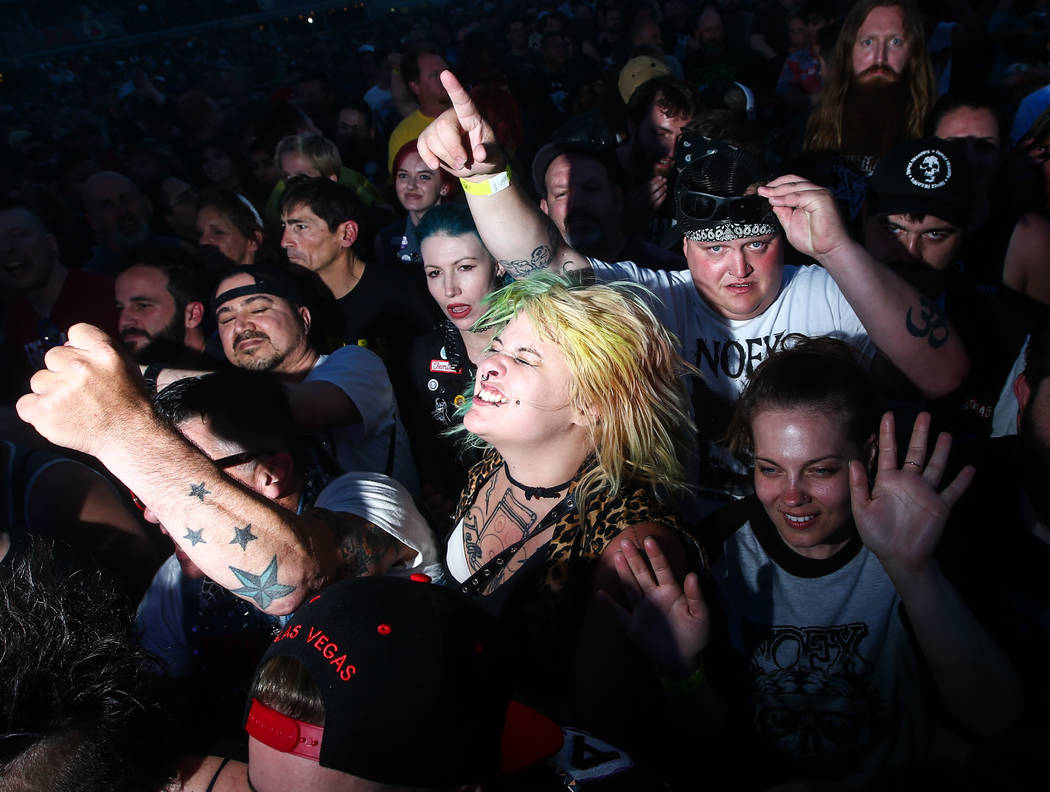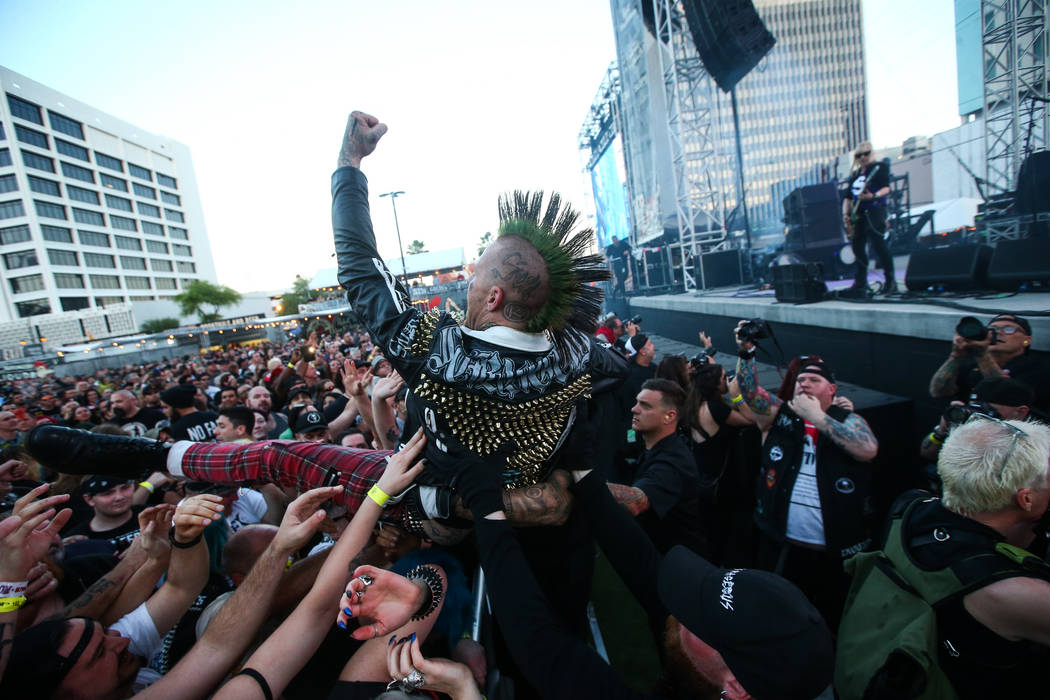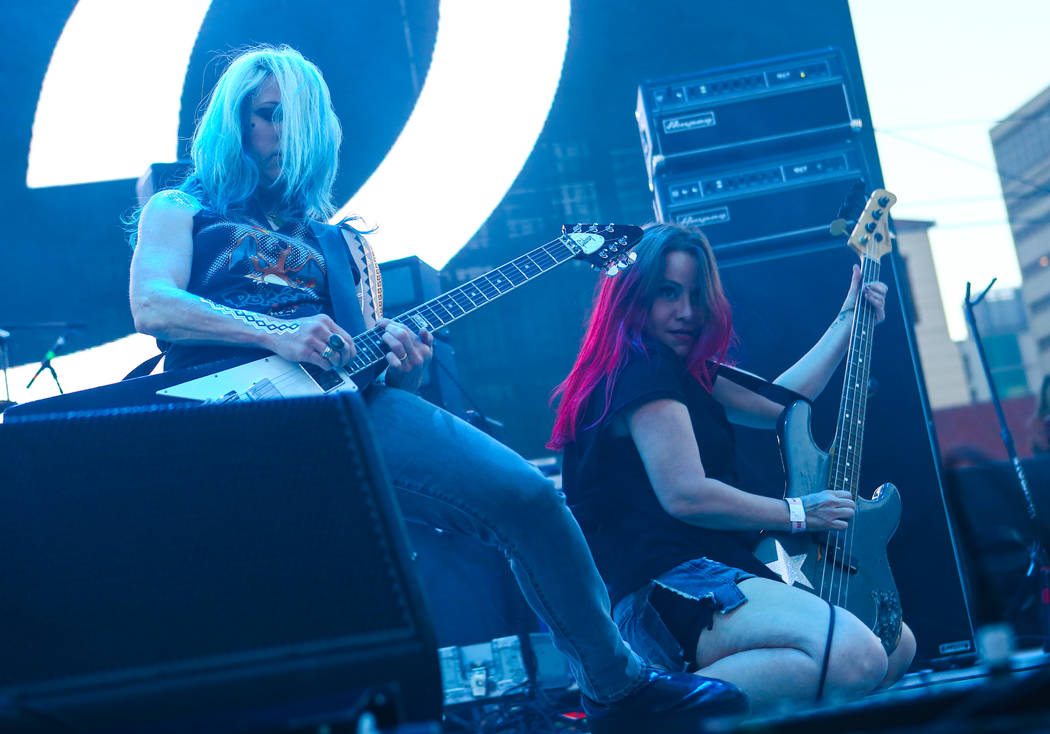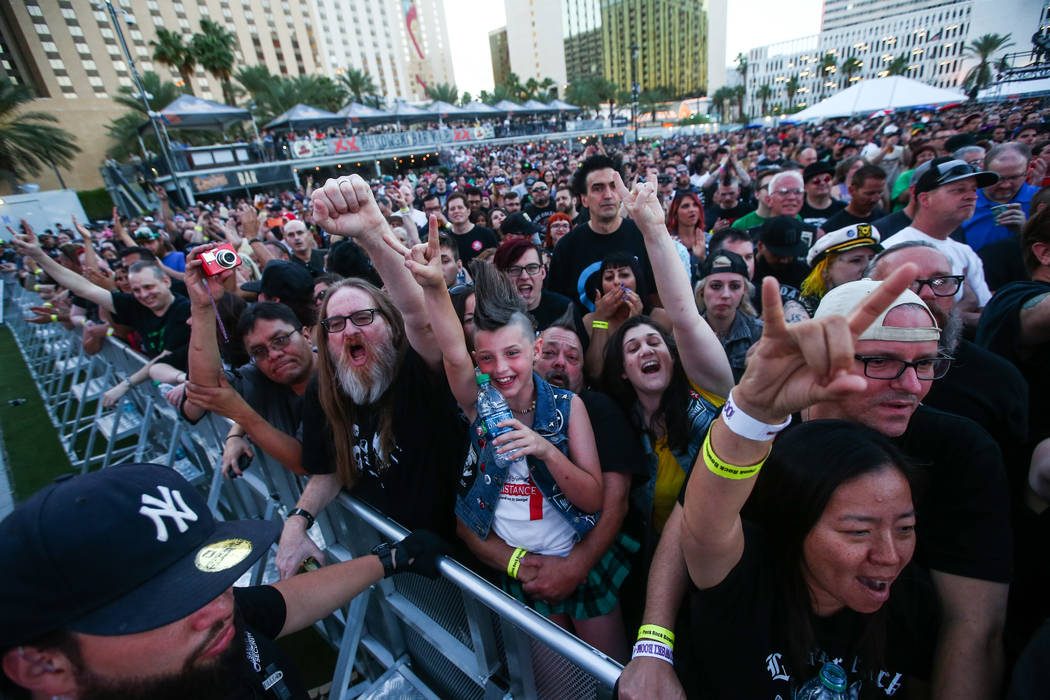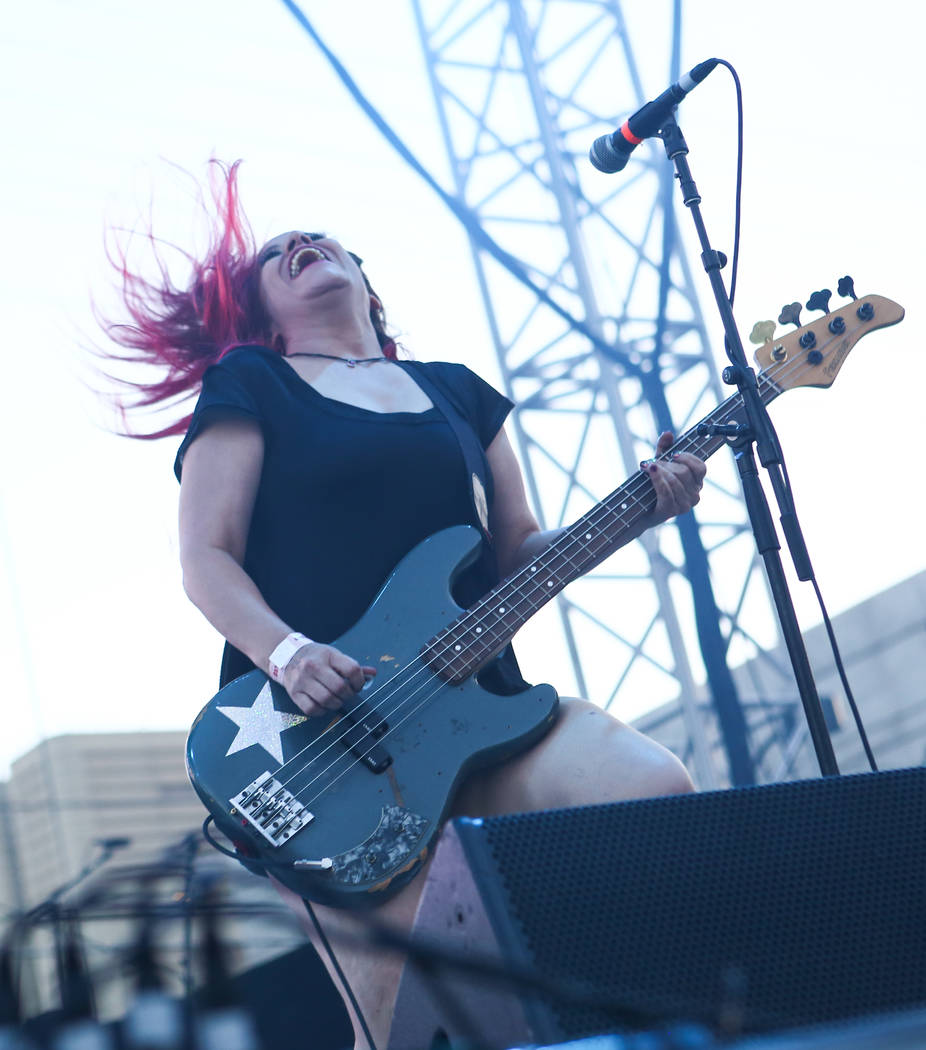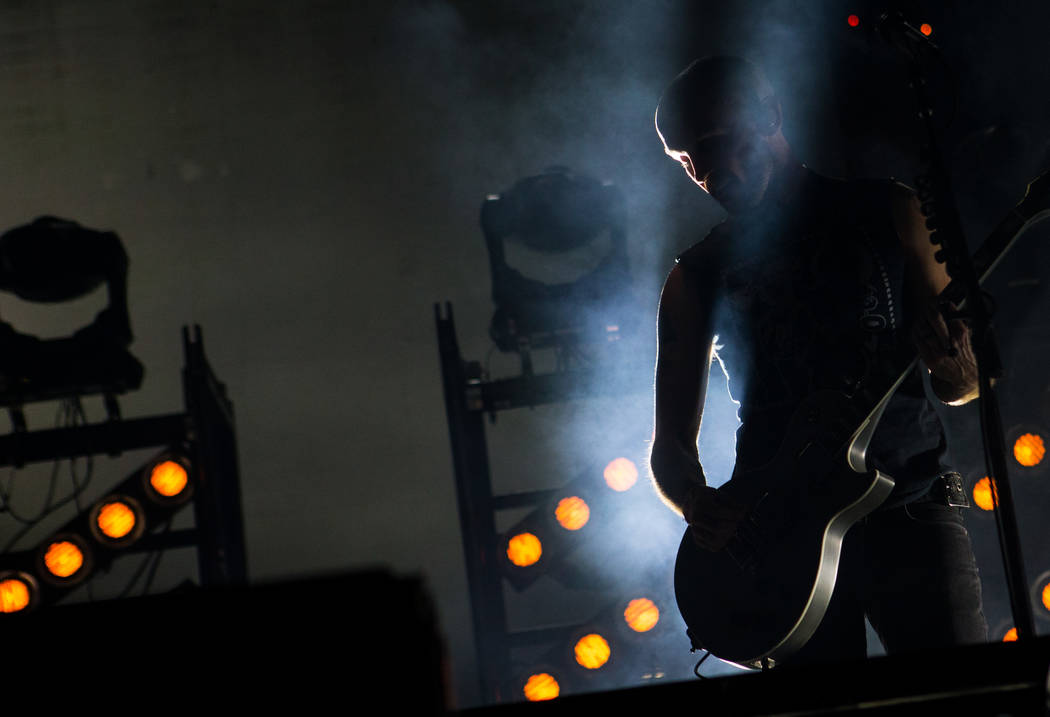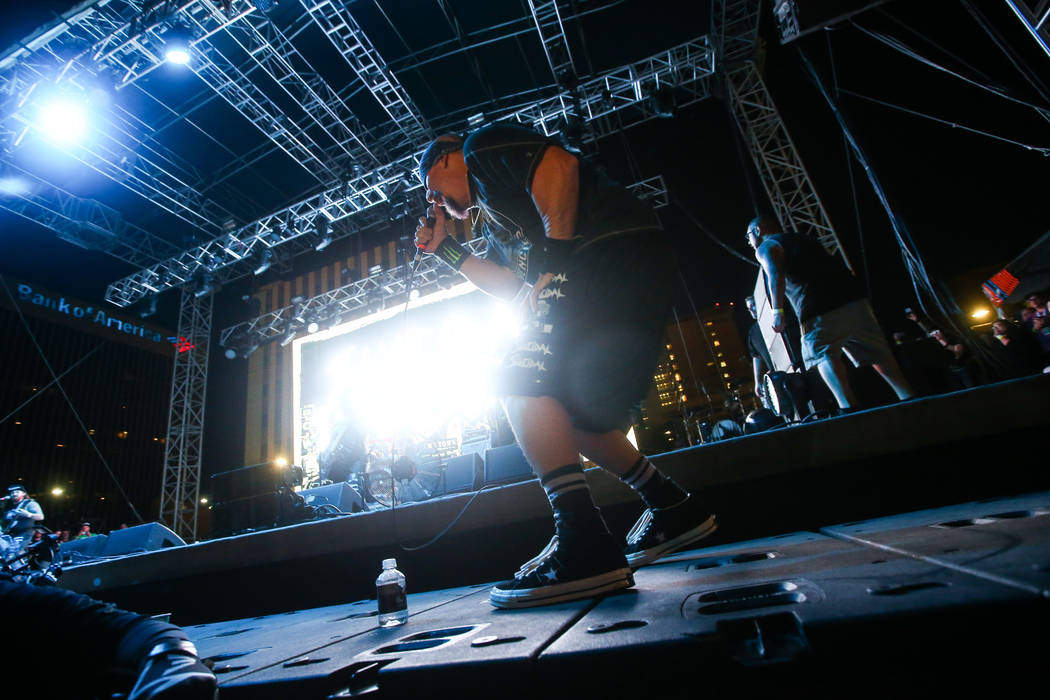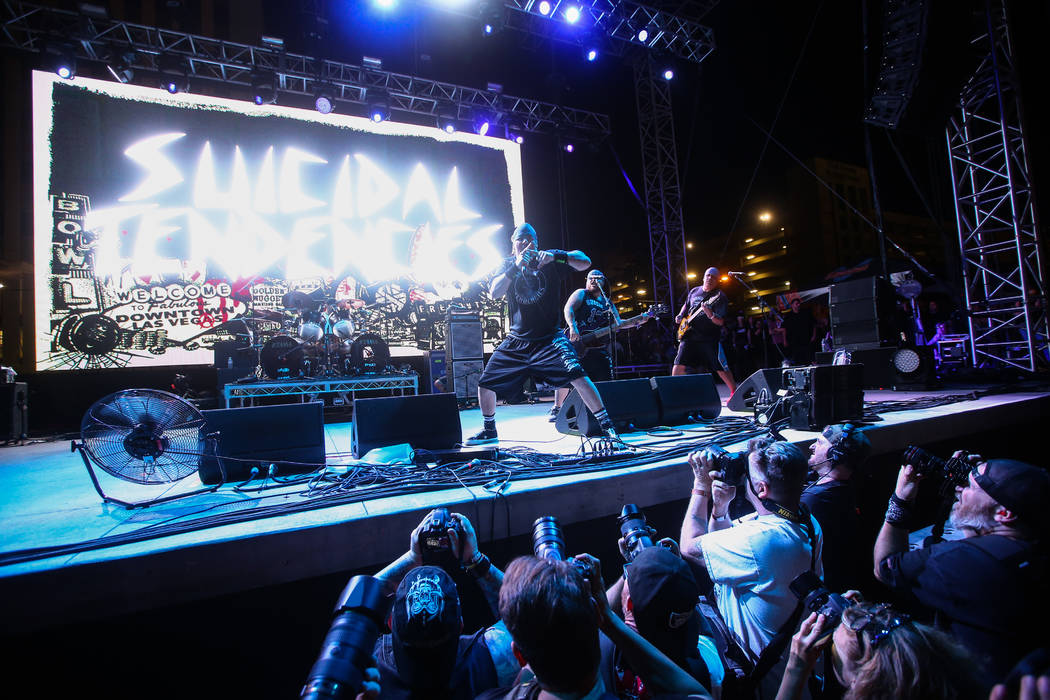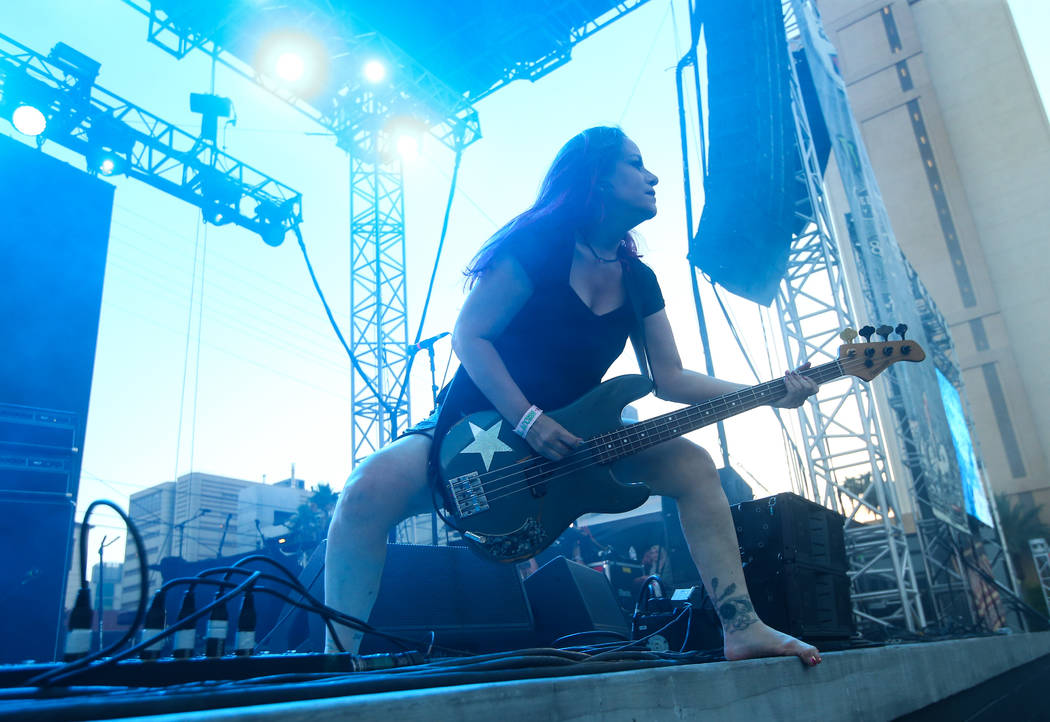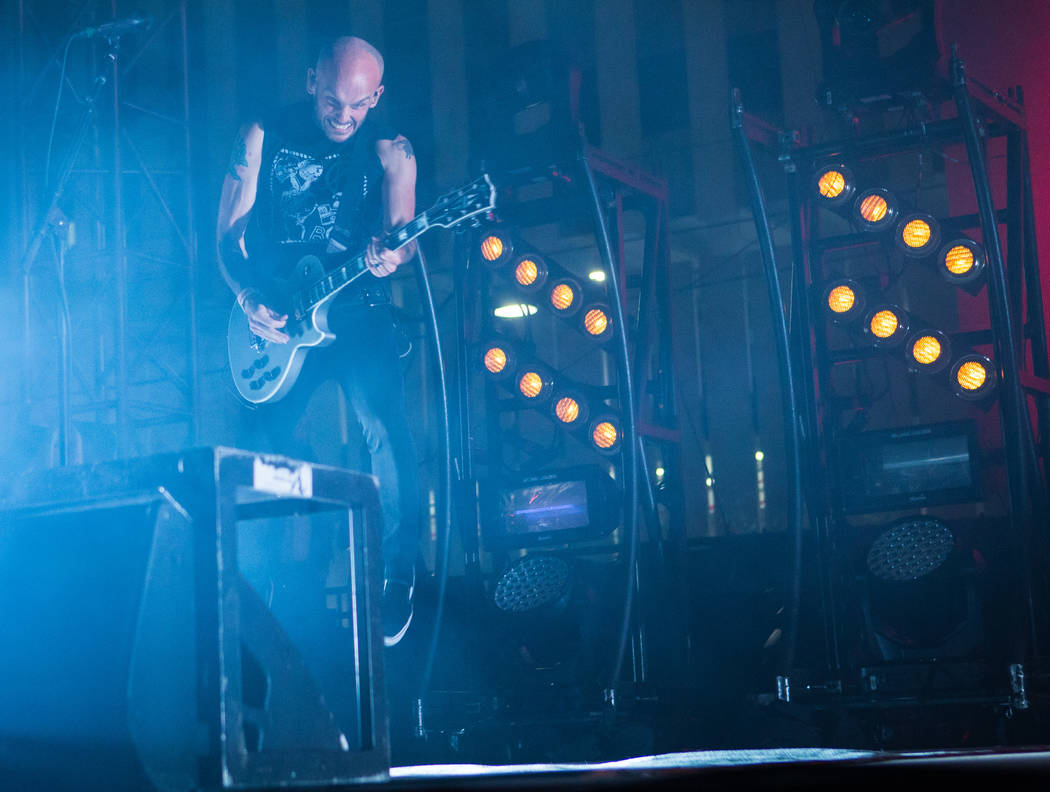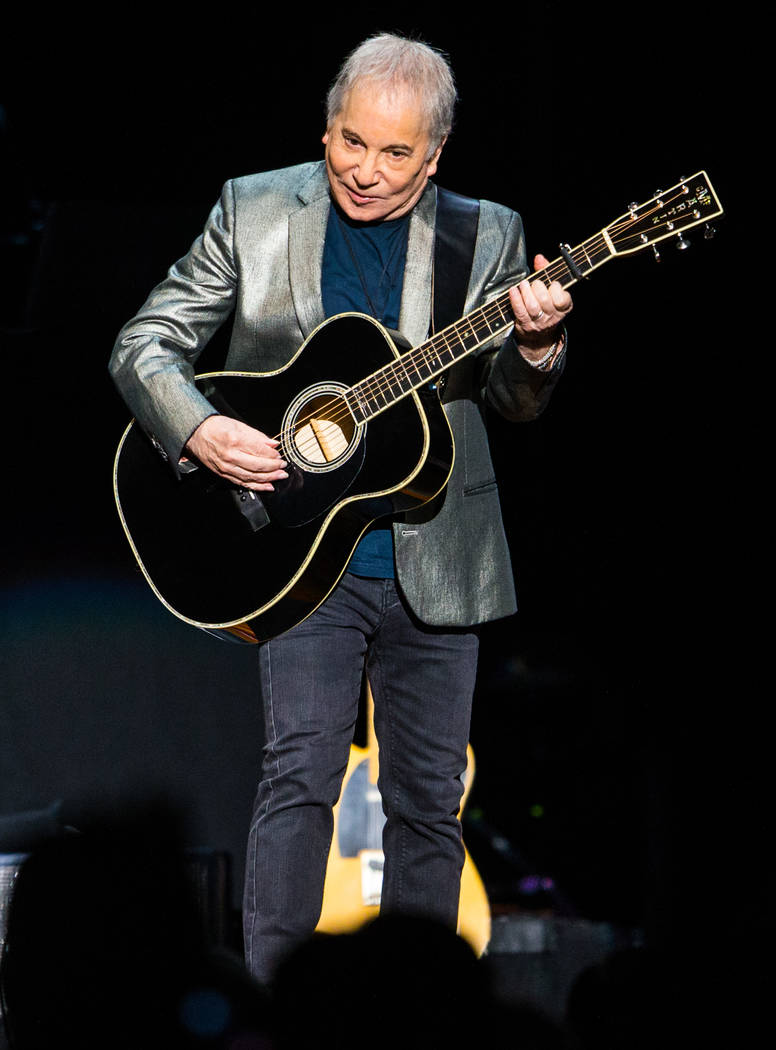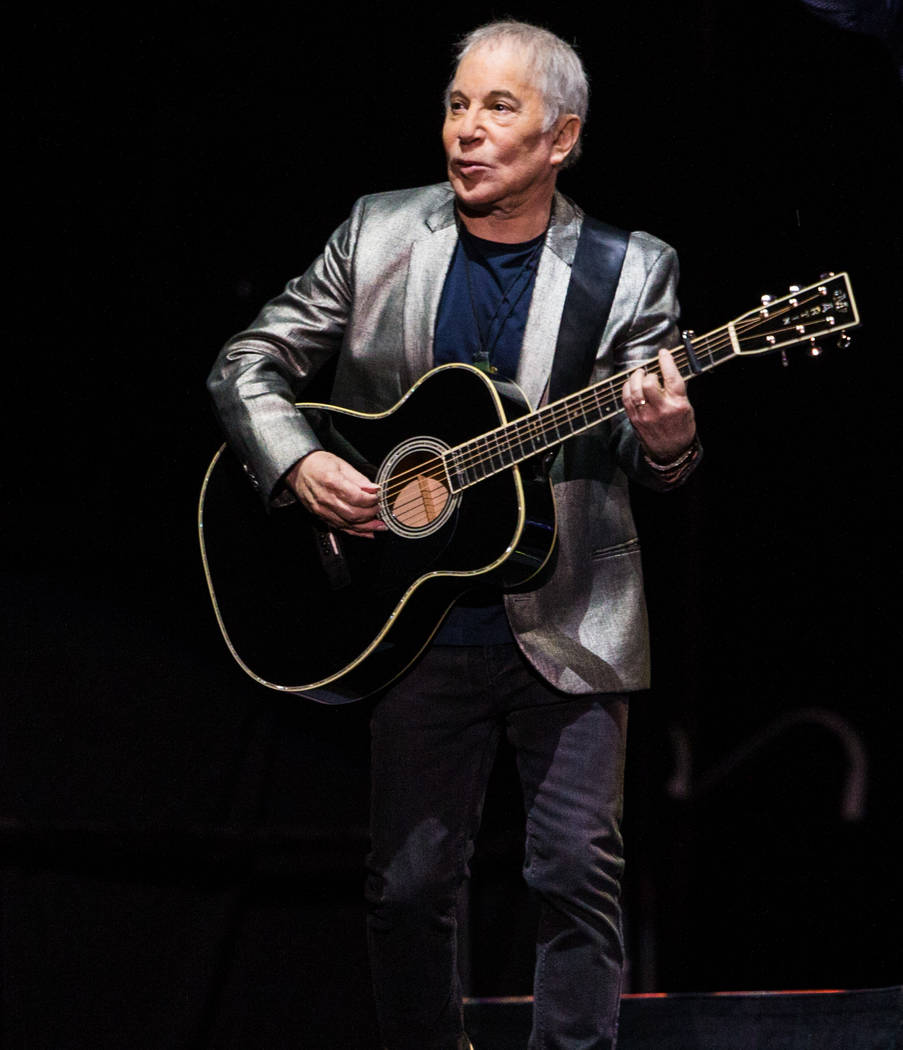 It was all smiles, save for the security guards in hot pursuit on a hot afternoon.
Somehow, the crowd-surfer managed to clamber his way on stage, not an uncommon sight at a punk show, but a rarity at Punk Rock Bowling: The bands perform seven-or-so feet above the audience, protected by a metal barrier and a crew of beefy stage sentinels.
Still, the dude managed to allude them all, grabbing the mic from GBH frontman Colin Abrahall, who was growling about being a "grumpy old man" in song, then diving back, narrowly avoiding capture.
"That's more like it," Abrahall beamed afterward, the 56-year-old, British street-punk lifer zipped up in a black leather jacket despite the Saturday heat at the Downtown Las Vegas Events Center. "We want people to be a bit naughty."
Not that the PRB hordes needed any cajoling to this end: Whether it was on stage or in the crowd, this weekend was all about punk rockers acknowledging the passing of time while refusing to let time pass them by, indulging in the music of their adolescence and perhaps an adult beverage or two.
The age range here was wide, from first-generation fans and performers, such as 61-year-old D.O.A. frontman Joe Keithley, who led the Canadian hardcore pioneers in leg-kicking protest punk, to half-pints perched on dads' shoulders and elementary-school-age girls in mohawks and plaid skirts who stayed up past their bedtime to catch headliners Rise Against lead a battery of melodic punk singalongs.
Those girls had some strong female role models in reactivated grunge-punk troupe L7, one of the first bands of their ilk to regularly feature take-no-guff women protagonists in their riff-heavy songbook. They aired a number of them Saturday, snarling narratives with female leads such as "Fast and Frightening" ("She'll do anything on a dare / Mom and Daddy's worst nightmare") to girl-in-the-pit anthem "Everglade" ("Rednecks on parade / Don't cross my line, says Everglade.").
Everglade would have been right at home with the band that followed, Suicidal Tendencies, who ended their rabidly received set by inviting a bevy of female crowd members on stage to throw elbows in unison.
Suicidal Tendencies heavily mined their self-titled 1983 debut, when the group adhered to a more lean and mean hardcore ethos, though the songs were infused with their latter-day aesthetic in the form of funky bass lines, an added emphasis on guitar solos and former Slayer drummer Dave Lombardo's master class in frenetic precision (he even threw in a taste of his iconic "Angel of Death" bass drum fill during "Freedumb.")
One of Suicidal Tendencies' lasting contributions to hardcore punk was an infusion of vulnerability and emotional depth to a genre often posited on impenetrable machismo.
They were able to do so in large part because of Muir, a stocky, menacing-looking hulk from afar — though an affable, verbose, Tony Robbins-esque character in reality. Because of Muir's physical bearing, he's the last dude whose masculinity could be challenged, even when singing candidly of his feelings.
"Doesn't matter how big and ugly I am," he announced at one point. "Everybody's got a soft spot in their heart."
Especially for Pabst — you know, depending on the weekend.
A grand farewell
Around 1959, Paul Simon became bored with rock and roll.
"It got stupid," he reflected, nearly 60 years after the fact.
And so he swapped his electric guitar for an acoustic, moved to England and began writing a different kind of song.
On Sunday, he showed a rapt MGM Grand Garden Arena how it was done in real time.
First, he tapped a beat out on his guitar, the pitter-patter of his fingers forming a skeletal rhythm.
"I like that," he smiled. "Now, I just gotta find a guitar line."
In came a fluid little figure from multi-instrumentalist and champion ponytail farmer Mark Stewart.
"Add a little piano," Simon said, issuing his final command as keys twinkled.
And with that came "Rewrite," a song about a man seeking to reassemble the pieces of a fractured life, culled from Simon's 2011 album "So Beautiful or So What."
"Gonna change my ending," Simon sang during an evening where endings loomed large: This was Simon's final Vegas tour stop.
"I'm not going to stop writing music and I don't think I'm going to stop playing music. I just want to see what happens when you stop," he explained — sort of — with a wink.
As far as send-offs go, Simon's nearly 2½-hour, 25-song farewell was a grand, eloquent one.
There was plenty of reminiscing, Simon sharing a story about the time he was at Joan Baez's house, rehearsing for a duet, when he plucked an art book off the shelf and was stopped by a caption he read: "Rene and Georgette Magritte With Their Dog After the War."
"I thought, 'What a great title for a song,' " he remembered.
Then Simon segued into said number, flanked in a semi-circle by chamber music sextet yMusic, who delivered gorgeously wrought, baroque-sounding versions the song in question and "Can't Run But," Simon conducting the troupe with quick flicks of the wrist.
Simon and his sizable backing band, which numbered over a dozen, played the hits, but seldom played anything straight.
They expanded upon the burping bass lines and robust accordion of the prescient "Boy in the Bubble," working the song up into what felt like a hymnal by tune's end. The zydeco high-step of "That Was Your Mother" was delivered with even more kick live, while the spirited harmonies of "Diamonds on the Soles of Her Shoes" were highlighted during an a cappella opening.
It was another "Graceland" favorite, "You Can Call Me Al," that got the crowd up on its feet, dancing goodbye, as the show worked toward its conclusion.
It all culminated with Simon alone on stage, performing a show-ending "Sound of Silence" in a room where it felt like everyone was holding their breath.
"It's all gonna fade away," Simon had observed a few selections earlier during "Still Crazy After All These Years."
The tune argued the opposite, though, at least for some things, among them, the songcraft of the man giving it voice.
Contact Jason Bracelin at jbracelin@reviewjournal.com or 702-383-0476. Follow @JasonBracelin on Twitter.