Smashing Pumpkins deliver rock spectacle at T-Mobile Arena
Updated September 3, 2018 - 7:34 pm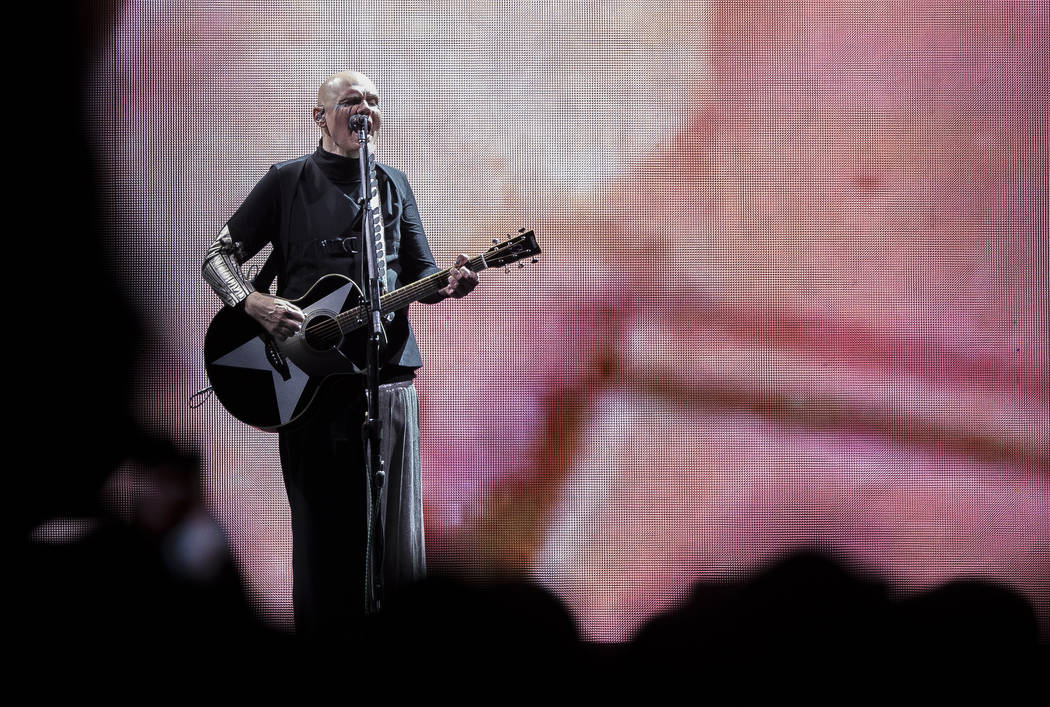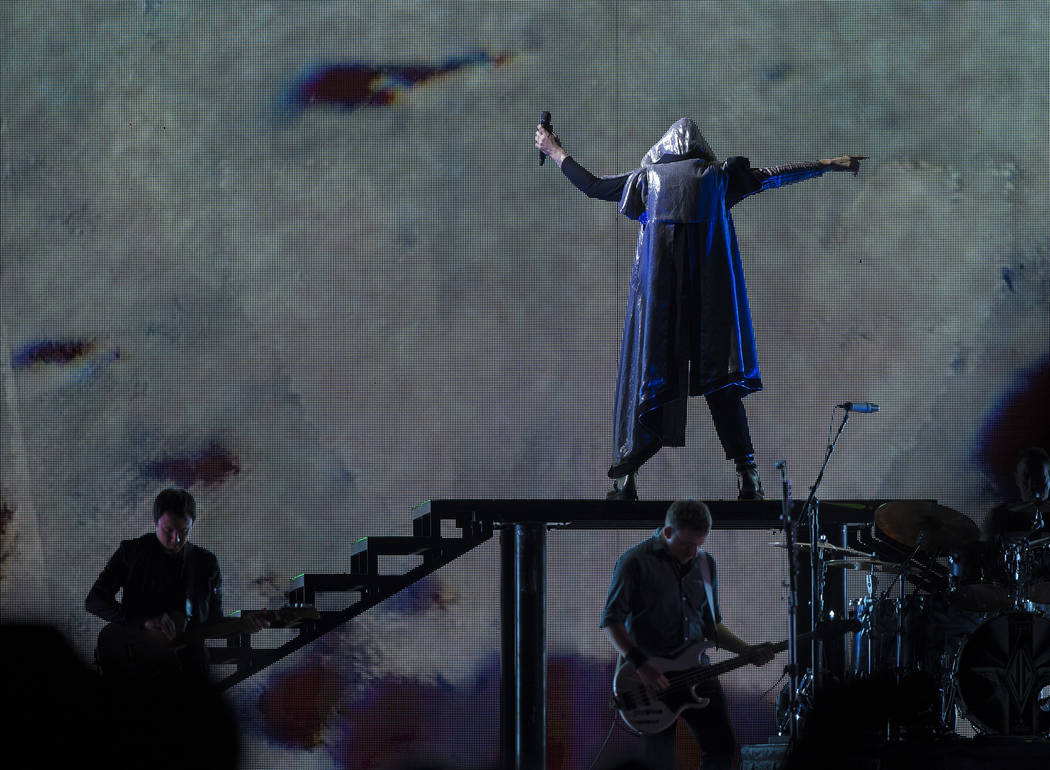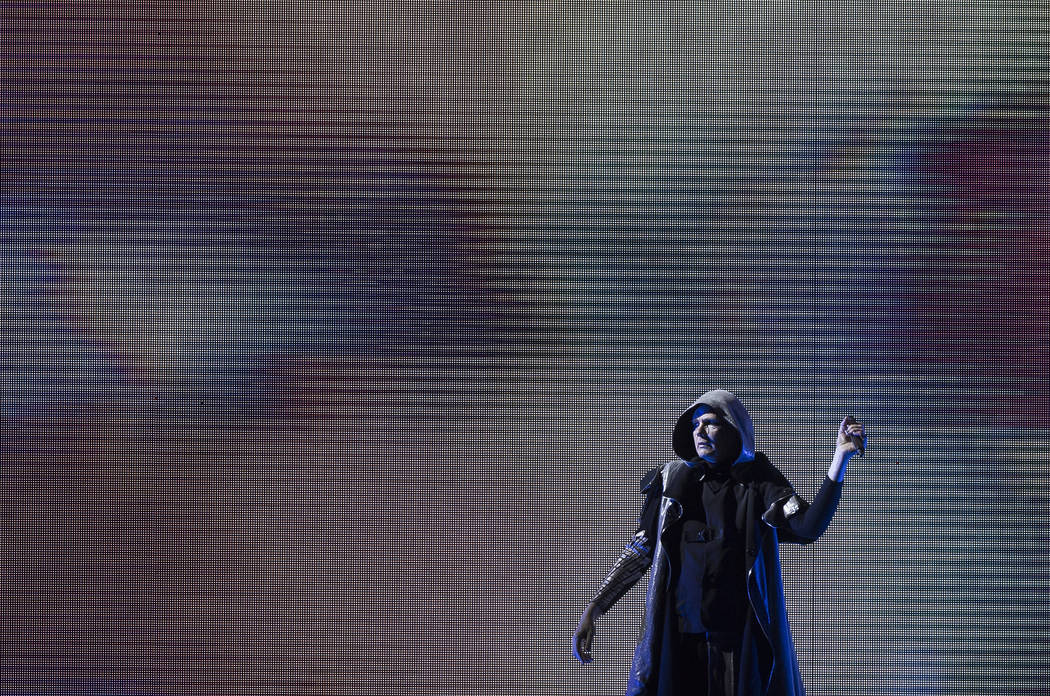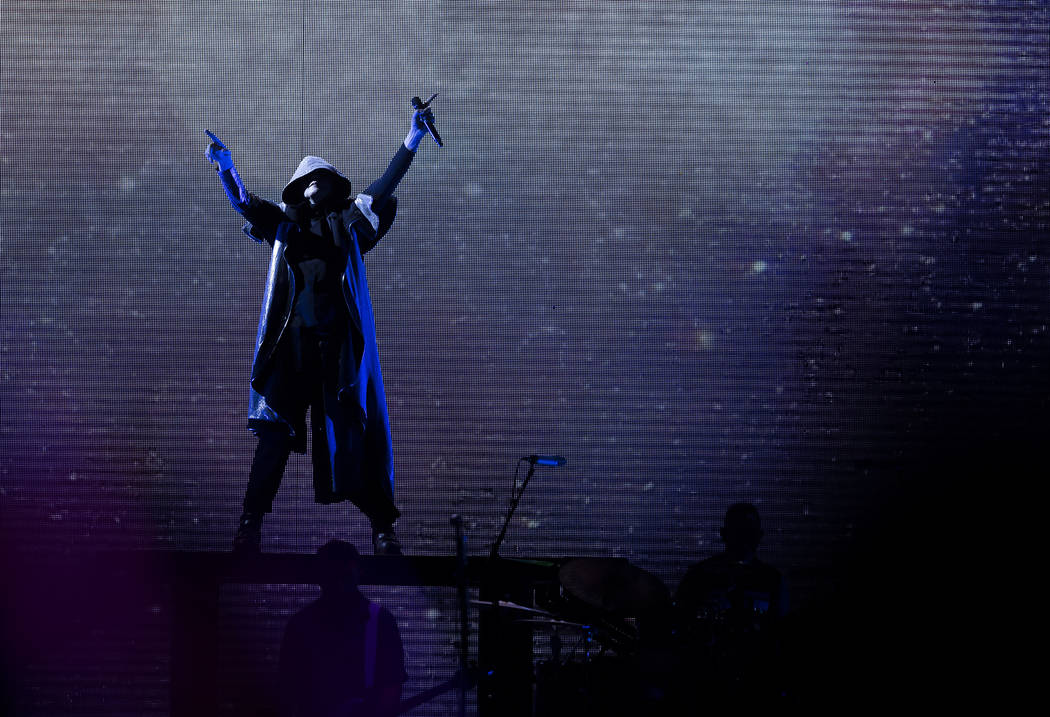 There Billy Corgan was, seated behind an electric piano, banging out "Stairway to Heaven" as an illuminated shrine featuring a crown-adorned statue of himself worked its way through the crowd on the floor.
Go ahead, rub your eyes, makes no difference.
This was really happening.
That the Smashing Pumpkins frontman would tackle maybe the most iconic hard rock song of all time two hours into an alt-rock spectacle for the ages tells you all you need to know about both Corgan and this show: For him, for this production, more is more is more with a side of more.
By covering classics from Led Zeppelin, Fleetwood Mac ("Landslide"), David Bowie ("Space Oddity") and — why not? — the Disney songbook ("Baby Mine" from "Dumbo") during a 31-song, three-hour-plus show at T-Mobile Arena on Sunday, Corgan and company simultaneously showcased their ambition, chops and a confidence bordering on bravado.
Touring with fellow original members in drummer Jimmy Chamberlain and guitarist James Iha for the first time in 18 years (along with guitarist Jeff Schroeder and a pair of touring musicians), Corgan began the show by performing acoustic ballad "Disarm" alone as boyhood photos of himself flashed across the video screens behind him.
Despite the vintage images and the fact that all but two of the songs played Sunday were originally released in 2000 or earlier, the Pumpkins' performance didn't feel posited on nostalgia as much as the goal of reaffirming the band's place among the alt-rock leaders of its era — or any other, for that matter.
Corgan said practically nothing from the stage all night until thanking the crowd near the end for seeing this "crazy show" through, preferring instead to let his guitar do the talking.
It said as much with a whisper as a shout.
Sure, the Pumpkins can bring the bluster, exemplified by weapons-grade bruisers such as "Bullet With Butterfly Wings," "Cherub Rock" and "Zero," which Iha outfitted with a solo that squealed like rubber being laid on wet asphalt.
But texture, nuance and a sense of delicacy figure as prominently into the band's repertoire as overdriven guitar aplomb and smoldering amplifiers, the Pumpkins' catalog equal parts scalpel and meat cleaver.
A beatific "Soma" unfolded as a dreamlike reverie, supple and warm, practically luxuriating in its sadness, before erupting in a cathartic conclusion. The Iha-sung "Siamese Dream" B-side "Blew" breezed by. During "Drown," Corgan sang of wanting to fly in a song as sweeping as the sky in which he dreamed of taking flight.
It was all a lot to digest, as the band acknowledged on a couple of occasions.
"Let's face it, it's a long show," Iha said late in the evening. "I hope you brought a granola bar or yogurt for sustenance."
No worries there.
To borrow a line from Marie Antoinette, or maybe it was Ted Nugent: Let them eat riffs.
Contact Jason Bracelin at jbracelin@reviewjournal.com or 702-383-0476. Follow @JasonBracelin on Twitter.