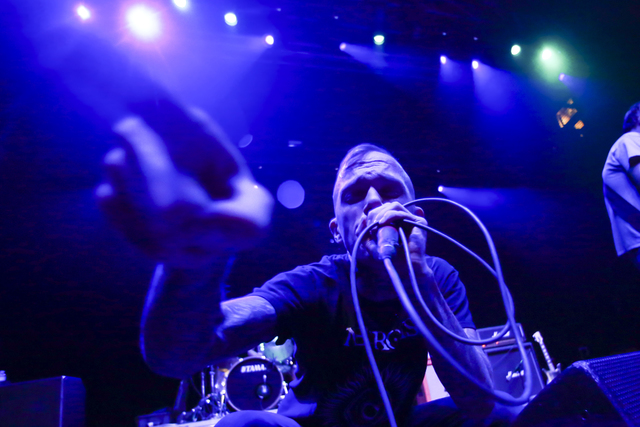 "Are you a moron?"
Sometimes.
"What are you talking about? Were you at the same show I was?"
Yes, I was the one taking notes.
"How in the hell did you get your job?"
Unmarked bills.
Chief among the many joys of being a big, big time professional music critic is all the feedback I get from readers (or superfans, as I like to refer to you guys). Some questions, like the ones posed above, get asked on a daily basis, it seems. In order to answer them once and for all, here's the official Sounding Off FAQ:
So, did you like the show or not?!
Easily the most frequently asked of these frequently asked questions, which I get after pretty much every concert review I write.
It's also a question that lets me know that I'm getting at least something right.
Though there is a letter grade included with my reviews, which I'd love to do away with, it's important to know that my reviews are not reflections of my personal tastes and/or enjoyment whatsoever.
Really, who cares if I like something or not? If my reviews were simply a reflection of what resonates with me, then the only people who would have any use for them would be people who dig the same things I do. There's very little utility in that. My reviews are intended to go over with everyone, not just those with similarly awesome tastes.
Case in point: A few years back, I covered a Kenny Chesney gig at the Mandalay Bay Events Center. Now, I'd rather be waterboarded in all the Budweiser sweat oozing from the pores of the thousands in attendance than go see Chesney on purpose. But that didn't figure into my writing at all, because it's not about me. It's about using the live show to put an artist in perspective, to attempt to develop a better understanding of a performer based on who he or she is on stage, and then convey this to the reader.
My reviews are not some sort of thumbs-up, thumbs-down kind of thing. Ideally, my reviews will encapsulate who an artist is, what she or he is really about, what they're trying to say, and to whom, and the degree to which they're successful in achieving as much. It's what I call objective subjectivity: Any points I make are not based on opinion, but upon concrete observations that I then attempt to back up with specific examples from the show I saw.
Ideally, both die-hard fans of the band I'm reviewing and people who have never even heard of the artist in question would be able to read one of my stories and come away feeling like they have a firmer grasp of the art and methodology of the performer I'm covering.
Ultimately, what I'm trying to do is give you some food for thought about a given artist so that you make up your own mind about him or her. Far be it from me to tell you what you should or shouldn't like, whether something is "good" or not. I'm not going to insult your intelligence by handing you everything on a stick. When you go to a nice restaurant, the chef doesn't come out, cut your steak and then chew your food for you, does she?
It's the same thing with my reviews, though, to be clear, I'm not equating my writing to fine dining. It's more along the lines of Jack in the Box at 3 a.m.
Also, you're drunk.
What makes you qualified to do this?
Nothing other than a passion for music and writing. Look, there's no such thing as a musical "expert," and I certainly don't pretend to be one. Literally, more than 30,000 records are released each year. Is anyone going to seriously contend that they listen to more than a tiny fraction of said releases? So no one can lay claim to being any grand arbiter of taste. That's why you'll never see me write a year-end "best of" list, because it's impossible to do so and disingenuous to act like you are. What we're really doing as critics is listing the albums that we personally liked the most from the limited amount that we actually listened to. So, come next month, I'll share the 10 records that I dug the most in 2016 — which is really the only occasion where my tastes enter the equation— and I'll also make clear that they're not "the best"; they're my favorites. Huge difference.
Where do you get off criticizing (insert the name of your favorite band here)? Where's your kickass band, smart guy? (OK, no one ever really calls me "smart guy")
All critics get this one at some point: the argument that you can't critique something if you don't have firsthand experience of what it is you're critiquing. It's a silly position to take, even on a basic level (By this logic, if you say that I can't critique your band having never been in one, how can you critique my writing, having never written professionally?). Look, I've never worked as a garbage man, but I know trash when I see it. I've never directed a major motion picture, and yet, I can somehow manage to differentiate "The Godfather" from "Pootie Tang" (not to besmirch the "Tang").
OK, now for the fun stuff:
Favorite record?
Couldn't narrow it down to just one, but here's a few I couldn't live without: Elliott Smith, "Either/Or"; Mark Lanegan, "Field Songs" and "Whiskey for the Holy Ghost"; Wu-Tang Clan, "Wu-Tang Forever"; Leonard Cohen, "Best of"; Dwarves, "Blood, Guts and …"; Faith No More, "Angel Dust"; Metallica, "Master of Puppets"; and Murder City Devils, "In Name and Blood."
Favorite song?
Leonard Cohen, "Chelsea Hotel #2."
Favorite band?
Don't have one, although the artists that I find myself listening to the most on a regular basis are Converge (every day, pretty much), anything that Jenny Lewis is involved with, Drive-By Truckers, Dillinger Escape Plan and Torche.
Greatest live acts you've ever seen?
Jesus Lizard. Prince. Dillinger Escape Plan. Tool. Fugazi.
Oh, and your band.
Your band rules.
Read more from Jason Bracelin at reviewjournal.com. Contact him at jbracelin@reviewjournal.com and follow @JasonBracelin on Twitter.