Vegas rockers Otherwise share details of new record from the studio
February 21, 2017 - 11:41 am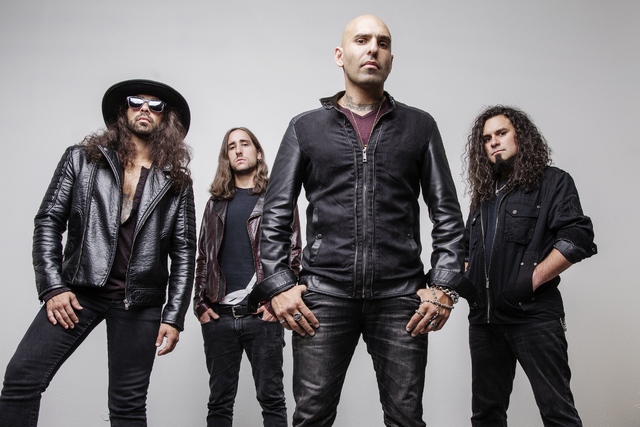 Time has never been on his side so much as a thorn in it.
For working-class musician Adrian Patrick, frontman for Vegas hard rockers Otherwise, life can become blurred by the demands of the profession, the tour-record-repeat cycle sometimes becoming a creative gerbil wheel.
But the band is taking a different approach on their new record, which they're working on in L.A. with producer Bob Marlette, whose credits range from Alice Cooper to Black Sabbath, Shinedown to Rob Zombie. Marlette has insisted that the band slow things down a bit.
"For us, it's a new experience to have breathing room," Patrick says. There's no crazy deadline, there's nobody saying, 'If I'm going to stay in the studio longer, I'm going to need this much more money.' "
This record, due out in late summer or early fall, is a big one for Otherwise: It's the band's third album with label Century Media Records, but the first since Sony bought the company for $17 million in August 2015. Otherwise has also secured different management and a new booking agent, United Talent Agency, which represents such big names as Guns N' Roses, Mariah Carey and Toby Keith.
Otherwise has been a band on the verge for some time now, its last record, 2014's "Peace At All Costs," debuting inside the Billboard top 50 and earning a pair of top 20 hits on active rock radio.
Bon Jovi contest winner
Tuneful rockers Daring Greatly have won the right to open for Bon Jovi at T-Mobile Arena on Saturday, selected from dozens of local entrants in an online contest.
Apparently, bands didn't have to be from the town they were vying to play, even though the contest was designed to spotlight regional talent.
Daring Greatly originally hails from Canada and has been recently staying in San Diego, where the Bon Jovi tour is also making a stop.
"Because we are all Canadian, with our visas soon to be expiring, we thought it would be best to make our way up through Las Vegas on the way back. We've also never had a gig there before," the band wrote in an email.
Can't begrudge the band for the big win, even if it resulted in an equally sizable loss for locals.
New Vegas jams
Their tunes mirror their work ethic: relentless. If you've been to a metal gig in recent years, chances are 50-50 that Vegas' Sicosis was on the bill. Somehow, the symphonic, melodic death metallers have found the time to ready a new record, "Requiem for the World," due out Friday, their first for M-Theory Audio, the new label helmed by former Century Media head Marco Barbieri. They've also just landed a national tour with Russian pagan metallers Arkona. See them get ready Thursday at Dive Bar, with Exmortus.
Another workaholic Vegas band with a new record is electro-pop duo Almost Normal, who will celebrate the release of their alternately buoyant and wistful EP "Mantra" at Vinyl at the Hard Rock Hotel on Saturday.
Read more from Jason Bracelin at reviewjournal.com. Contact him at jbracelin@reviewjournal.com and follow @JasonBracelin on Twitter.