Ways to die if Las Vegas Death Fest band names were taken literally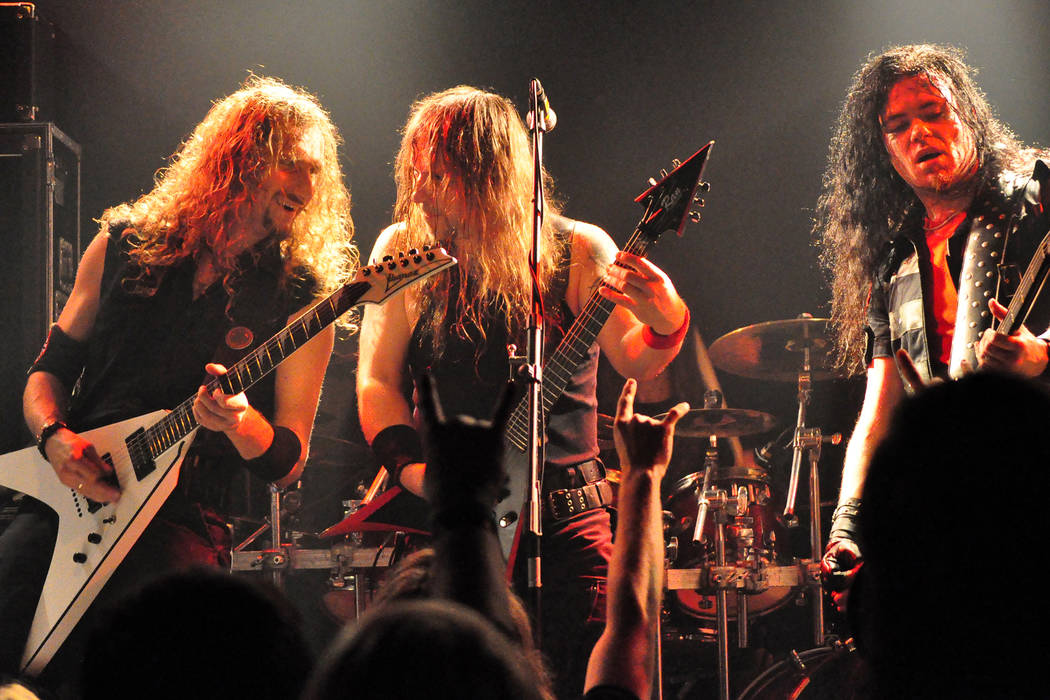 There's a million ways to die. Here's your soundtrack to at least 478,913 of them.
Yes, the Las Vegas Death Fest is back.
What does that mean?
Well, for three days beginning Thursday, downtown will reverberate with some of the most punishing sounds that humans can make without resorting to actions that carry the threat of serious jail time.
This is the heaviest of the heavy, the bloodiest of the bloody, the gnarliest of the gnarly, the ewww-iest of the ewww-y.
No, this isn't music for everybody.
A few prerequisites: a stomach stronger than the scent of napalm-marinated roadkill, a crime-scene cleaner's familiarity with gore, a sense of humor twisted as a really twisty thing.
If you meet these qualifications, it means three things: 1). You listen to Slayer when you want to chill out a little bit. 2). You own numerous black T-shirts adorned with band logos that no can read. 3). The Las Vegas Death Fest is most definitely your thing.
Now in its ninth year, the LVDF is upping the ante on the extremity big time this year.
Relocating to the Fremont Country Club and Backstage Bar & Billiards complex after taking place at the now-shuttered LVCS in recent years, the brutality will run for eight hours straight every night as the music will never stop with bands playing on two stages.
What's more, the fest has landed it biggest headliners yet via Polish death metal institution Vader, New York horror fiends Mortician and, in perhaps LVDF's biggest score this year, reactivated blackened thrashers Angelcorpse.
In total, close to 50 bands will perform, some of them coming from as far away as Chile, Hungary and Switzerland.
Of course, the death fest is all about death, and everything about it reflects as much — right down to the band names.
Speaking of which, let's take a look at a few of these highly misanthropic monikers and assess just how much pain is in store for you at Las Vegas Death Fest 2017:
■ Nocturnal Slaughter
You die at night. When does the Las Vegas Death Fest take place? At night. Ruh-roh.
■ Alcohol Related Death
The only way to go. Also, a realistic outcome at the festival in question.
■ Defleshed and Gutted
What? A big steaming pile of innards isn't enough? You need all that flesh as well? Greedy, greedy tormentor.
■ Gutted
Hey, at least you get to keep your skin.
■ Embryonic Devourment
Whoa, you die before you're even born. This means you'll never get the opportunity to crank Cannibal Corpse while shotgunning a whole mess of Budweisers even once. Line = crossed.
■ Psychotic Defilement
What's worse, you get defiled by a total psycho, or …
■ Euphoric Defilement
… you get defiled by someone who really enjoys their work? Push!
■ Infernal Damnation
Basically, you go to hell, which means you're going to spend the rest of eternity in the cashier's line at Walmart as everyone in front of you pays with a personal check.
■ Endless Lacerations
Paper cuts are the worst, dude.
■ Limbsplitter
Ouchy!
■ Internal Bleeding
According to medicinenet.com, the causes of internal bleeding include trauma, fractures, pregnancy, medications and alcohol abuse or, another way to put it, a successful weekend at the LVDF.
Contact Jason Bracelin at jbracelin@reviewjournal.com or 702-383-0476. Follow @JasonBracelin on Twitter.