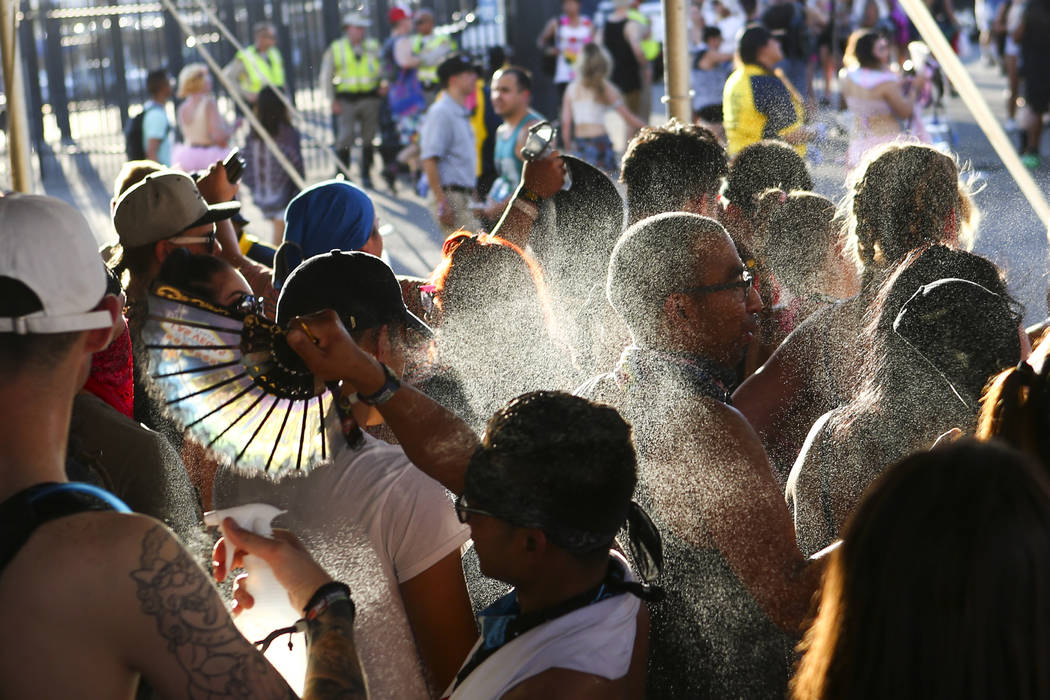 My job rules, and so do you for enabling me to do it by reading these words.
Gratitude is in no short supply around these parts.
With this in mind, here's what I'm most thankful for in the Vegas music scene this year:
■ The Big Friendly Corporation, for its poignant, powerful double album "Carry On, Carrion." In a year when suicide hit the music world particularly hard with the passing of Chris Cornell and Chester Bennington, these indie rock standouts candidly and sometimes cuttingly addressed the grieving process after a loved one took his own life. Singer-guitarist Ryan Marth and singer-keyboardist Melissa Marth lost their brother and fellow musician Tommy Marth in 2012. On the beautiful and biting "Carry On," they chronicle how life goes on, even if it might not ever be the same.
■ The Rhyolite Sound and The Reeves Brothers, for ushering in a renaissance in Vegas country. Both acts, which have shared the stage on numerous occasions, are bringing a modern take on vintage honky-tonk to increasingly bigger and broader audiences. Don't say you don't like country without checking these two out first.
■ SquidHat Records, for making it five years. Running an indie music label is a labor of love akin to taking a vacuum cleaner to your disposable income. SquidHat does it right and has dozens of quality releases to show for it and the distribution to get its records in stores around the world. If you want to buy a Dirty Panties record in London, you can. Thanks to SquidHat.
■ Psycho Las Vegas, for returning to the Hard Rock Hotel for a second year and drawing a substantially bigger crowd. Though the fest got off to a stellar start in 2016, you never know if events like these will survive, launching a festival is an expensive, long-term commitment. But Psycho bested its strong debut and next month will announce the 2018 lineup, a true gift for fans of heavy music in multiple forms. In your face, Santa.
■ On a similar note, I'm stoked that Las Rageous is coming back to the Downtown Las Vegas Events Center after a successful first run in April. Though the multi-day hard rock festival hasn't officially announced it yet, it will be returning, and after getting early word of one of the 2018 headliners, it's shaping up to be a big one.
■ Indie rockers Indigo Kidd, for dropping the best debut of the year from these parts with the recently released "Sad Daze in Happy Valley," an album about growing up and trying to find your way in a world you're just beginning to understand. Speaking of beginnings, it's a pretty stellar one for this band's discography.
■ The Las Vegas Death Festival, for taking the festivities outdoors next year for the city's first open-air extreme metal fest. That's how you celebrate your 10-year anniversary.
■ The announcement of the new Bender Jamboree, which debuts at the Plaza in April 2018. From the folks behind the Big Blues Bender, a great event that thoroughly immerses you in the music, comes this more jam band-centric festival. If it's anything like the Bender, it's going to be Big.
■ Electric Daisy Carnival, for bumping the dance music marathon up a month to beat the June heat, which was oppressive this year. Temperatures are likely to dip by double-digits in 2018, judging by seasonal averages. Don't worry, we'll still be rocking our Daisy Dukes either way.
■ The way the music community united in the aftermath of the Route 91 Harvest tragedy. In normal times, there's certainly a divide between mainstream country music circles and the rest of the musical landscape. But these weren't normal times, obviously, and none of that mattered in October when punks, hard rockers, the downtown indie ranks — you name the scene, everyone helped, from organizing benefit shows and compilation records to donating blood and delivering pizzas to those affected, music brought people together.
Contact Jason Bracelin at jbracelin@reviewjournal.com or 702-383-0476. Follow @JasonBracelin on Twitter.