Animals find home at Utah sanctuary
September 18, 2016 - 3:43 am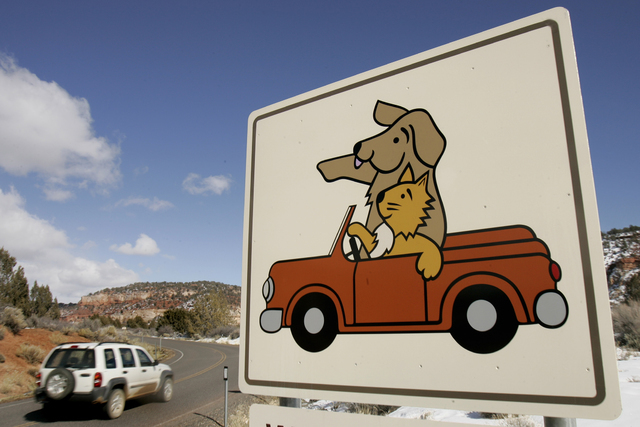 On a former movie ranch in southwestern Utah, a quiet revolution is taking place.
Beautiful Angel Canyon is home to the largest no-kill homeless animal refuge in the country, an inspiring location for a movement that has changed the way Americans view the lives of companion animals.
The Best Friends Animal Society's sanctuary near Kanab demonstrates how homeless animals should be cared for everywhere. It has become a destination where thousands of visitors tour the facilities free of charge. Many of them return as volunteers, working to prepare the animals for adoption.
Angel Canyon is just off U.S. Highway 89 six miles north of historic Kanab. It can be reached from Las Vegas on a scenic drive of about 3½ hours.
Visitors often feel they have seen this lovely place before because it was used so frequently as a backdrop for Westerns, TV programs and advertisements.
A group of concerned animal rescuers founded the Best Friends Society in the 1960s. Thirty years ago, having outgrown their space in Arizona, they moved their refuge to the 33,000-acre ranch in Southern Utah. They started modestly, repurposing old buildings and movie sets for housing, learning new skills and becoming adept at fundraising.
The goals have always been to avoid killing animals and to enable them to be adopted. Those who can never leave the sanctuary find a nurturing home there.
Today, the sanctuary always has about 1,700 animals. About 75 percent of them will be placed in adoptive homes.
Supported by millions of dollars in donations, Best Friends Animal Sanctuary now operates with several specially designed centers for specific kinds of animals, a state-of-the-art veterinarian clinic and a headquarters that houses a welcome center, gift shop and offices. It is also licensed by state and federal wildlife agencies to care for injured or orphaned wildlife. Permanent staff, which includes veterinarians, is supported by hundreds of volunteers.
The sanctuary is open to visitors from 8 a.m. to 5 p.m. daily. The welcome center's video presentation provides an introduction to the facility and its mission. The free guided tour of the sanctuary takes about two hours and can be booked online at bestfriends.org.
When Best Friends Animal Society was founded, the number of animals killed in shelters was 17 million annually. Because of the emphasis on no-kill shelters by proponents of "save them all" efforts like Best Friends and its 1,500 animal welfare partners nationwide, that number has dropped to about 4 million.
Best Friends Animal Sanctuary pioneered innovative methods of animal care, rehabilitation and adoptive placement that it shares with many other organizations and animal welfare agencies. It assists with rescues during disasters, sponsors no-kill initiatives in communities, operates spay and neuter clinics and organizes adoption programs.
Margo Bartlett Pesek's column appears on Sundays.