Auto enthusiasts will find plenty to do around Nevada
March 20, 2010 - 11:00 pm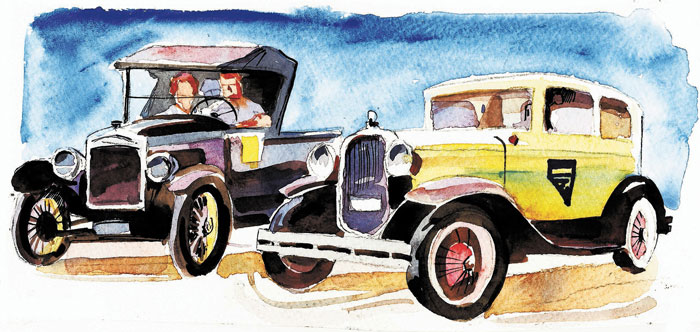 Americans continue their long love affair with vintage and classic automobiles. Those who own them invest time, labor and money — lots of money — in maintaining and restoring nostalgic or collectible vehicles, often to more than original splendor. Those who don't own such treasures are drawn to get acquainted with them at car events and in automobile collections.
Across Nevada, the undiminished love affair grows in intensity, evidenced by numerous events centered on collectible autos scheduled throughout the year. Hardly a county fair, seasonal observance, community celebration or patriotic holiday goes by without some kind of car show, cruise or parade.
A sampling of Southern Nevada car events in upcoming weeks includes a car show in Sunset Park on March 28 to benefit an injured police officers' fund and Boulder City's Spring Jamboree, which always draws hundreds of cars to Centennial Park downtown. Tiny Austin, Central Nevada's mining era queen, hosts the Lincoln Highway Car Show and Nevada Magazine State Tour on April 17. The biggest car event in the state remains "Hot August Nights" in Reno, the first week of August, which draws a couple of thousand entries. This event spawns satellite events in Carson Valley, Winnemucca and occasionally in Virginia City.
You'll pay entrance fees to tour formal automobile collections housed in museums in Las Vegas and Reno, but spectators at car events enjoy hours of strolling and admiring free of charge. Plus, car owners often remain near their vehicles ready to talk with anyone passing by.
Thousands of collectible cars are registered in Nevada in various categories such as "old timer," "street rod," "hot rod" or "classic." They occupy a place of pride in garages across the Silver State. These honeys don't sit in the sun, dust and weather in the driveway like the family sedan or pickup. Their fine paint jobs, luxurious upholstery, glittering chrome, special rims and tires and spotless engines deserve to be under cover. And often, they are not alone, for collecting cars is like eating peanuts — just one is seldom enough. The lover of collectible cars often seems to want a harem.
Dubbed "trailer queens," many of the cars considered show quality seldom touch pavement. Typically, a "trailer queen" fires up to climb into a specialized conveyance at the garage and rolls out to hold court in a prominent spot at an event. Other show cars cast caution to the wind and fully fraternize with other participants in street cruises and even on long road trips. One local 1932 Ford roadster owner considers his award winner as a "driver" and takes it on cross-country rambles that have logged 60,000 miles on its shiny odometer — quite a feat in a car without windshield wipers.
Car buffs roll out these beauties for cruises, car shows, show 'n' shine events and casual happenings such as the weekly gathering that informally assembles in the parking lot of the Santa Fe Mining Company on Rainbow Boulevard just off Rancho Road. Upward of a couple of hundred hot rods, street rods, muscle cars, rat rods and project cars in various stages of completion tool around city streets to reach this assemblage early on nice Sunday mornings.
The Las Vegas Cruisin' Association, a nonprofit organization, promotes events re-creating the nostalgic "good old days" in the American car culture as typified in the movie "American Graffiti." At lasvegascarshows.com, you'll find Web listings of this organization's events and dozens of other automobile-related groups and their Web sites. Since many of the other organizations also sponsor car events, few weeks go by without at least one auto activity. All make for entertaining outings that cost little to enjoy.
Some of the groups listed promote specific makes or styles. Other clubs favor cars from Britain or Italy. Some limit activities to vehicles produced before the 1970s. Others specialize in street rods, classics or true restorations of early autos. Whatever appeals to you, you'll find kindred interests in the Southern Nevada car scene.
Margo Bartlett Pesek's column appears on Sundays.