Beatty Days festival salutes town's history
October 24, 2016 - 10:20 am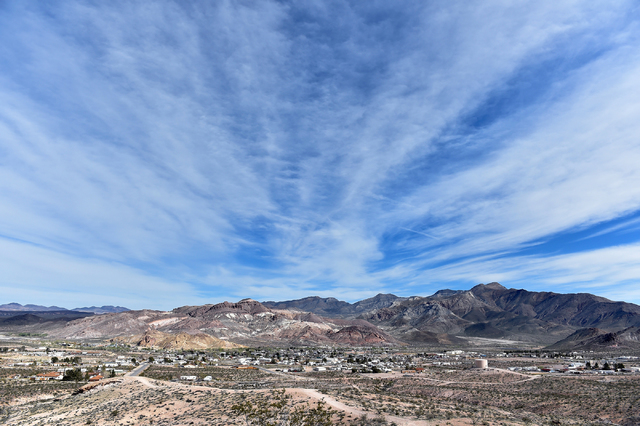 Beatty Days, a three-day festival planned for Nevada Day weekend, celebrate the town's founding in the early 1900s and its heritage of mining and ranching.
The annual event draws hundreds of visitors to the community of about 1,200 people located 115 miles northwest of Las Vegas.
The festival, which starts Friday, emphasizes old-fashioned, family-friendly activities, food, contests and exhibits.
Beatty is close enough for Las Vegans to make a day trip up U.S. Highway 95 to enjoy the festival. But many visitors plan to stay longer, rapidly filling the town's motel rooms and RV spaces. Overnighters might have to expand their search for accommodations to nearby towns such as Pahrump or Amargosa Valley in Nevada and California's Death Valley Junction, Shoshone or Tecopa, as well as Death Valley National Park.
Beatty Days events include a parade, vintage car show, displays of antique equipment and model railroads, live music, staged Wild West shootouts, Halloween costume and jack-o-lantern contests, and outlandish competitions such as the Beatty bed race. For more information, visit the Beatty chamber of commerce website at beattynevada.org.
The festival begins early Friday, when vendors set up and historical exhibits open. A musical kickoff runs from 1 to 7 p.m., with live music on two stages. Kids' activities scheduled for late afternoon include a carved or decorated pumpkin contest, tricycle races and a Halloween costume contest.
The busiest day of the festival is Saturday, which starts with a pancake breakfast at 7 a.m. near the downtown pavilion. The early morning schedule includes a run/walk and the start of the chili cook-off.
The old-fashioned parade begins at 10 a.m. and will include kids, dogs, horses, politicians, motorcycles, antique cars and marching groups. Live music is scheduled throughout the day. A Trunk or Treat event will be held among the vehicles in the car show after the parade. The people's choice tasting session at the chili cook-off starts at noon. At 12:30 p.m., costumed teams will compete in the bed race.
Sunday's schedule starts with a 7 a.m. pancake breakfast and ends at 3 p.m. The Dutch oven cook-off begins at 9:30 a.m. with people's choice tasting at 1:30 p.m.
If visitors to the festival can find time, Beatty offers historical, artistic and environmental side trips. The Beatty Museum, at 417 Main St., offers glimpses of days when mining was king and railroading made Beatty a commercial center. A four-mile drive takes you past the stark statues of the Goldwell Open Air Museum to old Rhyolite, one of Nevada's most photographed ghost towns. Drive north of Beatty about eight miles to reach trails and boardwalks in the Torrance Ranch Preserve in Oasis Valley. Livestock in nearby pastures graze peacefully, including many descendants of burros left behind after the mining boom years.
Margo Bartlett Pesek's Trip of the Week column appears on Sundays.