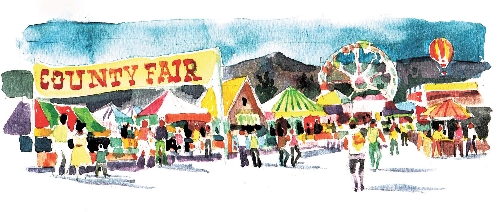 Much-anticipated events in small-town America, rural county fairs continue time-honored traditions.
The end of summer signals the beginning of the harvest season and is a popular time to schedule agricultural fairs. They provide a break in the routine for ranchers, farmers and other country folk and become places to meet friends, display projects, show off skills, engage in friendly rivalry and enjoy attractions such as carnival rides, gaudy midways, rodeo events and racing anything equipped with wheels or four legs.
The flavor of rural fairs differs from the huge state fairs. State fairs seem commercialized with exhibits dominated by business and commerce. County fairs have plenty of business support, but the concerns represented are mostly local. Rural county fairs emphasize agriculture and the country way of life, while adding plenty of modern events to keep people coming back.
Starting this month, several Nevada counties plan to hold their annual fairs. If your vacation plans take you near any of the Nevada towns planning fairs in coming weeks, schedule extra time to enjoy these special events. When traveling, keep these attractions in mind, for you are likely to have trouble finding lodging in any of the small towns without advance reservations during the fair weekends.
The rural Nevada fairs will be held in towns with fairgrounds, which usually include barns, corrals and stables for livestock, indoor spaces for exhibits, arenas for livestock shows, auctions, and rodeo events and open spaces for carnivals, midways and parking areas. Expect to pay general admission fees, separate fees for featured events and occasionally fees for parking.
Each fair will be different from others in the main events they offer. Popular special offerings include sanctioned professional rodeos, horse racing, formal horse shows, tractor pulls, demolition derbies and other competitions. In Nevada, many county fairs reflect influences of cultures such as Native Americans, Hispanics and Basques with events featuring ethnic music and dance.
Take time to tour the outbuildings and admire displays of farm equipment, watch demonstrations of skills such as sheep shearing or horseshoeing and enjoy livestock auctions. Explore displays of farm and garden produce and crops. Admire exhibits of home crafts such as quilting, sewing and needlework and examples of farm kitchen products such as baked goods, canned fruits and vegetables and jewel-toned jellies and jams.
The variety and quality of livestock shown at rural county fairs sets them apart. Livestock barns allow viewing of the best of cattle, horses, sheep, pigs, goats, llamas and other barnyard favorites. You'll never see greater variety in smaller animals and poultry than at a good county fair. Proud owners keep them clean and well-groomed for showing and judging. Auctions give 4-H and Future Farmers of America participants a chance to exhibit animals raised in projects spanning many months. Pride and anguish mingle on young faces as the sheep, steers or pigs they nurtured from babyhood parade in the sale arena.
Harvest season fairs in Nevada begin next weekend. The Eureka County Fair and Rodeo in the town of Eureka on U.S. Highway 50 runs from Thursday to Aug. 12. This fair usually boasts plenty of western music, cowboy poetry and dancing under the stars. The Lincoln County Fair and Rodeo will take place Thursday to Saturday in Panaca at the fairgrounds off U.S. Highway 93. The White Pine County Fair in Ely annually falls on the third weekend of August. The Aug. 18-19 event includes horse racing.
Elko hosts one of the largest of Nevada's county fairs, scheduled for Aug. 24 to 26 and Aug. 29 to Sept. 3. Horse races are planned for both weekends. Working ranch dogs and horses star in competitions for state championships. The Labor Day parade becomes part of the experience.
The Tri-County Fair in Winnemucca from Aug. 31 to Sept. 2 includes Nevada's oldest continuous rodeo, the 91-year-old Winnemucca Stampede on Sept. 1 and the 30-year-old Western Art Roundup. Expect an antique tractor show, fun contests, a parade, music and varied entertainment. This fair combines the efforts of Humboldt, Lander and Pershing counties for a family-friendly event.
Margo Bartlett Pesek's column appears on Sundays.