Bring home priceless memories on a Christmas tree cutting adventure
November 19, 2016 - 7:54 pm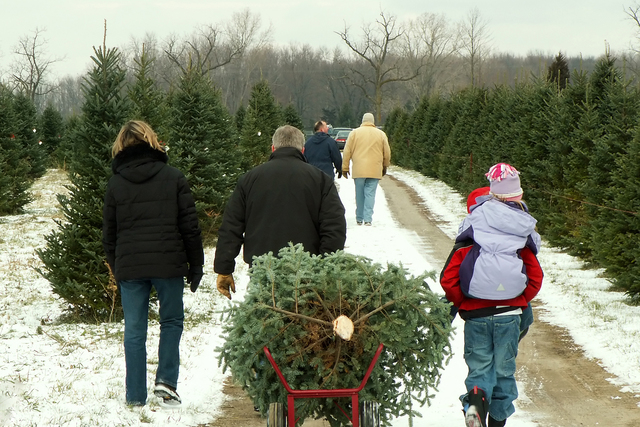 If you're pining for a freshly cut Christmas tree this holiday season, you could go to one of the pop-up, tented tree lots that dot the Las Vegas Valley this time of year. But if you're feeling more adventurous, you could round up the family and make a day of it by traveling to more forested parts of Nevada, as well as Utah, Arizona and California, to search for a perfect tree to harvest yourselves.
In most western states, forests lie predominately on federal lands administered by the U.S. Forest Service (www.fs.fed.us) or the Bureau of Land Management (www.blm.gov). Field offices of both agencies are selling Christmas tree cutting permits now through the end of the year.
While playing out versions of nostalgic scenes reminiscent of Norman Rockwell, Christmas tree cutters help thin out forests, a goal of forest managers for controlling wildfires.
Southern Nevada has no forested areas open for tree cutting.
But local residents can obtain permits and information for cutting areas elsewhere in the state at the interagency office of the Forest Service and BLM at 4701 N. Torrey Pines Drive. The Humboldt-Toiyabe National Forest will begin selling Christmas tree permits on Monday. Cutting area maps, illustrations of the kinds of trees that can be cut and cutting rules will be issued with the permits.
BLM permits cost $5 for pinyon pine and juniper trees. Forest Service permits are $8 for subalpine fir, Engelmann spruce, lodgepole pine, pinyon pine and juniper. Each permit is good for one tree, and local restriction may apply on the types of trees available for cutting.
Many cutting areas are located at higher elevations, reached by sometimes primitive roads off main highways. High-clearance vehicles are the best bet for a family cutting trip, preferably with four-wheel drive. Make sure you have plenty of fuel, extra water, a shovel, a good spare tire and the tools to change it. Chains could be necessary where snow has fallen. Take along a detailed highway map and don't depend on GPS or cellphones.
Let a responsible person at home know where you are headed and when you expect to return. Get an early start on these short days, and provide everyone with a flashlight. Pack snacks, hot foods and beverages. Make sure everyone has a coat and is dressed warmly in layers with hats, gloves and a change of footwear. Pack a few blankets. Bring along some cooking oil or oil spray and paper towels to wipe off the inevitable sap. A first aid kit is always good insurance.
Keep your group together, in sight or within hailing distance as you scout for the perfect tree. Your search may take you far from your vehicle, so keep track of landmarks and changes of direction.
When you finally locate the tree that suits you best, use a sharp ax, handsaw or portable chain saw to bring it down. Make sure the stump is no more than six inches high with no branches attached. Never cut the top out of a taller tree, an offense for which you can be fined. Immediately tie the permit securely on the tree.
When you get your tree home, cut a bit off the trunk and set the tree in water. Rinse it well with a hose. Store it out of the sun until you are ready to bring it inside. Protect your floors from sap and keep the tree well-watered. It will be the freshest tree you ever decorate and the longest-lasting.
You might not save money cutting your own tree when you figure in costs of the trip, but the family memories of the day you spent together, as well as that sweet evergreen scent in your home, are priceless.
Margo Bartlett Pesek's Trip of the Week column appears on Sundays.