Calico ghost town in California remains a lively attraction
January 23, 2016 - 7:53 pm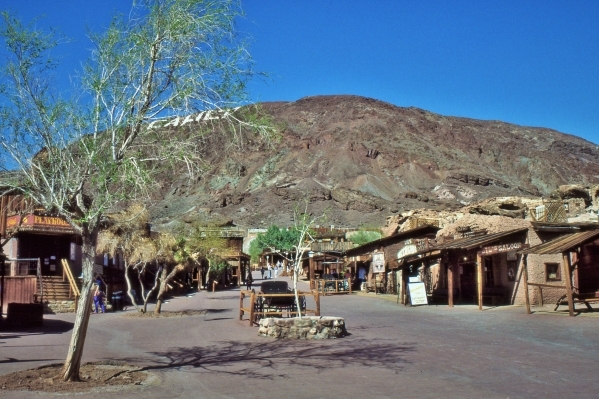 A veteran of the boom-and-bust cycles common to western mining towns, Calico ghost town thrives today as a popular San Bernardino County regional park near Barstow, Calif.
Open year-round, this attraction in the middle of the Mojave Desert is best visited during the cooler months. The old silver mining queen draws some of its biggest crowds during special events planned for upcoming winter and spring holiday weekends. For event details, check sbcountyparks.com.
Calico is accessible within a three-hour drive from Las Vegas, making a day trip possible if you get an early start. Follow Interstate 15 south about 150 miles toward Barstow. A few miles north of Barstow near Yermo, turn off the freeway onto Ghost Town Road. This loop access route takes visitors three miles to parking for the ghost town situated in the colorful Calico Hills. Expect to pay an $8 entrance fee unless you plan to stay in the park overnight or longer. Fees paid for use of the park's 265 tent and RV camping sites, bunkhouses and cabins include the entrance fee. Reserve camping sites through the county park website.
Calico's surviving original and restored buildings lie among some low hills along its main street. Most of the buildings are occupied, housing shops, eateries, a saloon, a school, museum displays and other attractions. Shops manned by costumed shopkeepers feature gifts, souvenirs, snacks, collectibles and a variety of hand-crafted items.
Popular stops include the quirky Mystery Shack and the Lane House Museum. Visitors can try their skill at panning for gold, explore part of an actual mine, visit an old jail and take a ride on a scenic railway. They also can arrange to join a guided tour of nearby canyons with old mines and ruins of a borax mining town.
The park is popular with off-road enthusiasts, motorcyclists, mountain bikers, hikers and horseback riders. Some park roads are open to off-roading, but the park is also a staging area adjacent to an extensive network of off-road routes and trails administered by the Barstow office of the Bureau of Land Management. Only marked routes are open to off-road use. For details, check with the Barstow BLM office.
Calico was born in 1881 after silver discoveries rapidly drew attention to the multicolored hills and canyons that contained many valuable minerals. The discoveries turned out to be one of the West's richest silver strikes, generating at least $20 million during a span of about 15 good years. The district around Calico contained some 500 mines. In her heyday, Calico was home to about 3,500 residents. The ore began to play out in the 1890s and the price of silver dropped drastically in 1896. The mines began to close and the population moved on to more promising places. Calico's post office closed in 1898. The town stood abandoned by the time nearby borax mines ceased producing in 1907.
As was common in mining areas, many of Calico's buildings were moved to other nearby towns for continued use. Scavengers and vandals were attracted to the old town, but further damage was averted by a few old-timers, including a former sheriff who happened to be the uncle of Walter Knott, the founder of Knott's Berry Farm amusement park. Knott had worked in the Calico area and took an interest in preserving the old boomtown.
In 1951, Knott purchased Calico and began a five-year restoration effort. A few original buildings still stood, mostly adobe structures. Others were purchased and returned to Calico. Many were re-created using early photos of the town. In 1966, Knott deeded the 430-acre site to San Bernardino County for use as a regional park. He ensured that Calico would live on.
Today, thousands of people learn about the Old West while having a fun time in the former mining town. Fittingly, Calico is a numbered California historical landmark and is considered California's official State Silver Mining Town.
— Margo Bartlett Pesek's Trip of the Week column appears on Sundays.