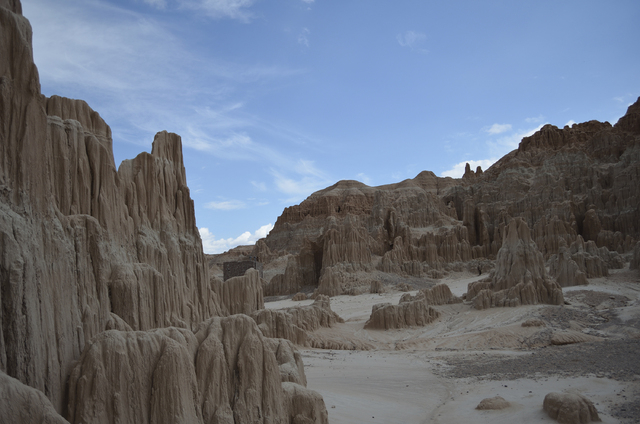 Cathedral Gorge, one of Nevada's original four state parks created in 1935, features unusual eroded formations that have attracted visitors since prehistoric times.
Located about 160 miles north of Las Vegas, the park occupies more than 1,600 acres atop an ancient lake bed formed of volcanic ash, clay and silt called Bentonite. The soft material is subject to wind and water erosion that leaves a dramatic landscape of spires, arroyos and narrow slot canyons.
To reach this state park, head north from Las Vegas on Interstate 15 about 20 miles to the exit onto U.S. Highway 93 near Apex. Follow scenic U.S. 93 north into Lincoln County through Alamo and Caliente toward Panaca and Pioche, a drive of about 2½ hours. Cathedral Gorge lies along the western edge of Meadow Valley a few miles south of Pioche. The entrance road is on the left side of northbound U.S. 93 a mile north of the turnoff onto state Route 319, the highway through Panaca toward Cedar City, Utah.
A scenic overview of the park, Miller's Point, is about 2 miles north of the highway junction. If you choose to visit the overview first, double back to the park access road. Be sure to stop at the Regional Visitor Center just off the highway along the along the access road. Information and displays in this facility provide an overview of recreational opportunities in the region, including seven state parks between Caliente and Ely.
Evidence found in the park indicates several native cultures frequented the site long before Europeans reached the area. The water and vegetation of nearby Meadow Valley attracted early hunter-gatherers and led to settlement by later cultures who farmed as well as hunting and gathering native foods. Bones and other remains found at several sites in the park proved that herds of bison roamed the area as recently as a few centuries ago, a valuable resource for native people.
When Mormon settlers fanned out from Salt Lake to colonize adjacent areas, the bison were gone, but Meadow Valley had many other attractive resources. Soon they established farms, orchards and pastures around Panaca. Discoveries of mineral wealth in the area led to creation of boomtowns such as Pioche. The unusual rock formations in Cathedral Gorge attracted settlers for outings, picnics and even theatrical events using the scenery as backdrops.
Situated at 4,800 feet elevation, Cathedral Gorge is open year-round. Experienced visitors know that spring and fall are the most comfortable seasons, as this high-desert park can get very hot during summer and quite cold during winter. Visitors enjoy picnicking, camping, hiking, wildlife watching and photography. The state charges a $7 entrance fee, discounted to $2 for Nevada residents.
There is no charge for use of the ramada-shaded picnic area. The park's 22 campsites are available on a first-come basis, with no reservations except for groups. Camping costs $17 per night. Some RVs sites have hookups for a surcharge of $10. Park restrooms have flush toilets, and showers are available for campers.
Established trails include a mile-long path to Miller's Point and a 4-mile loop that reaches remote parts of Cathedral Gorge. Visitors can explore intriguing slot canyons, cavelike overhangs and unusual formations from this loop.
The buff-colored Bentonite is best viewed and photographed when shadows are sharpest early or late in the day. The formations shoulder their way into the night sky, which is brilliantly starry on clear nights.
Astronomical events such as meteor showers and full moons delight overnight visitors since night skies are very dark in this park far from city lights. Ask at the visitor center about scheduled star parties and other special astronomical programs.
Margo Bartlett Pesek's Trip of the Week column appears on Sundays.