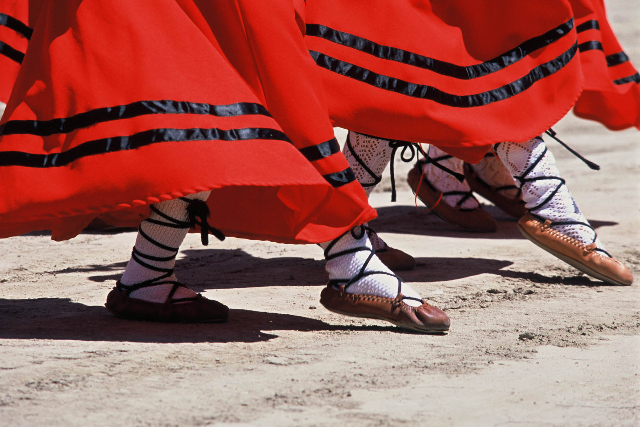 Elko, an authentically Western town of more than 20,000 residents in northeastern Nevada, offers visitors a variety of recreational pursuits and plenty of special events, especially during the short weeks of summer before cold weather returns.
Popular outdoor activities in the Elko area include exploring old roads using off-road vehicles, mountain bikes or horses. Some of these old roads lead to mining ghosts like old Tuscarora, Midas or dozens of others. Public lands surrounding Elko offer opportunities for picnicking or camping in at least nine nearby campgrounds and a network of hiking trails from easy to challenging. Beautiful streams and lakes await anglers in the Ruby Mountains, known as Nevada's Alps. Boating, fishing and water sports attract visitors to Southfork and Wildhorse state recreation areas.
Big events coming up in Elko include the Rumble in the Rubies motorcycle rally June 17-19, the National Basque Festival July 1-3, and the Elko County Fair with rodeo and horse races Aug. 26-Sept. 5. The summer calendar is crowded with rodeos, equestrian events, car shows, a rubber duck race on the Humboldt River, a film festival, a hot air balloon festival and more. Held in a picturesque village along the paved road to scenic Lamoille Canyon in the Rubies, the 41st annual Lamoille Country Fair on June 26 is an anticipated local favorite.
Elko is 430 miles north of Las Vegas by way of U.S. 93 and Interstate 80. Designated a scenic route along much of its length through Nevada, U.S. 93 parallels the state's eastern border through beautiful Great Basin landscapes. At the junction in Wells, turn west on I-80 and drive 51 miles to Elko.
One of the trails blazed across Nevada by mountain men and military mapmakers followed the course of the Humboldt River, near the site of the future town of Elko. Their maps and journals helped guide the great transcontinental migration of settlers and gold seekers headed for California in the mid-1800s. Most of the early travelers passed through, but a few stayed to establish wayside homesteads. I-80 now speeds travelers over the arduous route the emigrant trains followed.
Be sure to stop at the California Trail Interpretive Center eight miles west of Elko for a side trip into history. Settlement in Nevada led to the discovery of silver and gold in the late 1850s, which prompted establishment of Nevada Territory in 1861. Statehood followed in 1864. The arrival of the transcontinental railroads in the late 1860s spurred settlement of the new state, particularly in regions with promise for agriculture like the course of the Humboldt River.
Elko became a town along the Central Pacific Railroad in 1868. It was named Elko County seat in 1869 and soon grew into a regional center for government, business and finance, serving scattered mining camps and ranches over a vast, sparsely populated part of Nevada. The boom and bust cycles of mining left numerous neighboring settlements as ghost towns, but Elko survived, helped by the stability of railroading and the livestock industry. Ranching imprinted Elko with its uniquely Western character.
Proud of its history, Elko boasts fine cultural facilities, such as the Western Folklife Center, which occupies the former Pioneer Hotel, a historic structure on Railroad Street. The city wisely acquired acreage of an old ranch for a city park. The Elko Convention Center and the Northeastern Nevada Museum are also included in this innovative park complex.
Margo Bartlett Pesek's column appears on Sundays.