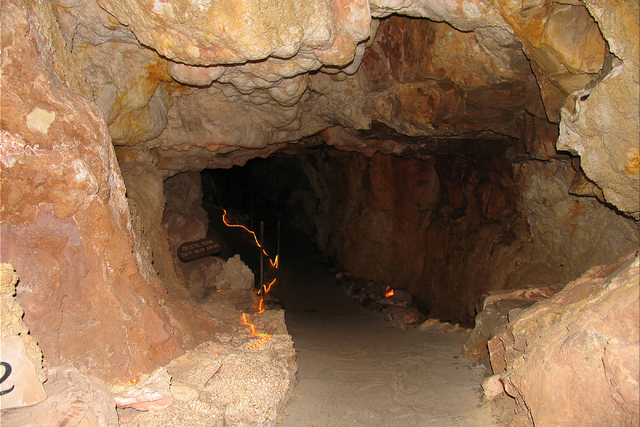 Unique experiences await visitors to Grand Canyon Caverns in northern Arizona, starting with a choice of five tours of the largest dry caverns in the United States.
The complex includes a motel, RV park and campground central to miles of roads and trails used by hikers, horseback riders and ATV enthusiasts.
Grand Canyon Caverns also offers arrangements for tours to area attractions such as the hike to beautiful Supai Falls on the nearby Hualapai Reservation or scenic one-day Indian-guided raft tours on the Colorado River in the Grand Canyon.
From Las Vegas, the drive to Grand Canyon Caverns takes about 2½ hours. Follow U.S. Highway 93 to Kingman, Arizona, about 100 miles away. Watch for the exit onto Historic Route 66. The scenic drive on the historic highway will take you through Peach Springs, headquarters for the Hualapai Nation. A few miles beyond Peach Springs, turn at Exit 115 onto a short, paved road to the caverns. The route takes you past the motel and campground to a building that houses the cave entrance, a restaurant, a curio shop and other facilities. Explore your options for tours and accommodations at gccaverns.com. You can book rooms, campsites and tours online or by calling 928-422-3223.
The caverns, which are open year-round, are located at 5,300 feet on the Coconino Plateau in a wooded area that sees cooler summers and snowy winters. But the weather outside matters not a bit once you are inside, where the caverns are always 57 degrees with very low humidity.
The formations inside the limestone caverns were formed long ago when water percolated through the stone, leaving calcium deposits behind.
These caverns have been dry for a long time. Fresh, cool air reaches them through many miles of passageways from the rim of the canyon to the north. There are at least a thousand caves within Grand Canyon National Park, open only for scientific purposes. Most have never been fully explored.
Grand Canyon Caverns have been privately owned since the late 1920s. They were discovered by Walter Peck in 1927.
While working in the area, Peck, a cowboy and sometime woodcutter, nearly fell into the natural cleft that dropped into a subterranean wonderland. He discovered a saddle and two burials, which turned out to be two Hualapai brothers who died of the 1918 Spanish Influenza and were interred by other tribal members.
Newspapers sensationalized the burials as "cavemen." More exaggerations followed the discovery of the skeleton of an ice age ground sloth.
Peck returned to the site with friends and lots of rope. As he was lowered 150 feet, the surface inside a huge underground room glittered under the light of his lamp. Thinking he had found valuable minerals, Peck brought rock samples to the surface and hurriedly bought up acreage surrounding the cavern entrance.
When the samples proved worthless, he decided to charge adventurous visitors 25 cents each to be lowered into the dark hole by rope. He had many takers.
In the mid-1930s, access was improved with stairs, ladders and suspension bridges. Today, the modern entrance and 21-story elevator constructed in 1962 provide safe access for many more visitors.
The most popular tour runs every half-hour from 10 a.m. to 4 p.m. for 45 minutes, at a cost of $20.95 per adult, less for seniors and children. A shorter guided tour takes about 25 minutes and costs $15.95. A much longer off-trail tour for explorers costs $69.95, and a new tour explores recently discovered caverns near the original rooms for $89.95. An evening ghost tour promises chills and thrills for $22.95. For special occasions, consider staying overnight in a luxury cave suite with dinner and breakfast at a cost of $800 for two.
Margo Bartlett Pesek's Trip of the Week column appears on Sundays