Explore fossil beds in California's Rainbow Basin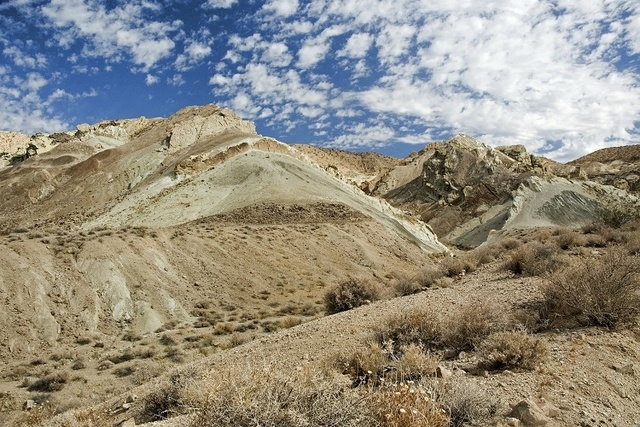 Rainbow Basin Natural Area north of Barstow, Calif., protects a region of multi-colored formations, mesas, desert canyons and winding washes with occasional patches of vegetation and water. This fossil-laden, eroded area in the Mojave Desert is best visited during the cooler months. Rainbow Basin offers visitors camping, hiking, scenic touring, wildlife watching and photography.
Follow Interstate 15 south from Las Vegas 160 miles to Barstow. Rainbow Basin lies eight miles north of Barstow off Irwin Road (not to be confused with Fort Irwin Road). Exit the freeway onto Barstow Road and follow it to Main Street. Turn left and travel a short distance to First Avenue. This street runs north briefly to Irwin Road, where you turn left.
Follow Irwin Road out of town, watching for a sign for Rainbow Basin. Turn left on unpaved Fossil Road, which continues about three miles to a spur road. This accesses both the one-way Fossil Canyon Loop and the Owl Canyon Campground. The loop encircles an area of fossils and returns to Fossil Bed Road.
Listed as a National Natural Landmark, Rainbow Basin is named for colorful geological formations and mineralized earth exposed by erosion in several neighboring canyons. Its vulnerable landscapes and fossil resources put it on the Bureau of Land Management's list of areas of critical environmental concern. The BLM's Barstow Field Office oversees this region of mixed public and private lands, which include the Southern Pacific Railroad, ranches with grazing rights and mining interests.
Rainbow Basin remains much as it appeared when the railroad arrived in 1883, despite its proximity to a growing populated area.
The BLM strives to maintain the feeling of a remote location, limiting development and motorized access in the natural area. Development includes the graded access road, a 31-unit campground at the edge of Owl Canyon and the single-lane, one-way loop road.
To prevent desert scarring and degradation and protect fossil areas, the BLM closed most old tracks to motorized use, stopped off-road vehicle staging and prohibited shooting and hunting. It encourages hikers and horsemen to explore by using trails in the canyons and washes. Off-road enthusiasts find unimpeded access to OHV areas in nearby places such as Stoddard Valley, Johnson Valley and Dumont Dunes.
The strict policies have improved habitat for native birds and wildlife, returning them to the Owl, Coon and Fossil canyons, where protective cliffs, occasional water and thick vegetation attract a wide variety of birds and other creatures. The best times for wildlife watching or shooting photographs is usually early or late in the day.
Overnighters in the campground often hear a chorus of coyotes and enjoy starry skies most nights. Owl Canyon Campground offers simple sites with a parking pad, sheltered table, cooking grill and centralized access to pit toilets. Sites cost $6 per night. Bring your own water and firewood and take refuse home for disposal.
The narrow, curvy road through Fossil Canyon is best navigated in a high-clearance vehicle. Tight curves prohibit the use of motorhomes or vehicles towing trailers. The road can be chancy when wet and rough after flash flooding.
The loop road accesses areas where erosion has exposed fossils deposited over millions of years in the muddy bottom of a vast lake. An assortment of land animals that mired and drowned add to the fossil record, including camels, mastodons, three-toed horses, rhinoceroses and saber-toothed cats. New fossils often appear following winds or rain.
The fossils are protected from casual collectors. Only those with professional or institutional interest in fossils may take them from the fossil beds. Permits for collection must be obtained from the BLM office in Barstow. These fossil deposits are frequently used for university field trips. Visitors without collection permits are welcome to take photos but must leave the fossils in place. After parking safely off the roadway, satisfy your curiosity by exploring on foot, taking care where you step to avoid crushing or displacing the fossils.
Margo Bartlett Pesek's Trip of the Week column appears on Sundays.