Fall is a fine time to visit Spring Mountain Ranch
October 16, 2016 - 9:10 am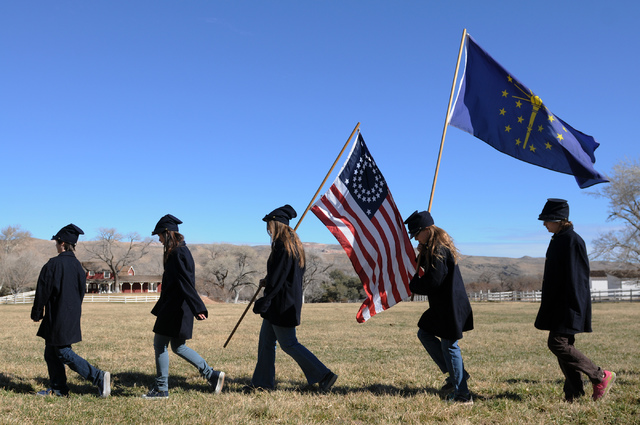 Mellow autumn days linger late in the season at Spring Mountain Ranch State Park in the scenic Red Rock Canyon National Conservation Area west of Las Vegas.
Bright seasonal colors are now appearing in the foliage of the park's shrubs and trees. Most will cling to their leaves well into December, barring an early hard freeze. Some of the large trees at the park have witnessed hundreds of autumns at this historical desert oasis. It is a favorite season for many visitors to the popular park.
The state park, open year-round, is located on the extension of Charleston Boulevard that runs west and then south to connect with state Route 160, the road over the mountains to Pahrump. Spring Mountain Ranch lies 10 miles from the junction of Charleston with the 215 Beltway. The scenic road offers beautiful views of the vivid sandstone cliffs and canyons of Red Rock as it follows the route of the frontier era's Old Spanish Trail and the ancient footpaths of prehistory.
The entrance fee is $7 for Nevada residents and $9 for nonresidents. Open primarily during daylight hours, Spring Mountain Ranch also hosts special events that welcome visitors after dark, such as summertime open-air theater presentations and frequent evening guided hikes and stargazing sessions. Upcoming evening activities include night hikes Oct. 16 and 30, Nov. 13 and 27 and stargazing Nov. 5.
The park preserves features from a long history of ranching at the site, which has attracted visitors since ancient times with its natural abundance of water. Visitors can tour the main ranch building from the mid-1900s and a historical area's weathered structures from frontier days. Ponds, pastures, trails and stands of trees invite picnicking, exploring, games and relaxation. Learn more about ranching and the site's history at the visitor center. Call the park at 702-875-4141 for tour details and times and information about special activities such as a midweek family yoga session.
Since 1992, living history programs have been planned during spring and autumn. These popular events include first-person presentations such as a uniformed soldier sharing his Civil War experiences Nov. 26. These programs feature costumed historical characters, pioneer figures, famous frontiersmen or early Las Vegas settlers. Events often include demonstrations of pioneering skills such as cast-iron cooking, spinning, weaving, blacksmithing and black-powder shooting. Special events this fall include a Civil War Encampment on Oct. 22-23 and a Mountain Man Rendezvous during Nevada Day weekend, Oct. 28-30.
Although no Civil War battles occurred in the vicinity of Spring Mountain Ranch, the future park may have served as a welcome stopping place during one of four 1840s exploration and mapping missions by adventurer John C. Fremont. His maps helped gold seekers and settlers find their way across the West. Even earlier, fur-seeking mountain men found pathways westward by following rivers, streams and ancient native routes.
The area's springs and creeks also drew less savory characters using the Old Spanish Trail. Rustlers raiding herds on Spanish ranchos in old California and human traffickers taking slaves from various Native American villages also used the springs and natural pastures before setting out across dreaded dry portions of the old overland route through the Mojave Desert.
Good men and bad have all been part of history at Spring Mountain Ranch.