Few visitors take advantage of Success Summit Loop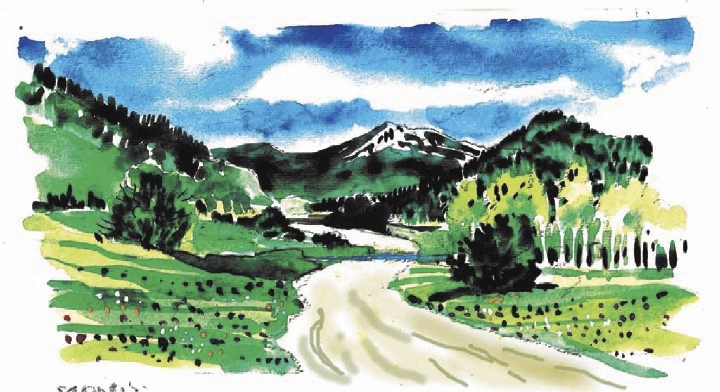 One of Nevada's best-kept secrets, the 65-mile Success Summit Loop near Ely offers some of the most beautiful scenery in the Silver State. The route skirts the rugged peaks of the Schell Creek Range, climbs a forested summit with splendid views that is closed in winter, and traverses popular Cave Lake State Park. Despite offering camping, picnicking, fishing, hiking, wildlife watching and plenty of photo opportunities, the loop remains lightly utilized.
To reach the area, drive north on Interstate 15 to the U.S. 93 exit near Apex. Ely lies 281 miles from Las Vegas using U.S. 93, a designated scenic route. Travelers cut 40 miles off that distance by taking the Sunnyside Cutoff, Highway 318, from a junction near Alamo through Lund to U.S. 6 to get to Ely.
The Success Summit Loop leaves U.S. 93 17 miles north of Ely then follows 33 miles of backcountry road before returning to U.S. 93 eight miles south of Ely. High clearance vehicles or trucks are best used. Reach the loop's upper end on U.S. 93 through the old copper milling town of McGill about 12 miles north of Ely. Watch for a turnoff five miles north of McGill onto Route 486.
This paved side road heads east toward a pass through a low range of hills, then south through Duck Creek Valley's verdant ranch lands, where pavement ends and gravel begins. Snow lingers well into summer atop the lofty Schell Creek Range, which defines the eastern edge of the valley. Part of Humboldt-Toiyabe National Forest, the mountains contain steep, stream-carved canyons.
Side roads access forest service campgrounds located along the little fishing streams. Anglers must obtain a Nevada fishing and trout stamp in Ely. A handful of campsites suitable for tents, campers or small trailers can be found along both East Creek and Timber Creek and are available on a first-come basis for $8 per night. Near the creeks, visitors find chokecherry, elderberry, gooseberry, serviceberry and currant bushes, which produce fruit in August and September.
These forest campgrounds open in June and close in September or October. In addition to six or seven tables, grills and space for tents and parking, facilities include vault toilets at both sites and water at Timber Creek. If you use creek water for drinking, you must boil or otherwise treat the water. Bring your own firewood. Closer to the summit, campers and hunters pull off the road at a few informal primitive campsites established by use, but not officially developed.
The road approaches the summit through stands of pine, fir and spruce with thickets of stately aspen that color up beautifully in the fall. Watch for deer and elk among the aspens and at the edges of flower-strewn meadows. Splendid displays of wildflowers bloom during the short summer season from snowmelt to snowfall. Although every color and kind of wildflower seems to appear there, by far the most striking are the big, floppy yellow blossoms of the wyethia, or mule-ears, so called because of the shape of its leaves. The golden flowers cover whole slopes of the mountains this month during peak weeks of the flower show.
Over the summit, the road offers wonderful views. It descends near burgeoning Steptoe Creek as it approaches Cave Lake State Park. The mountain park is seven miles from the end of the loop at U.S. 95. Pavement begins again near the park. Accessible year-round, Cave Lake State Park features camping, fishing, boating and hiking during the warmer months and ice fishing, ice skating, snowmobiling, sledding and cross-country skiing in winter. It attracts crowds during its winter Fire and Ice Festival.
Expect to pay a $7 entrance fee at Cave Lake State Park. Picnic sites located near the 32-acre reservoir offer lovely views. Two campgrounds serve visitors staying overnight or longer. Elk Flat Campground stays open from May to mid-October, while Lake View Campground accommodates campers all year. Most sites are available without reservations, so arrive early on weekends or visit midweek for best site selection.
Nevada residents get a $2 discount on camping and boating fees. Nonresidents pay $17 per night to camp and $9 for boating. Save money with combined camper-boater fees of $19, $2 less for residents.
Margo Bartlett Pesek's column appears on Sundays.