Follow the 402-mile route once taken by the Pony Express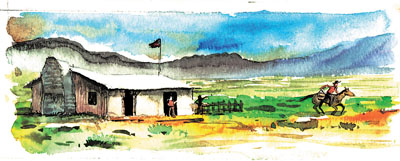 Travelers on Nevada's highways parallel historic trails established by explorers and frontiersmen and followed by emigrant trains and commercial traffic as the west was settled. Part of 93 north of Ely and all of US 50 across the middle of the state follows the 402-mile route of the Pony Express, the shortest route cross the vast territory that would become Nevada.
Dubbed "the loneliest road in America," US 50 leads to discovery of Nevada's heartland far from our glittering urban centers. As travelers retrace the Pony Express route, they discover broad valley and lofty mountain ranges across distances broken only by picturesque towns left over from various mining booms.
Only empty distance greeted the bold young riders of the Pony Express as they thundered through canyons and kicked up dust across sage flats and dry lakes in 1860-61. The Nevada mining booms that created towns like Ely, Eureka and Austin had yet to come. Although they rode for only 18 months in a venture that failed financially, those riders left a colorful legacy of brave exploits now part of our Western heritage.
Intense competition for lucrative mail routes across the western half of the continent led to the creation of the Pony Express. The freighting firm launching the venture promised delivery of mail in 10 days from St. Joseph, Mo., to Sacramento, Calif., charging the kingly sum of $5 an ounce. Until then, letters mailed to California took six to eight weeks for delivery.
The company planned for horsemen riding in relays that left twice a day to cross several states and territories on their 1,900-mile route. The riders entered Nevada about 40 miles north of present day Ely, crossed US 93 and continued westward, entering California through a pass in the Sierras.
Careful panning preceded inauguration of the venture on April 3, 1860. The company selected 190 station sites separated by 10 to 15 miles of trail and began construction. The stations were staffed with 400 stationmasters and helpers.
Ruins of several of the Nevada way stations still stand. Look for markers at sites like Egan Canyon on US 93, Sand Springs and Cold Springs between Austin and Fallon on US 50 and Buckland's Station, now part of Fort Churchill State Park. Discovered buried in sand from the nearby 600 foot booming dunes of Sand Mountain, the Sand Springs Station was excavated by archaeologists in 1976. The Bureau of Land Management maintains a loop trail and interpretative signs.
Durable, fleet horses stocked each station. Their streamlined loads of 165 pounds included the 120 pound rider; 25 pounds of equipment such as saddle, saddlebags, rifle, revolver, clothing and a small Bible; and 20 pounds of mail wrapped in oiled silk.
The Pony Express advertised for applicants for 80 positions as relay riders, seeking "young, skinny, wiry fellows not over 18. Must be expert riders willing to risk death daily. Orphans preferred. Wages paid $25 per week." Those hired took an oath to refrain from profanity, drinking and fighting and proudly wore the company uniform of red shirts and blue trousers.
Indian troubles erupted along the route in 1860. Station hands faced danger from raiders that the express riders could often outrun. Only once did the mail fail to come through when both horse and rider were killed. The historic ride by Robert "Pony Bob" Haslam in May 1860, stemmed from the Pyramid Lake Indian War. Haslam rode east from Friday's Station at Lake Tahoe to Buckland's.
No new mount awaited him as the militia had confiscated the stock for the campaign. Finishing his run on the same exhausted horse, Haslam found the rider at the next station refused to ride because of Indian danger. Pony Bob rode on to Smith Station, rested after his 190 mile run and turned around for the return relay. At Cold Springs he found the keeper dead and the horses gone. He warned the hands at the next station and rode on, completing 360 miles in 36 hours. Only Pony Express rider William C. "Buffalo Bill" Cody rode any faster, but he used 21 horses to ride 322 miles in 21 hours and 40 minutes.
Margo Bartlett Pesek's column appears on Sundays.