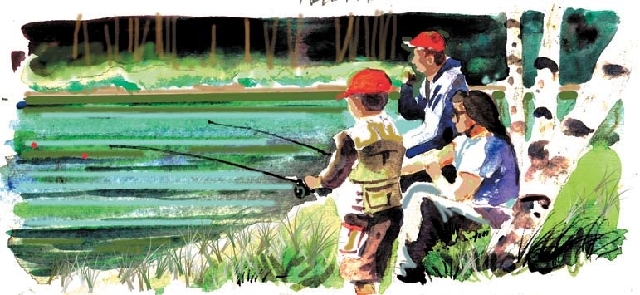 Everybody enjoys getting a freebie now and then. You can save a few dollars on recreation on the days when state and national parks waive their entrance fees or states offer free fishing.
Keep these bargains in mind when planning a vacation.
Another potential money-saving step is obtaining a state or federal recreation pass. These passes, particularly beneficial to frequent park visitors, waive or reduce entrance fees and lower camping fees in some parks every day.
Although 268 of the 401 parks and recreation areas managed by the National Park Service do not charge entrance fees, the rest have varying rates. The highest entrance fees are charged in some of the most frequently visited parks.
On several days annually, however, the entrance fees are waived at most of the 133 national parks that charge. Look for these savings on Aug. 25, the birth date of the national parks; Sept. 28, National Park Lands Day; and Nov. 9-11, Veterans Day weekend. Fees also are waived on Martin Luther King Jr. Day in January and during National Park Week in late April.
Saturday is national Get Outdoors Day. Nevada observes this special day by offering anglers statewide a chance to fish without a license. Also, all Nevada state parks that feature fishing will charge no entrance fee to visitors who show up with a fishing pole.
This fee-free day is an ideal opportunity to try fishing for the first time or for accomplished anglers to teach a child or friend how to fish. Start with an inexpensive rod and reel, line, hooks and some worms or other bait. Keep it simple and fun.
Neighboring states also schedule free fishing days. Like Nevada, Utah will allow anglers to fish without a license Saturday. Arizona annually plans fee-free fishing days on the first two Saturdays in June. California will charge no fishing fees on July 7 and Sept. 7 this year.
Keep in mind that all regulations, bag and size limits, hours, gear and stream restrictions for each state still apply on fee-free days.
Nevada's 24 state parks, historical sites and recreation areas contain a wide variety of attractions, but fishing is a popular activity in 16 of those parks. Of the 10 state parks located within easy reach of Las Vegas in Clark and Lincoln counties, four feature fishing. Big Bend of the Colorado State Recreation Area near Laughlin is the closest. Beaver Dam, Echo Canyon and Spring Valley state parks are clustered near Caliente and Pioche within a few hours' drive of Las Vegas.
Special events associated with national Get Outdoors Day in Nevada state parks include two fishing derbies. At Echo Canyon State Park, a derby for all ages takes place from 8 a.m. to noon on the free fishing day. Prizes will be awarded to anglers catching specially tagged fish. For more information, call 775-962-5702. At Cave Lake State Park near Ely, a free children's fishing derby is planned from 8:30 to 11:30 a.m. Participants can register at the park at 8 a.m.
National Get Outdoors Day is a chance to enjoy outdoor activities with family and friends. Expand your outdoor experiences. Plan something in your own backyard or neighborhood or take advantage of the abundant outdoor resources that surround us in Southern Nevada.
Margo Bartlett Pesek's Trip of the Week column appears on Sundays.