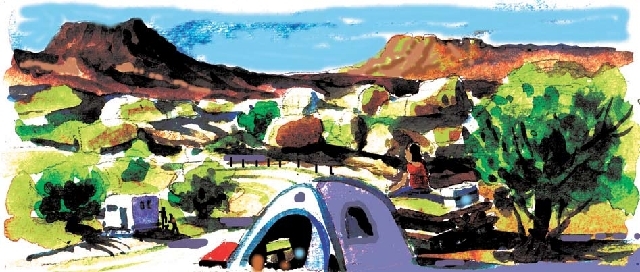 The Hualapai Mountains, just 14 miles from the desert city of Kingman, Ariz., provide opportunities for year-round recreation.
In the summer, the Hualapais' cool pine forests invite campers, hikers, mountain bikers, wildlife watchers and all-terrain vehicle riders. In autumn, visitors can enjoy seasonal color changes. Wintertime attracts crowds for snow play and winter sports. When spring returns, it decorates roadsides and woods with wildflowers.
The area is about 100 miles from Las Vegas. Follow U.S. Highway 93 south into Arizona. In Kingman, head east on Interstate 40 to exit 51, then turn south onto Stockton Hill Road, which becomes Hualapai Mountain Road. This paved road rapidly climbs into forested mountain scenery topped by 8,400-foot Hualapai Peak and several other rugged crags. The range is named for the Hualapai, or Pine Tree People, who lived there when non-native settlers arrived.
Soon after the road leaves the valley, it cuts through former ranchland partially wooded with pinyon, juniper, scrub oak, mountain mahogany, Arizona walnut and several kinds of shrubs with berries. Pine forests dominate the highest elevations, interspersed with many kinds of trees, including stands of aspen.
The variety of plants and trees and the availability of water from springs, creeks and developed ponds create habitat for a variety of wildlife in this forested island surrounded by desert. Visitors frequently see deer, antelope, elk, coyotes, foxes, skunks, rabbits, squirrels, raccoons and javelina. Less frequently seen are bobcats, cougars and bears. Those who keep their eye on the skies are sure to spot hawks, eagles and even owls. Watch for songbirds, several kinds of hummingbirds and game birds such as quail and doves.
Hualapai Mountain Park is a 2,300-acre preserve overseen by Mohave County. Open all year, this popular park's facilities include picnic areas, sports areas, two RV parks, campgrounds that include two sites with teepees, 23 rustic rental cabins, group areas, a meeting center, miles of trails and a new ATV staging center with a trailhead and its own camping area. Some campsites, one of the RV parks and all of the cabins are open for winter use. Many of the park's facilities were built during the 1930s by the Civilian Conservation Corps, giving the recreation area a distinctive character.
For more information, explore Mohave County's parks and recreation website at mcparks.com or call 928-681-5700. To make reservations for cabins, group areas or meeting facilities, call 877-757-0915.
If you continue on Hualapai Mountain Road past the county park, you will soon come to another local favorite, the Hualapai Mountain Resort, a privately owned recreation center.
The resort offers a bar, restaurant and reception area as well as eight guest rooms. Diners get close-up views of a herd of elk that assembles on the grounds just outside the large windows. The bar and restaurant are closed on Mondays and Tuesdays. Craft fairs, cook-offs and music attract crowds to the resort on weekends. Call 928-757-3545 for room rates and reservations or visit hmresort.net.
Those seeking an outing in a more remote, less crowded spot might prefer the Bureau of Land Management's more primitive campsites at Wild Cow Springs Recreation Site. To reach Wild Cow Springs, follow Hualapai Mountain Road to the village of Pine Lake. At the fire station, turn right on a dirt road that runs eight miles to the site. High-clearance vehicles are best for this approach road.
Located at 6,200 feet in an area wooded with oak and Ponderosa pine, Wild Cow Springs offers 20 campsites for tents or trailers less than 20 feet in length. Facilities include tables, grills, parking pads and vault toilets. Bring your own water and firewood. A fee of $8 per night is charged for overnight use.
Margo Bartlett Pesek's Trip of the Week column appears on Sundays.