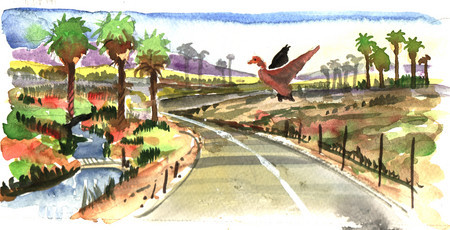 A little-known oasis of natural warm springs, meandering creeks and thick stands of palm trees lies less than an hour's drive from Las Vegas in Moapa Valley. Once a popular destination for swimming and picnics, Warm Springs became part of a national wildlife refuge in 1979, dedicated to the preservation of endangered fish and other unique native species.
Closed to public access for the past 30 years, a portion of the refuge now welcomes visitors on Fridays, Saturdays and Sundays from 10 a.m. to 3 p.m., most of the year. Staffed by volunteers, the refuge offers an outdoor aquarium built right into one of the springs. This creates a window into the aquatic habitat of the Moapa dace, the White River springfish and other tiny creatures native only to the springs and streams in Moapa Valley's Upper Muddy River system.
Recently completed, Southwestern-styled facilities include a picnic shelter that doubles as a meeting place when informational programs are conducted. Restrooms and drinking water lie handy to the parking area. A network of paved or gravel-surfaced trails access the aquarium and explore a few acres along one of the refuge's small streams.
Reach the Moapa Valley National Wildlife Refuge by driving north from Las Vegas about 50 miles on Interstate 15. Exit on Highway 168, which runs northwesterly 21 miles through Moapa Valley to junction with US 93 at the Coyote Springs development. Watch for the Warm Springs Road turnoff about 10 miles from I-15. The little side road through refuge property and adjacent wild areas held by the Southern Nevada Water Authority forms a loop back to Highway 168.
Visitors today see little traffic on Warm Springs Road. Decades ago, when the popular Pedersen's and Iverson's (Palmer's) resorts were operational, the road carried heavy traffic, often bumper-to-bumper on weekends and holidays. Generations of Southern Nevadans sought the pleasant shade and sparkling clear water in warm water swimming pools and bath pavilions. Most came for a day of swimming and picnicking, while others used campgrounds and RV parks at the resorts. Kids puddled about in the creeks, often pursuing darting "minnows" that turned out to be full-grown examples of one of the world's rarest fishes.
The swimming pools and most man-made structures are long gone. Restoring the dace's native habitat remains a priority at Moapa Valley National Wildlife Refuge. Because their dense mats of roots infringe upon free-running streams, the palms closest to the water have been removed. Non-native plants such as tamarisk have been eradicated and replaced with native ash, mesquites, cottonwoods and a variety of desert shrubs. Carefully placed rocks and logs create protection for the fish to feed, mate and spawn and for the fry to grow into active, silvery adult dace.
With improved native habitat, the refuge attracts many desert animals and a wide variety of birds, some resident, others just passing through. The refuge is annually included in the international Audobon Christmas bird count taking place this month at various locations in Southern Nevada.
There would be no habitat to protect and enhance and no Moapa dace without the water that emerges abundantly in this part of Moapa Valley. Monitoring water flow in the system of springs and streams remains an imperative of management at the refuge.
Regional drought and an ever-increasing population in Southern Nevada drives the relentless search for more water sources, including the warm springs in Moapa Valley. Many eyes are upon the results of test wells and water use now being conducted at Coyote Springs.
Visitors to the Moapa Valley National Wildlife Refuge meet volunteers who generously share their knowledge, information and photos of the fish and other aquatic creatures, as well as birds, reptiles, bats and insects attracted to the oasis. Volunteers stock a little backpack with guide books, binocular, bird lists and note pads, especially appealing to school-age youngsters. Pack a picnic lunch and plan to spend a little time at the refuge. Visitors young and old come away with a greater appreciation of the natural world surrounding all.
Margo Bartlett Pesek's column appears on Sundays.