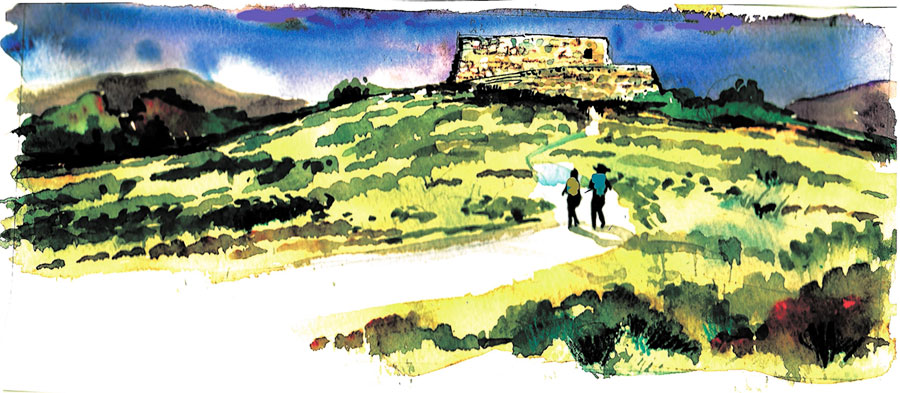 Central Arizona's Verde Valley lures visitors with stunning scenery, varied recreational opportunities and fascinating remnants of the past. The region boasts scenic highways, ghost towns, historic railways, state parks and national monuments. Within a half-day's drive from Las Vegas, the Verde Valley invites Southern Nevadans to visit and explore year-round.
A network of highways accesses the Verde Valley, located between Prescott and Sedona. Use US 93 across Hoover Dam to Kingman. From Kingman, follow Interstate 40 east to Highway 89 at Ash Fork. Turn south toward Prescott, the capital of Arizona Territory, connected to the Verde Valley by several state routes or turn off before you reach Prescott onto Alternate US 89. It twists down Mingus Mountain through the old mining town of Jerome to the Verde Valley, connects to scenic Sedona and returns to I-40 at Flagstaff through a gorgeous canyon.
Tuzigoot National Monument lies off Alternate US 89 along the Verde River near the town of Clarkdale, home of the Verde Canyon Railway, a popular train adventure. This small enclave of nearly 60 acres preserves the ruins of a village built by native people over several centuries beginning about 1,000 years ago.
The early people settled on a bluff above the river near a marshland where they could watch over the countryside and tend their patches of corn, squash, beans, sunflowers and cotton. They used native plants from marsh, desert and forest for additional foods, fibers for weaving and shafts for tools and weapons. Their enterprise and craftsmanship produced enough extra that they became part of a network of trading trails extending hundreds of miles.
Tuzigoot, meaning "crooked waters," grew into a stone pueblo of two and three stories with a complex of 110 rooms housing about 250 people. It is representative of one type of village constructed by the Sinagua, "People without Water," who prospered in the region for about 400 years. At least 50 ruined villages dot the area along the Verde River and its tributary streams, most within an hour's drive of Tuzigoot National Monument.
Inventive people, the Sinagua fitted their construction to the landscape. Using rock overhangs in the canyons, they built multi-storied cliff apartments, such as the one preserved in Montezuma Castle National Monument. Beneath layered ledges, they constructed single-story, multi-room dwellings such as those seen at Montezuma Well, a detached part of Montezuma Castle, and at Walnut Canyon National Monument near Flagstaff.
The Sinagua abandoned their pueblos and cliff dwellings about 100 years before Columbus sailed to the New World in 1492. Why they left and where they went remain mysteries of the past.
Tuzigoot National Monument stays open all year except Christmas Day. From Memorial Day through Labor Day, the park gates are open 8 a.m. to 5 p.m. Visitors pay a $5 entry fee inside the monument's 1930s visitor center constructed as a Depression-era public works project.
Be sure to wear sunblock and carry at least a quart of drinking water, as the sun gets hot among the unshaded ruins.
A day-use area only, Tuzigoot offers no facilities for overnight use and only one picnic table. Nearby Red Rock State Park contains several picnic areas. Public campgrounds within easy driving distance include those at Dead Horse Ranch State Park or in Kaibab National Forest on Mingus Mountain or in Oak Creek Canyon. Nearby towns offer private campgrounds with RV and tent sites.
Margo Bartlett Pesek's column appears on Sundays.