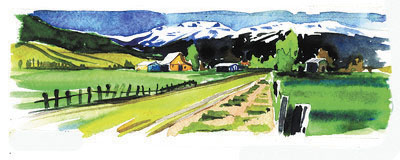 Picturesque Lamoille nestles along a creek near the base of the rugged Ruby Mountains in Northeastern Nevada, often called "Nevada's Alps." This village of several hundred people lies 20 miles from Elko on the way to beautiful Lamoille Canyon. Visitors to Lamoille get a glimpse of Nevada's pioneer ranching heritage, since the old community retains much of its rural flavor.
Lamoille lies 450 miles from Las Vegas using U.S. 93 north to Interstate 80, then west to Elko. In Elko, watch for the junction with Highway 277 and turn south to reach Lamoille. Signs indicate the turnoff onto the scenic byway into Lamoille Canyon just before you enter the town of Lamoille. Running 131/2 miles up a glacier-carved canyon, this road into Humboldt-Toiyabe National Forest reveals some of Nevada's most spectacular mountain scenery.
Plan to spend a little time exploring this area, staying overnight or longer. Elko caters to travelers with many choices among hotels, motels, bed and breakfast inns and nearby guest ranches. Lamoille itself offers bed and breakfasts, guest houses and rental cottages. It boasts a couple of good eateries, including a popular steakhouse. Elko serves everything from fast food to traditional Basque fare in the state's largest concentration of Basque restaurants.
Those who prefer to stay in their recreational vehicles or in tents find RV parks and private campgrounds in Elko and a U.S. Forest Service campground in the mountains. The largest forest campground lies along Lamoille Creek near the scenic byway. Thomas Canyon Campground contains 40 campsites available from mid-May through October. Sites range from $14 to $28 per night. Visit mid-week for the best site selection or reserve a site in advance. Call the Ruby Mountain Forest Service District at (775) 752-3357 weekdays for details or reserve online at www.recreation.gov.
The scenic byway climbs from the sagebrush-covered ranchlands around Lamoille into a forested pass cut by the burgeoning creek where anglers seek lively trout. The byway winds up through the canyon, skirting meadows filled with summer wildflowers. Stands of aspen provide brilliant color briefly in the fall.
The road ends at 8,800 feet, beneath Ruby Dome, one of several nearby peaks more than 11,000 feet high. The shape of this glorious canyon tells of its glacial beginnings. Although the glaciers are gone, nearly permanent snow lingers long among the peaks of the Ruby Mountains. Turnouts along the road contain explanatory panels detailing the region's geology.
Enjoy the scenery while you use one of two small picnic areas along the way. Trail signs indicate several hiking routes that begin in this canyon, connecting to a 100-mile trail system. Outdoor enthusiasts seeking thrills often tackle rock climbing routes in the Rubies. In the winter, hundreds of miles of mountain slopes open to those who can afford to heli-ski, a sport offered in just a couple of places in the West, with the largest based in Lamoille.
Drive the small grid of streets in the village of Lamoille to spot signs of yesteryear among the weathered barns and outbuildings, the venerable stands of trees, the gnarled orchards, and a few early homes and other buildings. Perhaps the most photographed building in the county, the 1905 Lamoille Presbyterian Church stands proudly. Its belfry tower forms the entrance to the handsome white chapel where pews have wire racks beneath the seats for Stetson hats. Volunteer efforts over the years saved the old church and restored its dignity. Couples seeking a romantic setting frequently choose the old church and facilities in Lamoille for weddings and receptions. Leave a message at (775) 753-6749 to arrange a guided visit to the chapel's interior.
Each year, Lamoille stages a popular country fair in June featuring crafts, food and family-style fun. More than 100 crafts booths will display a wide variety of talents from 9 a.m. until 4 p.m. June 29 . For details call (775) 738-4252.
Margo Bartlett Pesek's column appears Sundays.