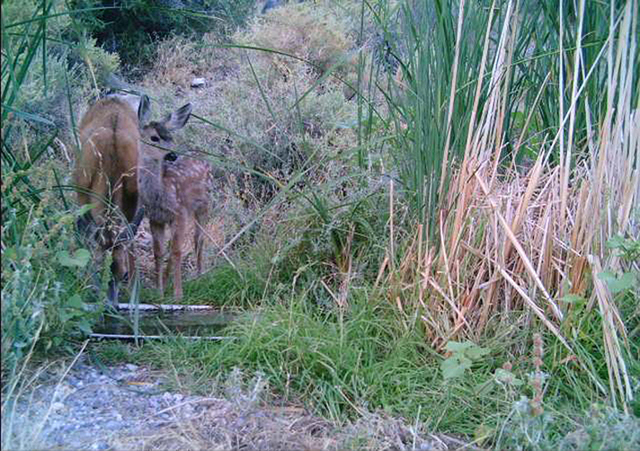 The handsome new visitor center at Corn Creek on the Desert National Wildlife Refuge provides an introduction to the largest U.S. Fish &Wildlife Service refuge outside of Alaska.
The former ranch and stage station remains the most accessible part of the sprawling 1.6 million-acre wildlife preserve established in 1936 to ensure the continued existence of the desert bighorn sheep and other animals and their habitat. No entrance fee is charged.
Corn Creek is 23 miles from Las Vegas. Follow U.S. Highway 95 to the refuge turnoff between the Kyle Canyon and Lee Canyon highways. Turn east and drive 6 miles on a graded road to the outpost marked by stands of shade trees, orchards and pastures. A well-watered oasis in arid surroundings, Corn Creek has a history of human habitation dating back many centuries.
The long-awaited visitor center opened early last spring. It is open from 8 a.m. to 4 p.m. Thursdays through Sundays. Structural walls shaped like mountains or bearing imprints of fossils or shapes of bighorns become part of the center's displays.
Visitors watch an introductory film, enjoy exhibits featuring animals, plants and historical artifacts and browse through the book and gift shop. The center also houses restrooms, classrooms and agency offices.
The new paved parking area has shade structures with solar panels that power the visitor center.
Visitors explore the ranch site on five short intertwined loop trails, three laid out with disabled visitors in mind. None extends more than a half-mile. They meander along a stream, past ponds and wetlands and through orchards and groves now coloring up for fall.
Popular stops include an outdoor refugium for the endangered Pahrump poolfish and a 1920s house constructed of ties salvaged from the long-defunct Las Vegas and Tonopah Railroad.
Corn Creek's trees, shrubs and abundant water draw many birds and other animals, making it popular for wildlife-watching and photography. Birders are sure to spot some of the 320 species of avian visitors to the wildlife refuge. Because of such attractive conditions, Corn Creek is always included in the Audubon Society's annual December bird count. While walking the trails, visitors frequently encounter desert creatures. Many small animals attracted by the food, water and shelter found there bring predators such as coyotes, bobcats and hawks to Corn Creek.
The most elusive desert native on the refuge is the bighorn sheep. You have a better chance of seeing bighorns in Boulder City than at the refuge. But they are there — and thriving — numbering from about 600 to 800, scattered over millions of acres and seven mountain ranges. Veteran observers look for them in rocky terrain before noon, using binoculars or spotting scopes to pick out light-colored rumps, which show up first against darker backgrounds.
Beyond Corn Creek, unpaved roads finger into areas north and east of the old ranch. Most of the refuge's acreage to the northwest is used for military bombing and gunnery practice and is closed to public use. High-clearance and four-wheel-drive vehicles are best for navigating refuge roads. Only street-legal vehicles are allowed, no off-road vehicles. Horseback riding is popular on the refuge. Because of flood damage, the road remains closed from Sawmill Canyon east of the Sheep Range to U.S. Highway 93.
There is one six-site, primitive campground at Desert Pass, which is best used in summer and is available on a first-come basis at no charge. Backpack or car camping is allowed throughout the nonmilitary parts of the refuge at no charge. Set up campsites at least 50 feet off roads and one-quarter mile from water sources.
Explorers of the refuge's backcountry must plan ahead and bring water and firewood and pack out refuse. Horsemen must bring weed-free feed. Be sure you start out with a full gas tank, a good spare tire and the needed tools and skill to change a flat.
Margo Bartlett Pesek's Trip of the Week column appears on Sundays.