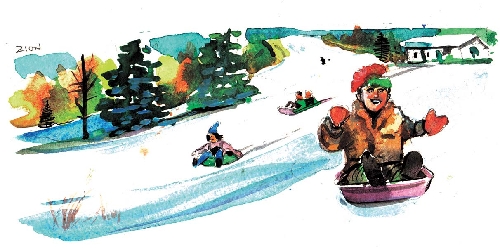 Thousands of Southern Nevadans head for the Spring Mountains National Recreation Area for a wide variety of winter activities as soon as there is enough snow. Crowds surge during the holidays with mountain visitors eager to try out their new Christmas sleds, skis, snowboards, snowshoes and snowmobiles. They throng the highways that access the mountains, often ill-prepared for winter road conditions, limited parking and frigid temperatures.
Head north on U.S. Highway 95 to reach the roads up into the mountains just a half hour's drive from downtown Las Vegas. The Kyle Canyon Road, Highway 157, takes you into a recreation hub with a forest service visitor center, several campgrounds, a variety of trails, the picturesque Resort at Mount Charleston and the historic Mount Charleston Lodge near road's end. Drive farther north on U.S. 95 to reach the Lee Canyon Road, Highway 156. On the way to its end at the popular Las Vegas Ski and Snowboard Resort, this road passes the Sawmill Picnic Area, set aside in winter for horse-drawn sleigh rides, and the Foxtail Snow Play Area, with sledding in a safe, cleared site. The scenic Deer Creek Road, Highway 158, cuts through several forested miles to link the two other highways.
Pre-planning helps visitors enjoy their excursions in the high country. Check on weather and road conditions before you leave home. During and immediately following winter storms, highways will be slick and dangerous. Snow tire or chain requirements will be in place. Improperly equipped vehicles will be turned back. Highway crews will be plowing to clear the pavement, but there might be road closures. Delay your expedition until conditions settle.
Start out with a full gas tank because there is no fuel available in the mountains. Carpool with others in your party to cut down on the number of vehicles on the roads, or park off the pavement below the snow lines and use the best-equipped vehicle to ferry your group up to the snow. In snowy areas, park off the travel lanes, avoiding areas with steep drop-offs or deep snow banks, or park in designated parking areas whenever possible.
If you plan to cross-country ski, snowshoe trek or explore backcountry trails or side roads by snowmobile, keep avalanche danger in mind. Check on conditions with Humboldt-Toiyabe National Forest personnel at the Kyle Canyon visitor center or in Las Vegas at the district office at 4701 N. Torrey Pines Drive. Call the visitor center at 872-5486 or the district office at 515-5400. Although service might be spotty, carry a cellphone, and equip yourself with a location signal device.
For safety and comfort, plan for the cold. Dress in warm layers, covering head and hands. Boots keep your feet warmer and dryer than athletic shoes. Fleece wear is warmer than jeans. Stuff dry socks in a pocket. Wear sunblock. Bring drinking water, hot beverages and hearty warm food. Plan to take all refuse home for disposal.
The forest service welcomes qualified volunteers to act as snow play hosts. To become one of these forest ambassadors, you must be at least 18 years of age and able-bodied. The hosts receive training in CPR and first aid. Their focus is working with forest visitors to promote safe snow play activities and respect for the forest. They work three to six hours on weekends and holidays to direct visitors to safe play locations and parking clear of traffic. Check the Spring Mountains National Recreation Area website for details.
In partnership with the Great Basin Institute and the Southern Nevada Conservancy, the forest service sponsors educational programs all year in the national recreation area. Learn how to snowshoe on hikes planned at 10 a.m. on Tuesday, Thursday and Friday, and at 9 a.m. and 1 p.m. on January weekends. Snowshoes are provided for up to 30 participants at a time. Children must be at least 6 years old and accompanied by an adult. Registration is on a first-come basis at least 48 hours in advance of each outing. Obtain details and register by calling 839-5566 or online at discoverspringmountains.com. Planners let participants know hike locations before each hike. No starting points require chains or snow tires. Hikes take about two hours, including a half-hour of adjusting to the one-size-fits-all snowshoes.
Margo Bartlett Pesek's column appears Sundays.